Het is herfst! Overal liggen prachtige kastanjes te glimmen op de grond. Heb jij een bijzonder exemplaar gespot of ben je benieuwd wat je ritueel met kastanjes kunt doen? Lees hier alles over de spirituele betekenis van de kastanje!
Gratis healings en meditaties beluisteren? Abonneer je dan op het VolleMaanKalender YouTube-kanaal!
Er zijn in ieders omgeving tientallen – honderden – kastanjes te vinden in de herfst. En klopt, écht niet elke kastanje heeft een spirituele betekenis. In dit artikel gaan we in op het regelmatig zien van een kastanje, al dan niet op een bijzondere plek. En onthoud: jij geeft er zelf betekenis aan, als jij voelt dat het voor jou is, dan is dat ook zo.
Een kastanje komt van de kastanjeboom. In de Keltische Boomastrologie staat de kastanjeboom voor eerlijkheid en kwetsbaarheid. Daarnaast staat de kastanjeboom ook voor levendigheid, creativiteit en betrouwbaarheid. Je hoort volgens de Keltische Boomastrologie bij de kastanjeboom als je geboren bent tussen van 15 mei tot 24 mei en van 12 november tot 21 november.
Een kastanjeboom staat voor standvastigheid en geborgenheid. Ook is de kastanjeboom kritisch.
Spirituele betekenis kastanje
Dat maakt dat de spirituele betekenis van een kastanje – als je een mooi exemplaar tegenkomt op een bijzondere plek – dan ook is dat je je veilig mag voelen en je bloot mag geven. Laat horen wat jij vindt en waar jij voor staat. En… wie heeft jouw hart gestolen? Voel je veilig om ervoor te gaan! Laat je schild zakken en breek dat muurtje om jou heen af. De stekels om je heen mogen weg.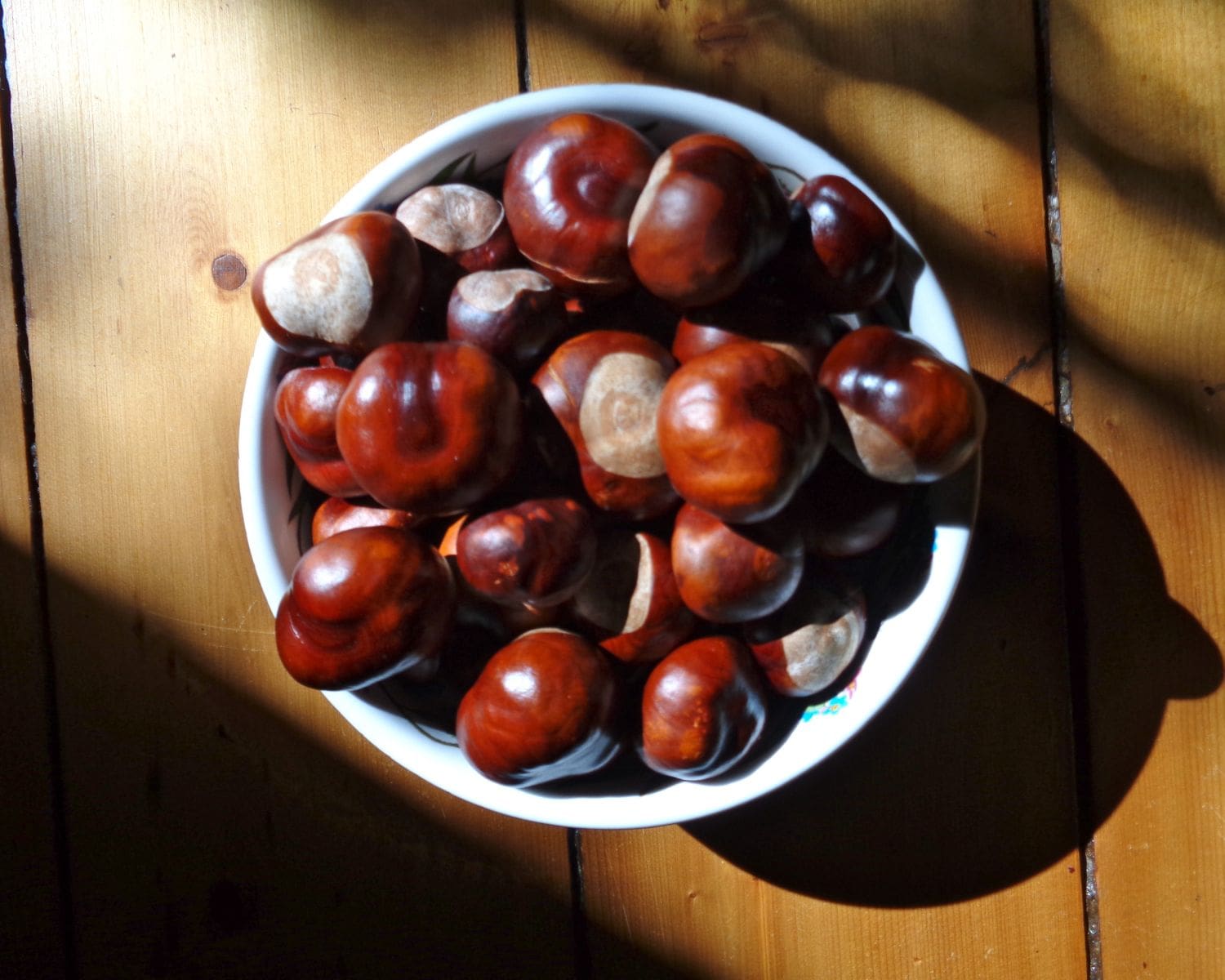 Kastanje ritueel
Misschien ken je 't nog van vroeger: kastanjes zoeken in de herfst. Alle kastanjes in een tas en thuis mooie poppetjes knutselen of een schaal vol kastanjes op tafel. Naast dat het ontzettend goed is om in de natuur te wandelen, is het ook leuk om hier een ritueel van te maken. Een jaarlijks ritueel, waarbij je (met je gezin) kastanjes gaat rapen om ze thuis te verwerken. Bijvoorbeeld in een schaal op tafel. Een schaal vol kastanjes zorgt voor het zegenen van je huis voor het gehele najaar. Leg de kastanjes één voor één in een schaal (doe dit eventueel samen met je gezin) en spreek bij het inleggen van elke kastanje een wens uit voor jullie, voor dit najaar. Zo heb je een schaal vol blessings! Het is echt op en top herfst om hiermee aan de slag te gaan.
Kastanje als talisman
Vind je een mooie kastanje die jou direct aanspreekt? Raap 'm op en neem 'm mee in je zak – als talisman. Deze kastanje zorgt ervoor dat jij beschermd bent tegen (negatieve) energie van buitenaf en dat alleen dat wat écht van jou is, ook bij jou zal blijven. Dank de natuur voor zo'n mooi cadeautje.
Glimt je kastanje na een tijdje niet meer? Dat kan kloppen – dan heeft de kastanje namelijk z'n werk gedaan. Mooi om te zien hoe de natuur zo'n krachtige drager is van energie, hè?
Alles is energie – en een kastanje laat dat goed zien!
Ook kun je een kastanje als talisman bij je dragen ter bevordering van je wens voor een gezin/gezinsuitbreiding.
Lees meer over de herfst...
Er valt veel te vertellen over de herfst. Daarom hebben we een dossier gebouwd met de spirituele betekenis van diverse herfst-gerelateerde items. Bekijk de lijst hieronder en ontdek de boodschap voor jou!
• Nadi Zoetebier • The future belongs to those who believe in the beauty of their dreams 🙏 • Eigenaar van VolleMaanKalender.nl, liefhebber van astrologie en spiritualiteit • Moeder van zoontje Jae '21 • Energetisch Therapeut in opleiding •