Ieder jaar brengen Lieke en Jetteke van Lexmond, de Moonsisters, een prachtige Moon Calendar uit. Zo ook voor 2023. Bekijk hier onze review van de Moon Calendar 2023!
Gratis healings en meditaties beluisteren? Abonneer je dan op het VolleMaanKalender YouTube-kanaal!
Van 1 januari tot en met 31 december: de Moonsisters Moon Calendar 2023 biedt iedere dag (spirituele) inspiratie. Het is in onze ogen de meest luxe scheurkalender (op het gebied van leven met de maan en spiritualiteit) die er jaarlijks op de markt wordt gebracht. Met gouden randjes, inspirerende teksten en prachtige afbeeldingen is dit voor slechts €29,95 een goede deal om een heel jaar plezier van te hebben. Je koopt de Moon Calendar 2023 via de website van de Moonsisters of via Bol.com.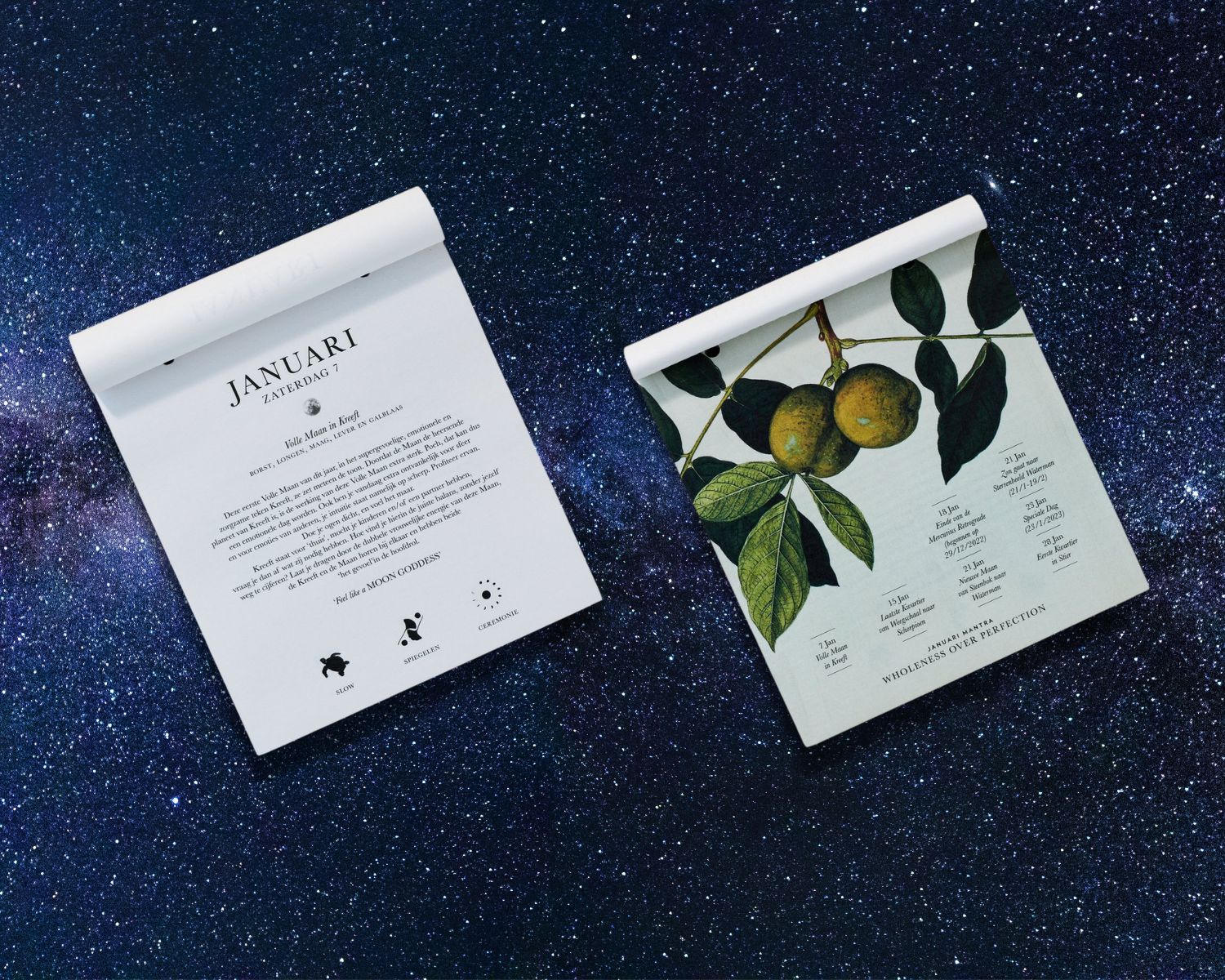 Je vindt in de Moon Calendar 2023…
Dagelijks de maanfase, in welk teken de maan op dat moment staat, op welke organen de energie van deze maanfase doorwerkt en een uitgebreide uitleg voor die dag. Daarnaast vind je hier een inspirerende quote en een aantal iconen. Die iconen staan weer symbool voor invloeden op die dag, bijvoorbeeld 'slow', 'spiegelen' of 'natuur'.
Per maand een overzicht van de belangrijkste maanfasen en dagen en een mantra. Zo is die van januari 'Wholeness over perfection'. Deze pagina is geïllustreerd met prachtige citroenen. Een citroen staat symbool voor zuivering en vernieuwing; perfect om januari mee te beginnen.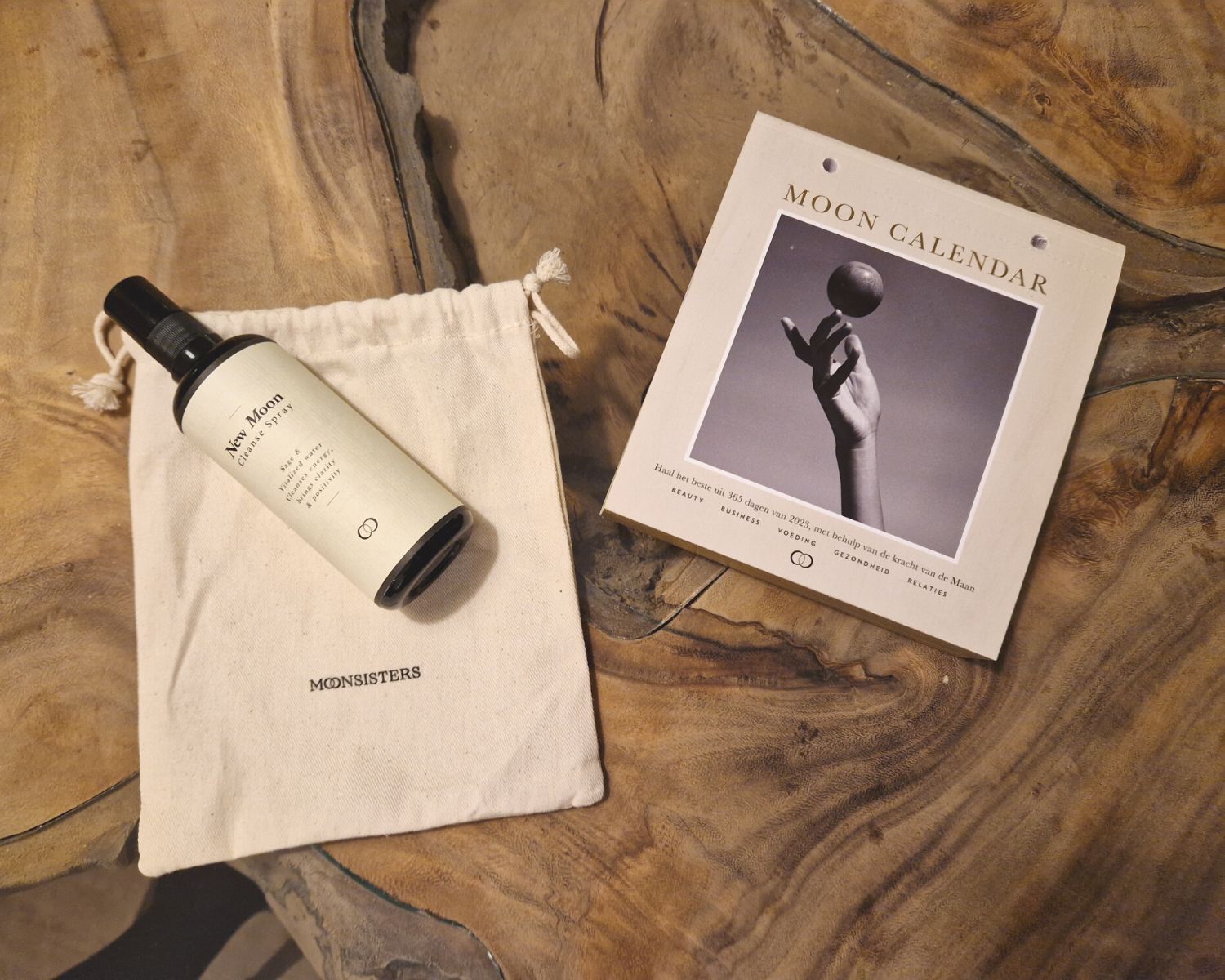 Moonsisters New Moon Cleanse Spray
We ontvingen naast de Moon Calendar 2023 ook een New Moon Spray om te testen: de New Moon Cleanse Spray (Salie). Deze spray wordt gemaakt in samenwerking met Maria Essence en combineert etherische salie-olie met puur gevitaliseerd bronwater uit de bergen van Italië.
Waarom salie qua geur? Salie heeft een sterk (energetisch) reinigende werking. Voelt een ruimte zwaar aan, is er iets gebeurd wat qua energie zwaar op je drukt of zijn er simpelweg veel mensen in een ruimte geweest; spray dan met de Moonsisters New Moon Cleanse Spray.
Het is met 100ml best een groot flesje en het is een spray waar je niet veel van hoeft te gebruiken (want de geur is echt wel sterk genoeg). Daarom vermoeden we dat je er behoorlijk lang mee kunt doen. Een voordeel!
De Moonsisters New Moon Cleanse Spray is voor €39,95 te koop via de website van de Moonsisters.
• Nadi Zoetebier • The future belongs to those who believe in the beauty of their dreams 🙏 • Eigenaar van VolleMaanKalender.nl, liefhebber van astrologie en spiritualiteit • Moeder van zoontje Jae '21 • Energetisch Therapeut in opleiding •