Wat zijn Tingsha's en hoe kun je ze gebruiken? In dit artikel vertellen we je over de oorsprong van deze muziekinstrumenten en hoe je ze voor jezelf (in combinatie met mantra's) kunt gebruiken.
Gratis healings en meditaties beluisteren? Abonneer je dan op het VolleMaanKalender YouTube-kanaal!
Tingsha
Een Tingsha is een set handcimbalen (muziekinstrument) uit Azië. Tingsha's kunnen worden ingezet als muzikale offerandes bij spirituele handelingen, gebedsrituelen of meditaties.
Tingsha's worden traditioneel gemaakt van brons of messing en hebben een bel-achtige vorm, met een handvat aan de bovenkant. Ze worden tegen elkaar geslagen om een helder geluid te produceren. Tingsha wordt vaak gebruikt om het begin en het einde van een meditatie of spirituele te markeren, of om een overgang aan te geven tussen verschillende delen van een ritueel of ceremonie. Ze kunnen ook worden gebruikt als een vorm van muziekinstrument, bespeeld in combinatie met andere instrumenten of gebruikt om omgevingsmuziek te creëren. Het is een handzame variant van de welbekende klankschalen.
In het Tibetaans Boeddhisme worden Tingsha's vaak gebruikt in combinatie met andere rituele voorwerpen, zoals gebedsvlaggen, wierook en klankschalen. Er wordt gezegd dat Tingsha's (het geluid dat hieruit voortkomt) helpen de geest te zuiveren, ontspanning te bevorderen en een gevoel van vrede en welzijn te creëren. Sommige mensen gebruiken Tingsha ook als een vorm van geluidstherapie, omdat het geluid een kalmerend effect heeft op lichaam, ziel en geest.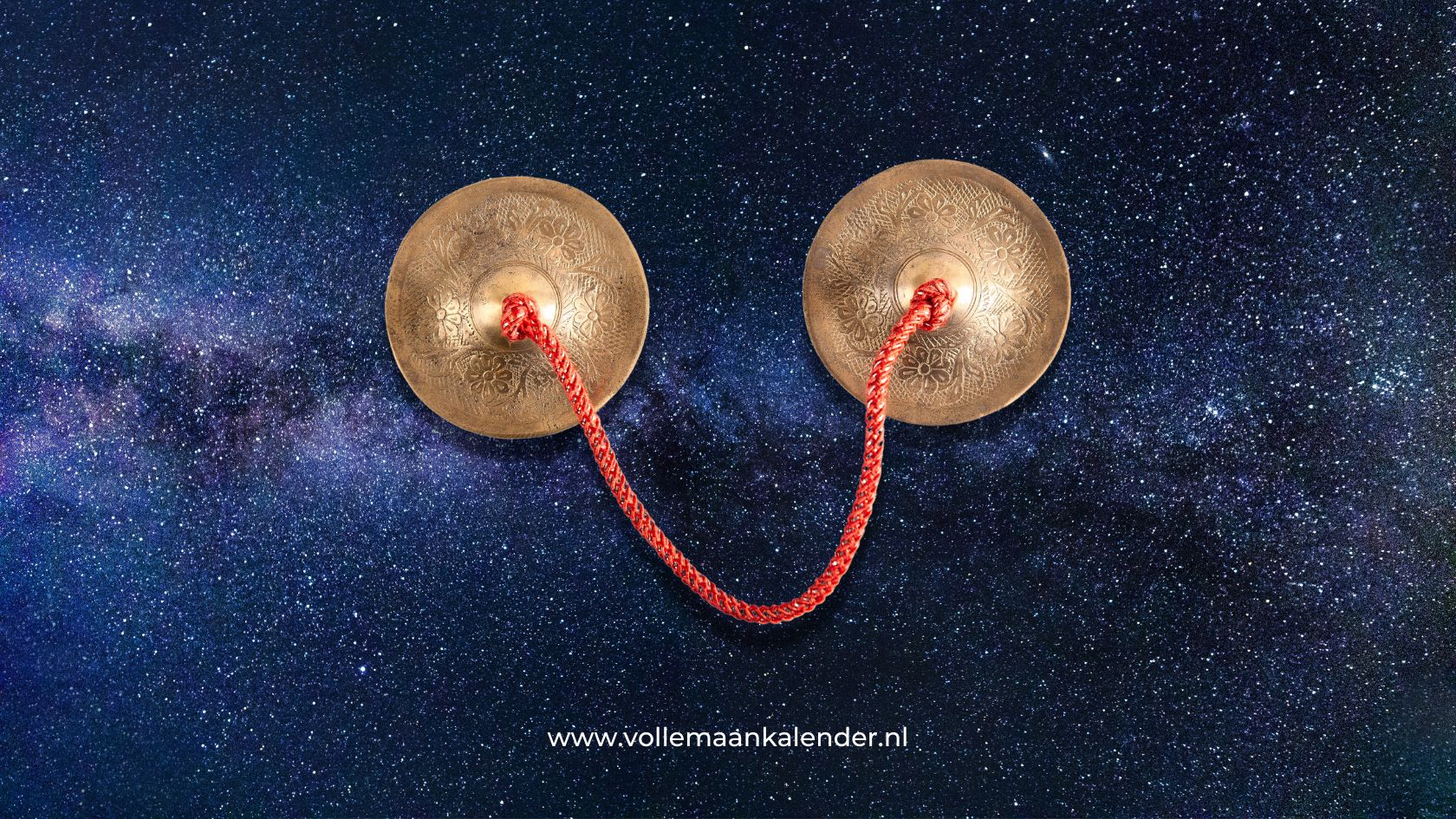 Hoe gebruik je Tingsha's?
Je kunt de twee schijfjes (cimbaaltjes) tegen elkaar aanslaan om een heldere toon te maken die lang blijft hangen. Of je beweegt één van de cimbaaltjes naar de andere toe. Aanslaan met een metalen staafje kan ook. De toon die er uit voorkomt (en het trillingsniveau) zuivert de ruimte en de atmosfeer.
Ook hebben ze een helend en balancerend effect hebben op onze aura en ons welzijn.
Zie hieronder voor een Om Mani Padme Hum variant en een gladde variant.
Lees ook…
• Nadi Zoetebier • The future belongs to those who believe in the beauty of their dreams 🙏 • Eigenaar van VolleMaanKalender.nl, liefhebber van astrologie en spiritualiteit • Moeder van zoontje Jae '21 • Energetisch Therapeut in opleiding •