Yogahoudingen geïnspireerd op de natuurlijke wereld: met Yogadieren haal je 32 oefeningen in huis. Van Cobra tot Zeehond en van de bijenadem tot de doodhouding. Lees hier onze review!
Gratis healings en meditaties beluisteren? Abonneer je dan op het VolleMaanKalender YouTube-kanaal!
Yoga is niet meer weg te denken. Het is een van de meest populaire vormen van lichaamsbeweging ter wereld. Voor sommigen blijft het daar dan bij (lichaamsbeweging), anderen maken er meer een levensstijl van. Zij zien yoga niet alleen als fysiek iets, maar bekijken het holistisch en betrekken ethiek, overtuigingen en leerstellingen hier ook bij. Denk dan aan ademhaling, meditatie en mindful leven.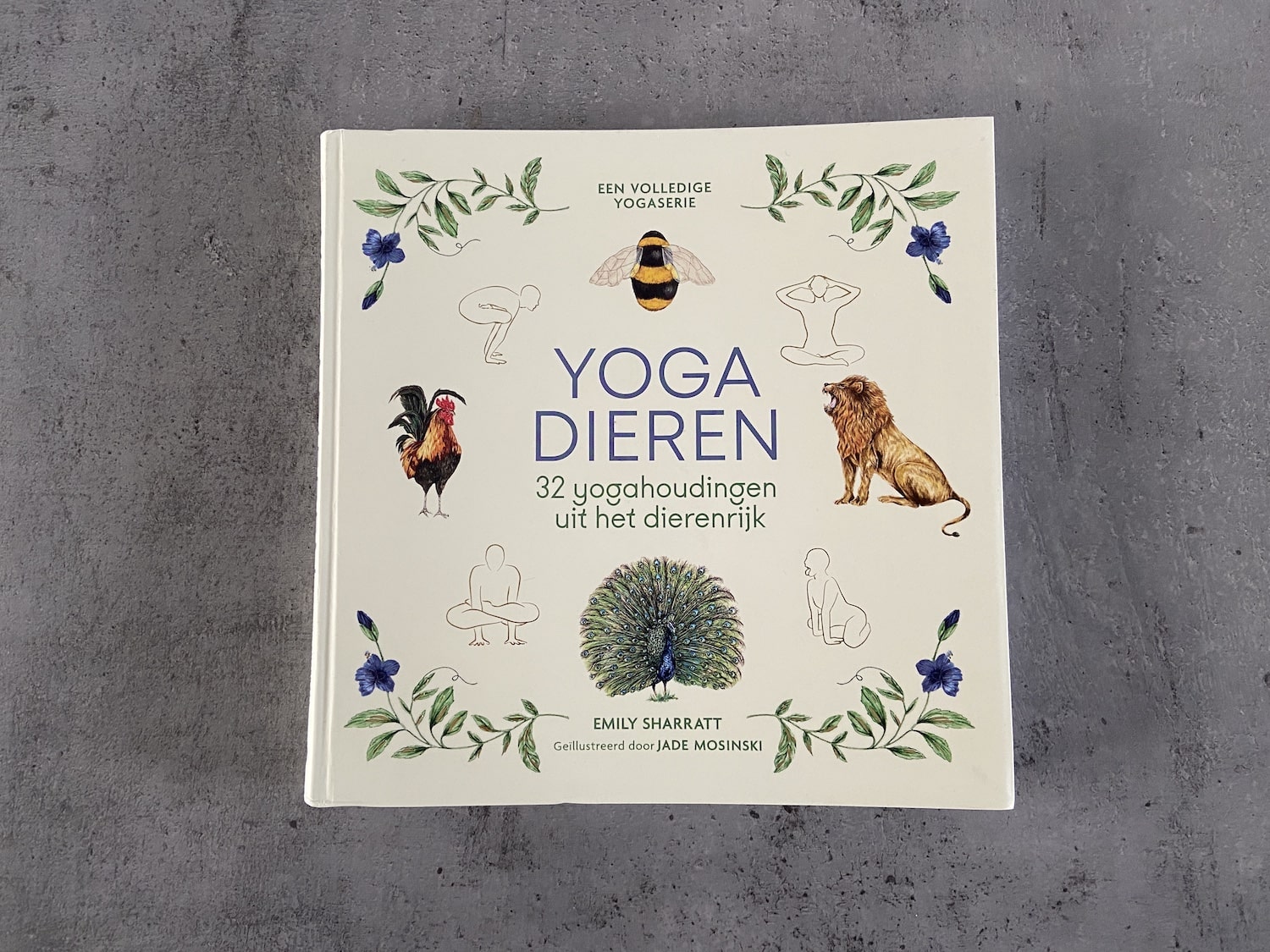 Yogadieren
In het boek Yogadieren worden 32 oefeningen beschreven, zowel de fysieke houdingen (asana's) als de ademhaling (pranayama).
Zo ontdek je als eerste de bhramari, de bijenadem. Bhramar is Sanskriet voor bij. 🐝 De bijenadem-oefening dankt haar naam dan ook aan dit diertje; tijdens het uitademen hoor je zachtjes te zoemen/brommen. De bhramari is ideaal om elke yogasessie mee te beginnen, want het brengt je innerlijke rust en zorgt voor focus op lichaam en ademhaling. Yogadieren neemt je stap voor stap me in deze yogahouding. Per stap vind je een afbeelding van een lichaam dat de houding aanneemt. Je kunt het dus niet alleen tekstueel begrijpen, maar ook visueel zien. Dat maakt het boek ideaal voor beginners.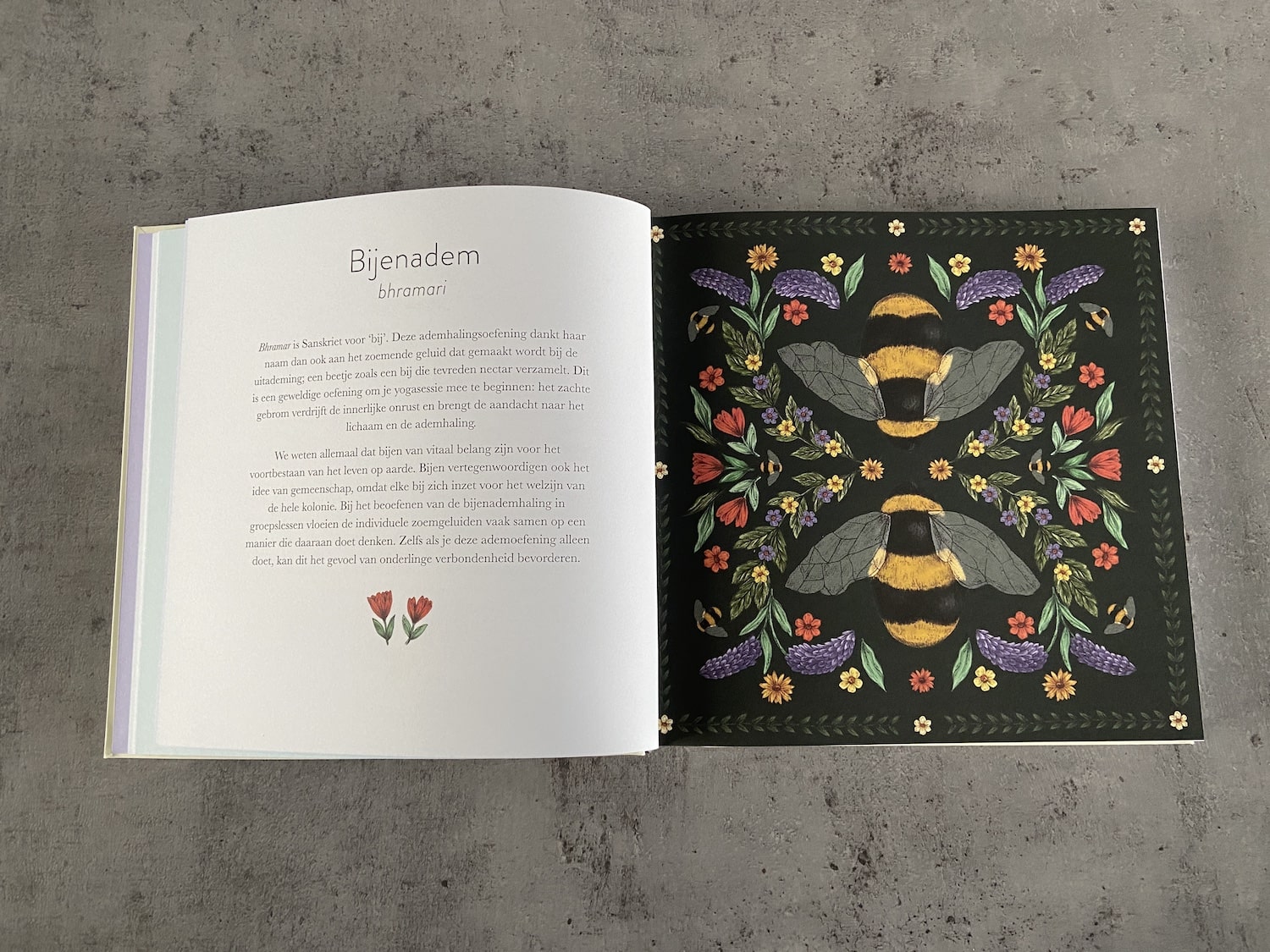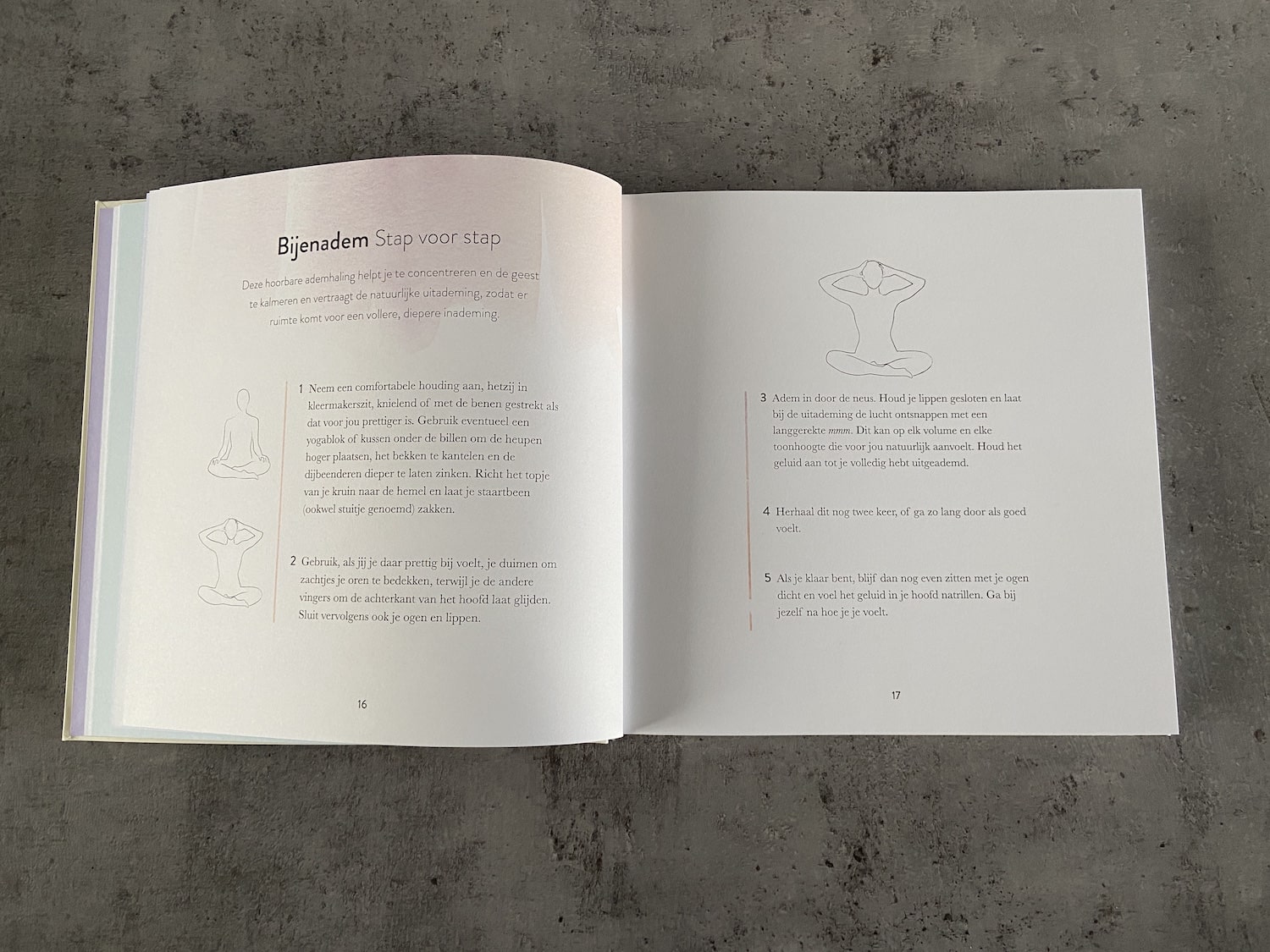 Het gehele boek is zo opgebouwd dat je per yogaoefening eerst iets leest over de houding/oefening zelf (linkerpagina), terwijl je kan genieten van prachtige artwork van Jade Mosinski (rechterpagina). Daarna volgen twee pagina's met de stappen die je moet zetten om de houding uit te voeren.
Yogadieren volgt qua opbouw de structuur van een volledige yogasessie, met rekkende, versterkende, opwekkende en kalmerende elementen. Er worden verschillende yoga-stijlen aangesproken; van vinyasa-yoga tot de meer statische yin-houdingen. Als je thuis met Yogadieren aan de slag gaat, kun je het boek als leidraad gebruiken. Begin met een ademhalingsoefening (zoals de Bijenadem) en doe vervolgens een rustige warming-up, zoals de Kat-Koe. Ben je opgewarmd en is je state of mind rustig, dan kun je beginnen aan de staande oefeningen of de fysiek-meer-uitdagende oefeningen, zoals de Adelaar. Uiteindelijk bouw je af naar een ontspanningsoefening en sluit je af met de Doodhouding. Hierbij lig je volledig stil en kun je naar wens een geleide meditatie volgen.
Review
Ik kan zo niet vinden of dit boek ook is ingestoken op kinderen, maar ik kan me goed voorstellen dat het voor hen heel leuk is om dieren na te doen (terwijl ze ondertussen leren over yoga, mindfulness en meditatie). Een aantal oefeningen zullen misschien nog te (fysiek) uitdagend zijn. In dat geval wordt er een alternatief aangeboden, maar bij gebrek aan ruimte (zo schrijft Emily Sharratt zelf) is dat summier gehouden. Dat laatste vind ik zelf niet storend, want met 32 yogahoudingen is er een grote variatie te vinden. Je kunt een houding dus ook gewoon skippen als het nog te uitdagend voor je is. Dan pak je een andere houding, die beter bij je past.
• Nadi Zoetebier • The future belongs to those who believe in the beauty of their dreams 🙏 • Eigenaar van VolleMaanKalender.nl, liefhebber van astrologie en spiritualiteit • Moeder van zoontje Jae '21 • Energetisch Therapeut in opleiding •