Mindful & Miljonair is de spirituele gids voor zakelijk succes. Dat doet Steffy Roos Du Maine goed! Zij is het brein achter het boek en het merk. En ze heeft flink zakelijk succes. Hoe ze dit combineert met spiritualiteit en hoe jij dit óók kunt doen, leert ze je in het boek. Lees hier onze review!
Gratis healings en meditaties beluisteren? Abonneer je dan op het VolleMaanKalender YouTube-kanaal!
Het boek Mindful & Miljonair is een prachtige hardcover uitgave van 304 pagina's, geschreven door Steffy Roos Du Maine. Het lijkt een 'klassiek boek' dat je al jarenlang in je kast hebt staan. Een sjieke, luxe uitgave in de kleuren van nu. En extra liefde voor de gouden elementen! Complementair aan het boek is het Mindful & Miljonair kaartendeck.
Mindful & Miljonair boek
Het boek is opgebouwd uit vijf delen, te weten:
Power of Tools
Power of Nature
Power of Imagination
Power of Yoga
Power of Perception
Elk deel bestaat weer uit hoofdstukken. In de inhoudsopgave vind je een praktisch overzicht.
Wat fijn is aan het begin van het boek is dat auteur Steffy Roos Du Maine openhartig vertelt over waarom ze het spirituele pad is ingeslagen, hoe haar leven er uit ziet en waar ze vandaan komt. Ze legt uit wat spiritualiteit is (en ook vooral: wat spiritualiteit in haar ogen níet is), wat succes is en hoe je dit boek kunt gebruiken.
Voelen, verbinden, loslaten, focussen en genieten zijn de vijf stappen die ze jou mee wil geven. Waarom deze stappen belangrijk zijn en wat ze voor je kunnen doen lees je uiteraard in het boek.
Daarnaast vertelt ze hoe je (zakelijk) kunt leven met de maan en hoe je kristallen en kaartendecks kunt inzetten voor spirituele groei. Ook praat ze in haar (uitgebreide!) boek over ayahuasca, ayurveda, manifesteren, ademen, mantra's en meer.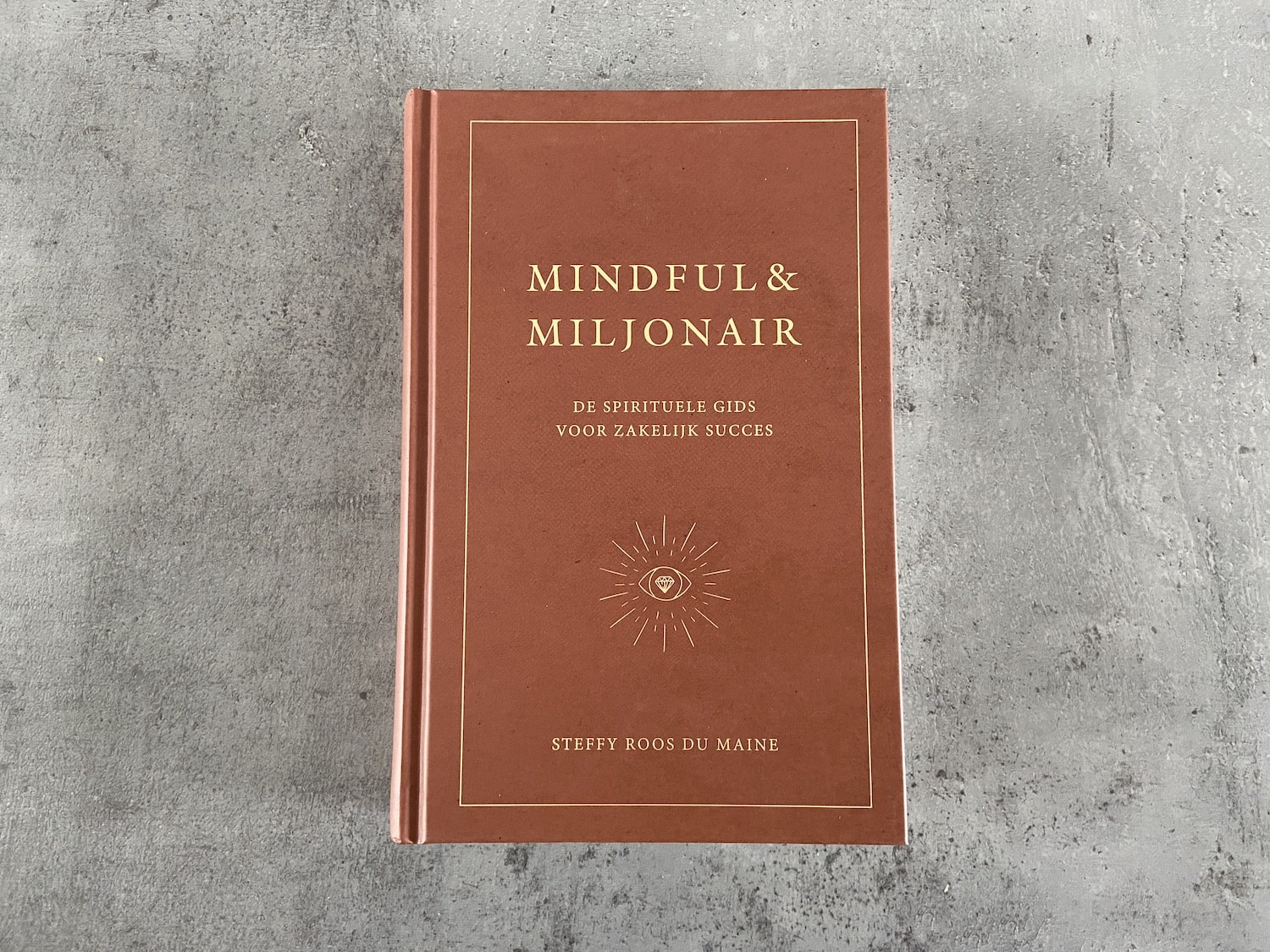 Met onder andere praktische oefeningen voor je ademhaling, oefeningen voor onthechting en tips om te visualiseren is dit boek een prettige mix tussen theorie en praktijk. Haar Mindful & Miljonair kaartendeck is een extra dimensie om hiermee aan de slag te gaan. Het is ook een stok achter de deur om dagelijks een kaartje te trekken, deze zichtbaar neer te leggen en te gaan leren leven met een dagelijkse intentie.
Review
Wat Mindful & Miljonair uniek maakt ten opzichte van andere boeken rondom manifesteren (en aanverwante onderwerpen) is dat Steffy Roos Du Maine veel meer zit op de business-kant. Voor jou als (zakelijke) powervrouw. De tagline 'Spirituele gids voor zakelijk succes' past dan ook volledig bij de inhoud. Voor slechts €21,99 haal je dit pareltje in huis. En it's a keeper; Mindful & Miljonair is een fijn handboek om te bewaren en er zo nu en dan bij te pakken als handleiding. Daarnaast is de cover en de inhoud heel luxe opgemaakt, dus je krijgt meteen al een 'rijk' gevoel.
• Nadi Zoetebier • The future belongs to those who believe in the beauty of their dreams 🙏 • Eigenaar van VolleMaanKalender.nl, liefhebber van astrologie en spiritualiteit • Moeder van zoontje Jae '21 • Energetisch Therapeut in opleiding •