Mandala's. Je kent ze misschien wel uit de spirituele wereld. Ze kunnen veel vertellen. Bekijk een mandala maar eens goed. Kleur, vorm en symboliek komt samen in een symmetrisch geheel. Alana Fairchild heeft dit vertaald naar een prachtig kaartendeck: Helende Mandala's. Lees hier onze review!
Gratis healings en meditaties beluisteren? Abonneer je dan op het VolleMaanKalender YouTube-kanaal!
Wat is een mandala?
Om te begrijpen hoe je de kaartenset Helende Mandala's het beste kunt gebruiken, leg ik je eerst uit wat een mandala is. Mandala betekent 'Magische Cirkel' in het Sanskriet. Het komt uit het Boeddhisme en het Hindoeïsme, waarbij mandala's worden gebruikt in rituelen, meditaties en zegeningen.
Een mandala staat voor kracht, creativiteit en een diepe verbinding met het zelf en het Universum als geheel. Mandala's kunnen je helpen bij het verbeteren van een focus, maar ook bij bescherming en bestrijden van stress en angst. Een mandala is doorgaans rond – er is geen begin of eind en daarmee omvat een mandala 'alles'. In sommige oude geschriften wordt een mandala zelfs symbolisch gezien als baarmoeder of de Bron: daar waar het ooit begon / daar waar het begint.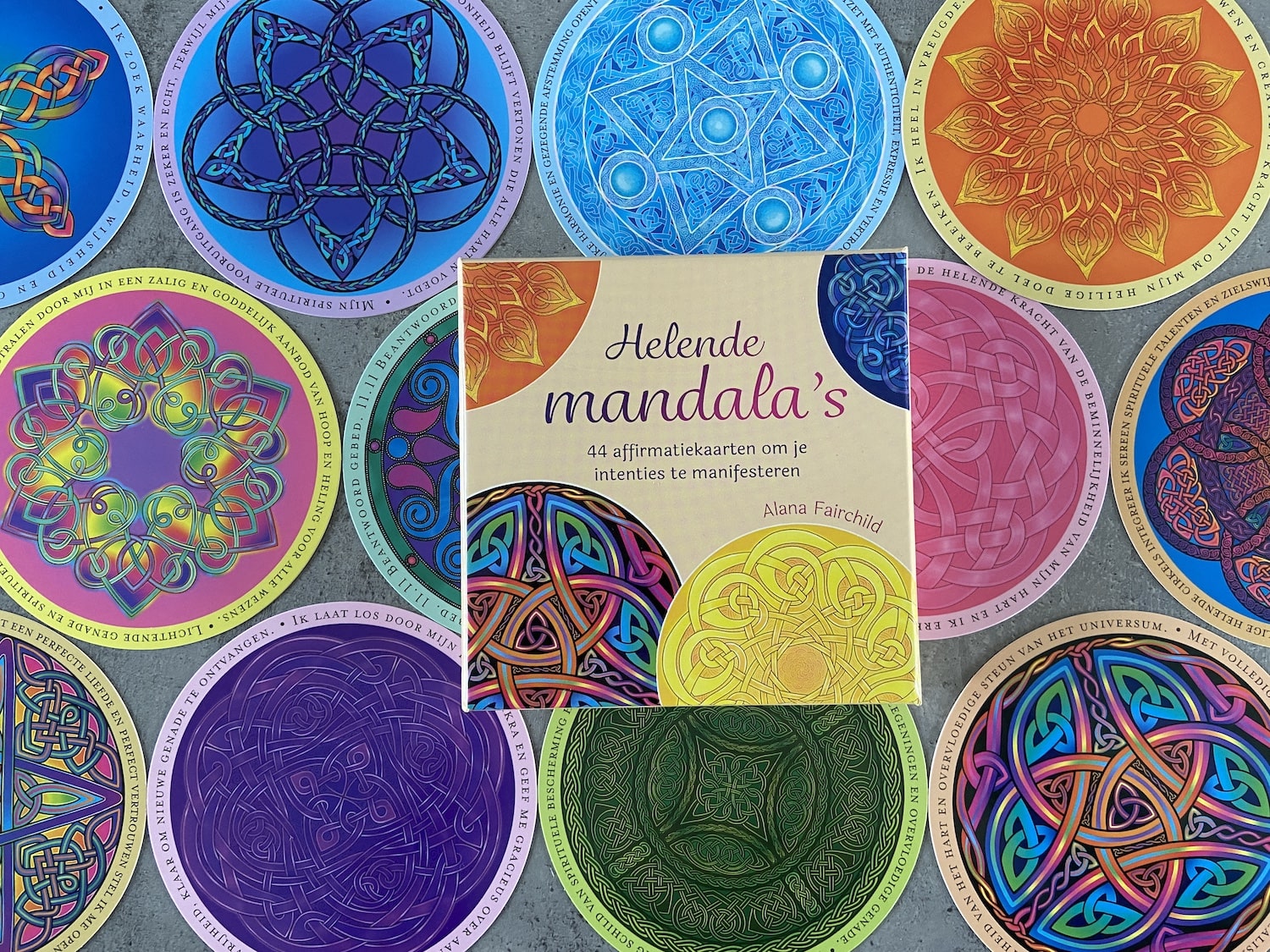 Helende Mandala's
Helende Mandala's bestaat uit 44 prachtig vormgegeven, ronde kaarten in een bewaardoos. Elke mandala is voorzien van prachtige kleuren, symbolieken, geometrie en een boodschap. Ze spreken stuk voor stuk tot de verbeelding. Met dit kaartendeck kun je op een bijzondere wijze in contact komen met wat je Hogere Zelf jou wil vertellen. De boodschappen op de kaarten zorgen voor verlichting, heling, voorspoed, bescherming en zegeningen.
Deze kaartenset is ideaal voor gebruik tijdens een reading of healingsessie, maar ook tijdens een meditatie. Meer inspiratie nodig? Leg een kaart op je thuisaltaar (voor dagelijkse wensen), stop een kaart onder je hoofdkussen of bij je nachtkastje (voor healing tijdens je slaap) of gebruik mandala's op je lichaam bij je chakra's. Je kunt de kaarten ook inzetten op kristalrasters of als voorbeeld gebruiken bij het (therapeutisch) tekenen van een eigen mandala.
Het boekje dat bij het deck zit beschrijft niet de betekenis van de kaarten zelf, maar legt uit hoe je ze (onder andere) kunt gebruiken:
Kort helend proces
Het Goddelijke helingsproces pijl en boog
Voorspellende heling met het Licht van Brigid voor verleden, heden en toekomst
Review
Om de kaarten te kunnen reviewen, heb ik er natuurlijk zelf eentje uit het deck getrokken. Echt schudden heb ik niet gedaan. Normaal zou ik dat wel doen, maar deze ronde kaarten laten zich niet heel makkelijk schudden door mij ;-). Daarnaast kwam ik erachter dat ik het zelf fijner vond om op intuïtie een kaart te kiezen. Eentje die mij direct aansprak op basis van kleur en vorm.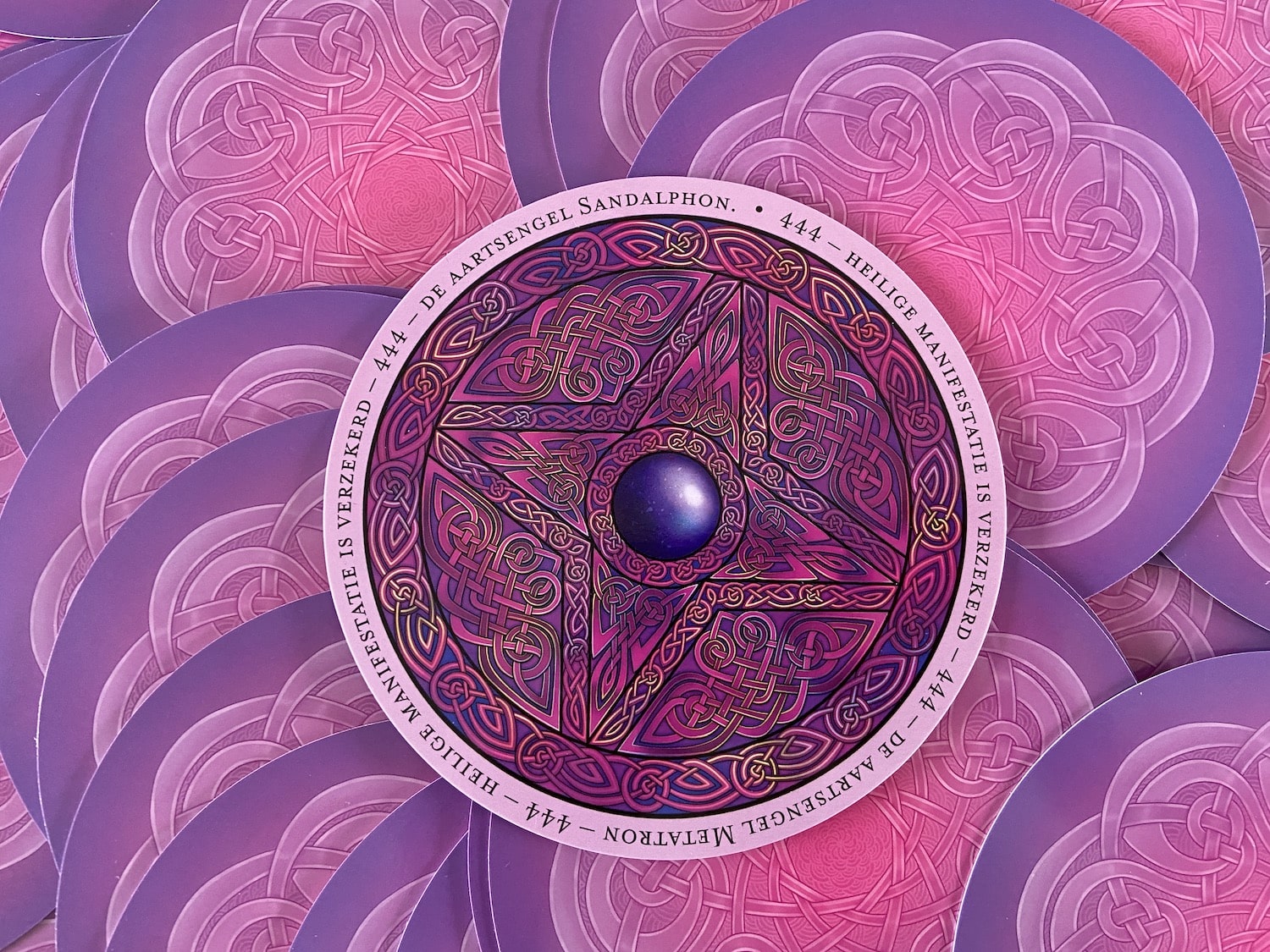 Hierboven zie je een foto van de getrokken kaart. Op de rand van deze kaart staan een aantal dingen:
444
Heilige manifestatie is verzekerd
De aartsengel Metatron
De aartsengel Sandalphon
Er zitten veel kleuren, symbolieken en vormen in die jou – naast de boodschap op de rand – iets kunnen vertellen. En op deze kaart staan ook getallen: 444 en er worden twee aartsengelen (dit is een tweeling!) benoemd. Ik zal de kaart voor jullie uitlezen. Er zit dus geen boekje bij met informatie over de kaarten, dus het uitlezen doe je op gevoel of op informatie die je tot je kunt nemen.
De kleuren (indigo/paars/roze) staan voor visie, romantiek, doelstellingen en wijsheid. Roze staat voor het liefdevolle en paars staat voor het etherische. Niet voor niets wordt paars dan ook gezien als dé spirituele kleur. Deze twee kleuren samen vormen een mix van universele liefde.
Getal 444 betekent dat de engelen bij je zijn en dat je op de goede weg bent. Positieve veranderingen komen er aan.
De tekst 'Heilige manifestatie is verzekerd' vertelt jou dat dat wat jij wil, ook op jouw pad komt. Je weet misschien nog niet hoe en wanneer, maar heb vertrouwen. Het komt er aan. Deze boodschap kun je als mantra prevelen of als affirmatie gedurende de dag (of een periode naar keuze) herhalen. De bedoeling is dat je de ronde kaart naar links draait als je het leest, en naar rechts draait als je het los wil laten.
Aartsengel Metatron zorgt ervoor dat je contact maakt met de energie van het evenwicht en met de energie van de liefde en Aartsengel Sandalphon laat je jouw eigen waarheid inzien. Hij zorgt ervoor dat je contact kunt maken met je gedachten en je innerlijke redeneringen. Ook zorgt Aartsengel Sandalphon ervoor dat je afstand kan nemen van informatie 'van buitenaf', zodat je je kunt focussen op je eigen waarheid.
• Nadi Zoetebier • The future belongs to those who believe in the beauty of their dreams 🙏 • Eigenaar van VolleMaanKalender.nl, liefhebber van astrologie en spiritualiteit • Moeder van zoontje Jae '21 • Energetisch Therapeut in opleiding •