Ben je nieuw in de wereld van tantra seks en wil je hier op een laagdrempelige manier meer mee doen (of meer over leren)? Dan is het Tantra Seks Kaartenset een deck voor jou. Met 50 kaarten vol prikkelende rituelen, erotische oefeningen en spannende standjes haal je alles in huis om liefdevolle intimiteit te creëren en sensuele hoogtepunten te bereiken. Lees hier onze review!
Gratis healings en meditaties beluisteren? Abonneer je dan op het VolleMaanKalender YouTube-kanaal!
Tantra seks
Allereerst: wat is tantra seks eigenlijk? Tantra seks, ook wel tantrische seks genoemd, komt uit het oude Oosten. Het is een vorm van mystieke seks, waarbij het belangrijk is dat er een intieme band is op meerdere niveaus. Het ontstijgt het lichamelijke en gaat verder dan dat. Hierbij mag je denken aan een emotionele, spirituele en seksuele band tussen twee mensen. Tijdens tantrische seks gaat het om de uitwisseling van seksuele energie. Het gaat hierbij niet alleen om de uiteindelijke ontlading (het klaarkomen), maar om elk contact (fysiek, emotioneel en spiritueel) wat er daaraan voorafgaat. En die ontlading hoeft er trouwens niet eens te zijn, bij tantrische seks.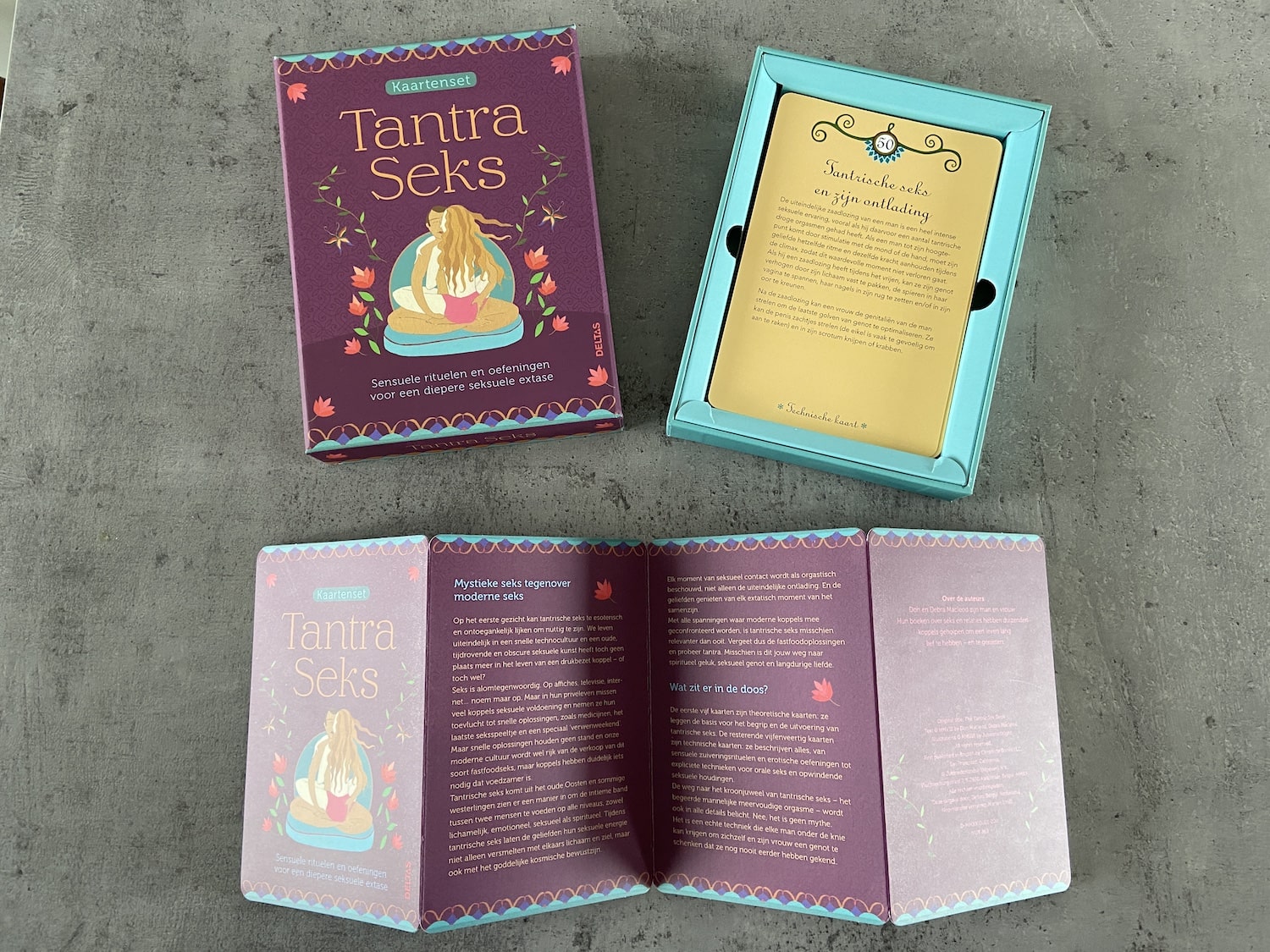 Tantra Seks Kaartenset
Over naar het deck. Het Tantra Seks Kaartenset bestaat uit 50 kaarten. De eerste vijf kaarten zijn een uitleg over wat tantrische seks nou eigenlijk is. Het zijn 'theoretische' kaarten. Zo leer je wat de geschiedenis van tantra is, waarom tantra seks heilig is, de polariteit van seks, wat verlengde passie is en hoe het meervoudig orgasme (binnen tantrische seks) bij mannen werkt. De andere 45 kaarten zijn 'technische' kaarten. Deze kaarten beschrijven de rituelen, oefeningen, houdingen en tips die je kunt gebruiken om aan de slag te gaan met tantrische seks.
Aan de slag
Wat belangrijk is, en dat wordt ook uitgelegd in het boekje, is dat je vooraf een doel stelt. Het gaat niet om een vluggertje of een 'dat doen we wel even'. Het is juist het langzame en het bewuste waar het om draait. Daarom is het het beste dat je de kaarten op volgorde van 1 tot en met 50 gebruikt. Zo kun je stap voor stap leren over de wereld van tantrische seks en alles wat daarbij komt kijken. Dit hoeft ook zéker niet in één keer, daar is het veel te uitgebreid voor zelfs. En dan ga je het doel voorbij. Begin kaartje voor kaartje en ontdek een heel nieuw seksleven met z'n tweeën.
Als je uiteindelijk beter bekend met met de theorie en de technieken, dan kun je het deck schudden of op gevoel een kaartje pakken. Net als bij een regulier orakelkaarten deck, eigenlijk. De bedoeling van dit deck is dat dit een bron van seksuele inspiratie wordt, en dat je samen op weg gaat naar een diepere band en een emotioneler seksleven.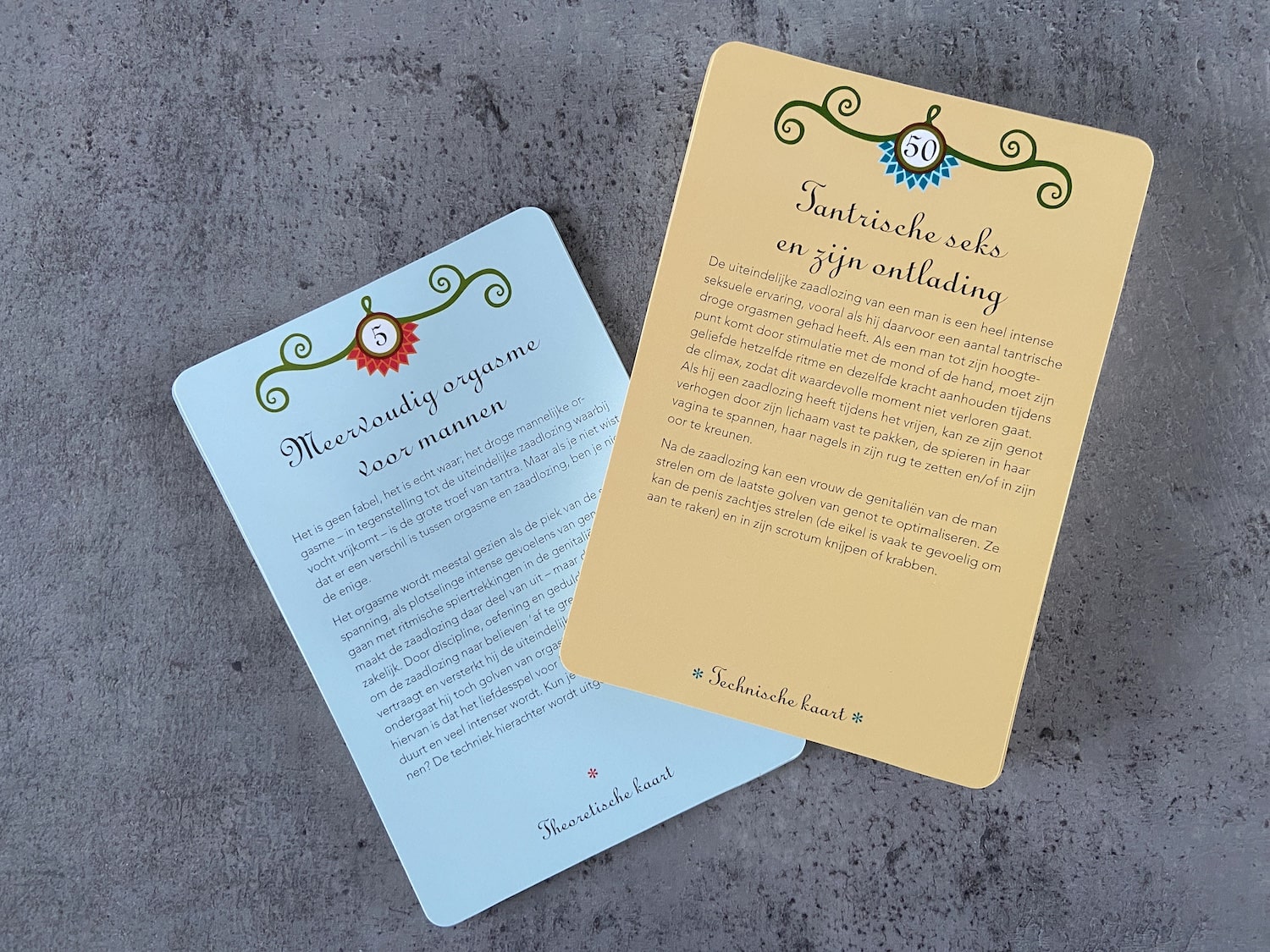 Review
Zelf ben ik helemaal niet thuis in de wereld van tantra seks. Ik heb er wel veel over gehoord en dacht dat ik de principes wel kende (slow en mindful), maar het is veel meer dan dat. In de drukke wereld, waarin alles om je heenraast, is het goed om ook op dit vlak stil te staan bij wat bewuster mag gebeuren. Ik denk dat dit Tantra Seks Kaartenset daar goed bij helpt en dat je je partner nog beter leert kennen met behulp van de theorie en techniek op de kaarten.
De achterkant van de kaarten zijn mooi vormgegeven, het deck is gemaakt van stevig materiaal en het bijbehorende boekje (dat op een harmonica-manier uitvouwbaar is) geeft je een fijn begin. Voor €20,95 haal je hier een mooi cadeau mee in huis voor jou en je partner. Ook leuk als feestdagen cadeau voor stellen of als huwelijksgeschenk ;-).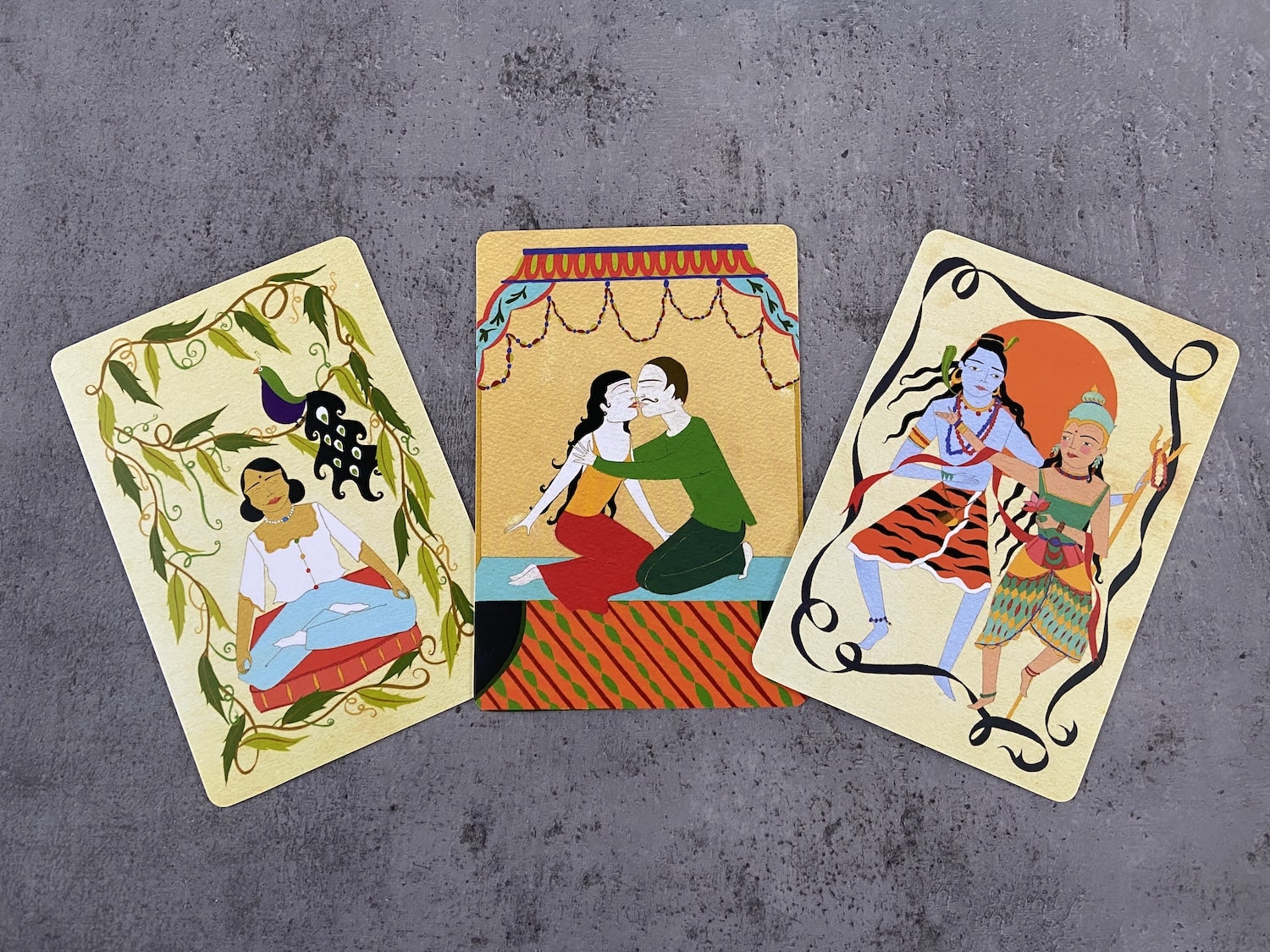 • Nadi Zoetebier • The future belongs to those who believe in the beauty of their dreams 🙏 • Eigenaar van VolleMaanKalender.nl, liefhebber van astrologie en spiritualiteit • Moeder van zoontje Jae '21 • Energetisch Therapeut in opleiding •