Gastredacteur Godaya schrijft in haar tweede column voor VolleMaanKalender.nl over rituelen en waar rituelen haar (en jou) bij kunnen helpen. Lees je mee?
Gratis healings en meditaties beluisteren? Abonneer je dan op het VolleMaanKalender YouTube-kanaal!
In mijn artikelen zul je meer lezen over het mystieke pad. Het behoort tot geen enkel ander pad. Het is ook niet mijn intentie om er les over te geven, maar mocht je geïnspireerd raken of herkenning voelen, zal ik wel vanuit mijn eigen ervaring wat tips geven.
Waar ik in mijn spiritualiteit achter ben gekomen gaandeweg, is dat ik wel in God geloof, maar me niet kan vinden in rituelen van de kerk. Ik heb het wel geprobeerd, maar een eigen stem kon daar soms moeilijk een weg in vinden. Waar begin je met God, als je de Bijbel dus niet leest, als je geen goed christen bent en dat soort dingen?
Wat ik zocht was een soort mystiek die iets dieper gaat dan de meeste trends in spiritualiteit.
Met dieper bedoel ik: dat je dicht bij je gevoel blijft, en daarin ook jezelf opent en alles (ook in de dagelijkse omstandigheden anders kunt gaan zien). Dat je zowel in voorspoed als in tegenspoed trouw blijft aan jezelf en je spiritualiteit. Ik ben niet tegen trends, – ik vind dat zelfs heel leuk -, maar voorbij het leuke gebeurt er veel met jezelf en in de wereld en daarin zit ook spiritualiteit. Juist daar.
En… ik houd van mooie dingetjes. Hoe mooi is het om een mooi heilig beeldje ergens van een reis mee te nemen voor thuis op een altaar? Een bijzonder kettinkje met gevoel te dragen? Toch gaat
spiritualiteit in voor- en tegenspoed. Je bent het niet, maar het kan wel bij je horen.
Rituelen kunnen je helpen om soms verder te komen.
Waarom helpen rituelen dan? (vroeg ik mij af)
Rituelen helpen je her-inneren en tijd te nemen voor jezelf en datgene tot waar je je richt. Door de drukte van de dag, kan dit in verdrukking komen. Door een ritueel te doen, kun je het weer gaan voelen en uit de verdrukking halen.
Je systeem gaat meer open op dat moment, waardoor je meer kunt gaan voelen. Je drukt dagelijks je dingen weg. Door tijd te nemen om te voelen, mag dit bovenkomen en verwerkt worden.
Het bouwt doorzettingsvermogen op, als je het dagelijks doet. Voor- en tegenspoed. Dit maakt het voorbij de trend.
Woorden, handelingen, dingen krijgen meer kracht als je ze herhaalt. Dit bedoel ik niet als een toverformule, maar heb ik ervaren-begrepen, gaandeweg (bijvoorbeeld met mindful wandelen of het zeggen van je eigen gebed).
Er komt meer relativering. Als je dingen op bepaalde tijd doet, ga je ook de veranderingen zien door de tijd heen. Je kijkt naar hetzelfde op een andere manier.
Het is een moment voor jou, of God (of wat het voor jou dan speciaal voor jou ook is) om je hart te luchten. (Sommige dingen kun je niet tegen iedereen zeggen. Dit is dan wel het moment).
Het is een moment om intern je kracht op te laden en in te ademen.
God, het universum, of een kracht, antwoord ook, gek genoeg. Dit kan intern tijdens een ritueel beleven, doordat je volstroomt met vertrouwen, vrede of liefde, of soms iets later in de ontvouwing van je leven. Dat het makkelijker gaat, dat dingen anders op zijn plaats vallen.
Dit vraagt ook consequentie. Voor niets gaat de zon op. Ja, de zon wel, maar als je de vruchten ervan zeg maar wil plukken…
Doe het op een vast deel op de dag, bijv. bij opstaan en slapengaan. Ook als anderen zeggen, wat ga je nu doen? Of je mind zegt: nu even niet.
Creëer mindfulness, dat je het niet afraffelt maar er echt bij bent. Maak het daarom niet te lang, maar ook niet te kort. Het mooiste is dat je het tijdloos doet en de tijd even kunt vergeten, en dus ziet gewoon hoelang het duurt.
Open eerst je hart, als je het doet en doe het niet om het 'doen'. Uit het hoofd en naar het gevoel.
Doe het niet in de leegte, maar doe het tegen/voor/ten aanzien van iemand, of een hogere waarde. Tenzij je natuurlijk de leegte als hoogste doel maakt (zoals een Zen-boeddhist).
Noteer misschien dingen die je opvallen (die anders zijn dan een andere keer). Schrijven brengt het onderbewuste boven.
Houdt vol. Je systeem gaat het echt missen als er iets tussen komt. Dan wordt het dagelijks doen ook makkelijker.
Doe het, ook als je kop er niet echt naar staat, want een ritueel kan transformerend zijn. Je kunt het op een off-day, wanneer het oneigenlijk voelt, ook gewoon heel kort houden.
Een ritueel is niet alleen een kwestie van doen, maar ook een kwestie van zijn en mogen ontvangen. Ontvankelijkheid helpt alleen als je hiervoor open staat. Als je alleen maar focust op wat je doet, zonder gevoel, is ontvangen lastig. Nee, je praat niet in de leegte. Je wordt gehoord, alleen dan onstoffelijk. Als je hypergevoelig bent, kun je shifts in de energie voelen.
Een ritueel?
Dat is dus voor iedereen anders. Ik 'doe' s'ochtends altijd mindful wandelen (en als er 's avonds ruimte is nog een klein rondje). Ik sta regelmatig op de yogamat. Ik mediteer/bid 's ochtends en 's avonds. En ik leg regelmatig een kaartje, maar neem ook rustig de tijd om antwoorden in mijzelf te vinden.
Anderen gaan misschien een uurtje tuinieren. De dieren, van wie zij houden rondom het huis verzorgen. Strijken. Alles kan, als het maar in overgave gebeurt en je je systeem even open zet (of uit zet).
Ondanks de herhaling, is iedere dag anders. Soms duurt een ritueel lang, dan weer duurt ie kort. Soms is die met overgave, dan weer is die wat meer standaard.
Alles is goed. Hoe je je voelt is elke dag anders. Dat maakt het nooit saai.
Simpelheid is niet saai. Simpelheid bruist.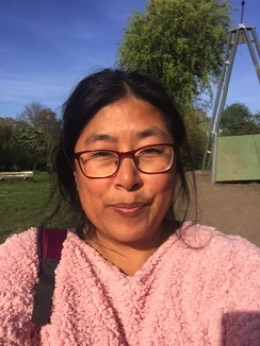 • Godaya Komen • 10+ jaar yoga en meditatie docent, schrijfster, coach/healer en mediator en thans advocaat • Moeder • Dichtbij de natuur • Vindt authenticiteit belangrijk •