Wil je je laten verrassen en inspireren? De magie in het alledaagse ontdekken? Deze set van 48 prachtig geïllustreerde orakelkaarten maken jou op speelse wegwijs in de wereld van wicca spreuken. Lees hier onze review van het Wicca rituelen & bezweringen orakel deck!
Gratis healings en meditaties beluisteren? Abonneer je dan op het VolleMaanKalender YouTube-kanaal!
De magische wereld van orakelkaarten
Orakelkaarten kunnen je helpen bij het ontwikkelen van je intuïtie, zelfliefde en emotioneel welzijn. Ze zijn te gebruiken als kompas voor jezelf. Een soort leidraad voor wat jij mag horen op dat moment; orakelkaarten helpen je bij het volgen van het pad dat jij mag bewandelen. En orakelkaarten komen in alle soorten en maten; het is maar net wat bij jou past. In dit artikel bespreken we het Wicca rituelen & bezweringen orakel deck: een set van 48 waanzinnig visuele kaarten die volledig zijn ingestoken op de wereld van hekserij/wicca.
Leer je deck kennen
Hoe leer je je deck nou goed kennen? Trek bijvoorbeeld dagelijks een kaartje en lees de bijbehorende boodschap. Wat kun je met de informatie van de kaart? Welke energie geeft de kaart jou? In het geval van het Wicca rituelen & bezweringen orakel deck hoef je de bijbehorende spreuk niet eens te doen; je kunt iedere dag leren door in te tunen op de prachtige visuals van de kaart zelf. Schrijf je bevindingen op in een journal dat je speciaal voor je dagelijkse mijmeringen hebt. Je zult zien dat je je steeds verder en dieper op je spirituele pad begeeft!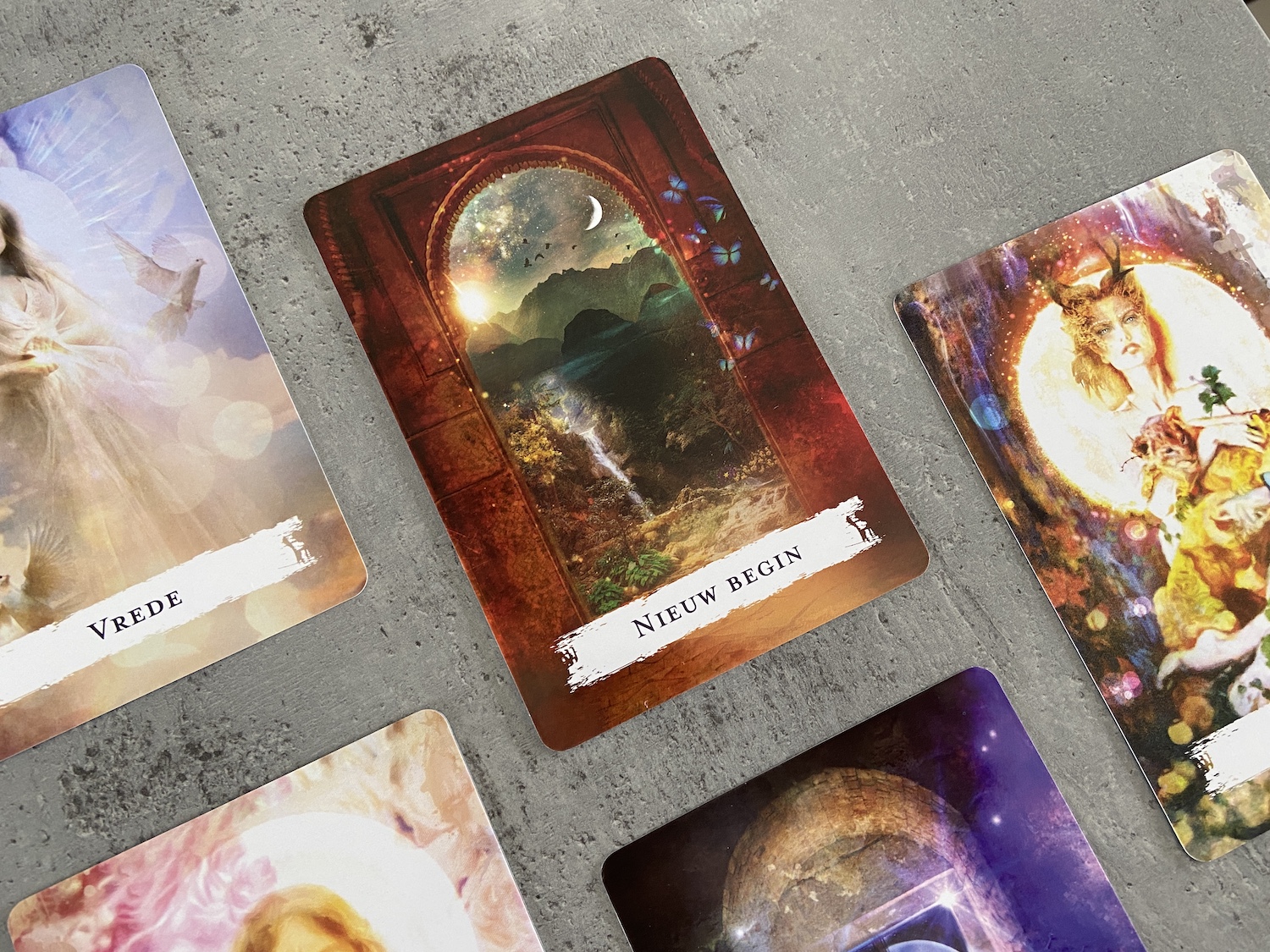 Visueel aantrekkelijk
Heb je de afbeeldingen bij dit artikel al bekeken? De kaarten zijn visueel onwijs aantrekkelijk. Dat maakt dat je ze gemakkelijk intuïtief kunt uitlezen. Kijk maar eens naar de kaart 'Nieuw begin' hierboven. Wat zie je allemaal? Een poort (staat voor een overgang), de zon die opkomt aan de horizon (nieuw leven, nieuw begin), de maan (je intuïtie, emoties), vogels die vliegen (vrijheid), vlinders (transformatie), een waterval (go with the flow) en groene planten (leven, natuur). Dit zijn zomaar een aantal dingen die mij persoonlijk opvallen aan de afbeelding op de kaart, waardoor het intuïtief uitlezen als vanzelf gaat.
Heling
Natuurlijk heb ik ook voor deze review een kaartje getrokken. De kaart die uit het deck kwam is 'Heling'. De kaart straalt een en al rust uit, met lichte kleuren en een positieve energie. De kaart voelt voor mij als een hint om naar binnen te keren, de rust in jezelf te zoeken. En weten dat je jezelf kunt helen, omdat je eigenlijk al heel bent. Je moet het misschien alleen opnieuw herinneren.
Volgens het boekje, dat bij het deck zit, staat de kaart voor dat je een geboren heler bent, dat je de hulp van reiki of kristallen in mag schakelen, evenals natuurlijke helende planten. Je lichaam smacht ernaar om te ontgiften. Het is tijd voor aanvaarding.
Er is geen goed of fout tussen wat mijn intuïtie mij vertelde en wat het boekje over de kaart zegt; het gaat er om hoe jij je ergens bij voelt en hoe jij de kaart wil interpreteren.
Bekijk voor een impressie vooral ook de slideshow hieronder.
Review
Ik ben onder de indruk van dit deck! Het is een unieke, creatieve benadering van orakelkaarten. Met dit deck haal je een heleboel nieuwe kennis en spreuken in huis. Maar het belangrijkste vind ik zelf dat het prettig uitleest en dat mijn intuïtie er helemaal op aangaat. En dat doet 't! De kaarten zijn van hoge kwaliteit, met een glossy finish. Ze komen in een stevige keepsake box, waardoor je ze gemakkelijk kunt bewaren. Er is ruimte om nog een kristal in het doosje te leggen, bijvoorbeeld een klein staafje Seleniet. Hiermee kun je het deck reinigen en opladen. Voor de prijs van €29,95 haal je met dit deck een mooie aanvulling in huis op de standaard decks. Met name als je al interesse hebt in de wereld van hekserij en innerlijke magie.
• Nadi Zoetebier • The future belongs to those who believe in the beauty of their dreams 🙏 • Eigenaar van VolleMaanKalender.nl, liefhebber van astrologie en spiritualiteit • Moeder van zoontje Jae '21 • Energetisch Therapeut in opleiding •