Nieuw bij VolleMaanKalender.nl: columns van auteur Astrid HL Goossens. Schrijver van onder andere het boek Acht, een jaar uit het leven van een Wicca. In haar eerste column vertelt ze over haar gevoelens vandaag tijdens de Leeuwenpoort.
Gratis healings en meditaties beluisteren? Abonneer je dan op het VolleMaanKalender YouTube-kanaal!
Vandaag passeert de zon vijftien graden het teken van Leeuw. Het tijdstip waarop de astrologische datum van het jaarfeest Lammas valt. Een wiccafeest waarbij de overvloed centraal staat. Ook de periode waarin de kracht van de Zon hoog is, maar toch afneemt. Met de komende hittegolf zou ik echter kunnen denken dat de Zon krachtinspanningen doet om zichzelf te bewijzen.
Vandaag is het ook de opening van de Leeuwenpoort. Zelf heb ik er niet veel mee. Ik lees ergens dat deze een sterke uitwerking kan hebben op onze talenten. Iets dat ik wil nagaan, want de inspiratie voor mijn schrijverskant is ver te zoeken.
Om acht uur en acht minuten deze ochtend zette ik me in mijn cirkel om te mediteren. Een poging tot. Want het is iets dat me niet goed ligt. Ik sluit mijn ogen en concentreer me op mijn ademhaling. Bij iedere inademing denk ik 'positief creëren', bij iedere uitademing 'negatief weren'. Ondertussen beginnen de hersenen op volle toeren te draaien en vliegen de ideeën over en weer.
Ik richt mijn concentratie opnieuw op mijn ademhaling en mijn zinnetjes. Namen van personen springen in mijn gedachten. Terwijl ik deze lichtjes observeer, starten de eksters hun dagelijks kwetterrondje.
Gedaan met de meditatie. Ik laat de eksters het woord doen en stap uit mijn cirkel.
Een mislukking? Neen! Uit de opdringende gedachten neem ik deze mee die op dit moment een betekenis voor me hebben. Inspiratie die ik kan uitwerken en die nuttig is voor mij. Een tijd om mijn creaties verder te laten rijpen en binnen een maandje te oogsten.
Zo zie je maar. Een meditatie, of je er nu goed in bent of niet, is nooit verloren tijd. En je hoeft niet te mediteren om ideeën te krijgen.
Wat kan je zelf doen zonder te mediteren? Stap je deur uit en wandel even rond. Kijk uit het raam. Bekijk mensen, huizen, kleding, onkruid. Vind je inspiratie in het dagdagelijkse. Neem dat wat voor je past in je op. Werk het uit! En weet dat het niet perfect moet zijn.
Je hebt gemediteerd maar geen inspiratie gekregen? Noteer je gevoelens die opkwamen. De geuren die je opsnoof. De geluiden die je hoorde. Het kan later nog van pas komen.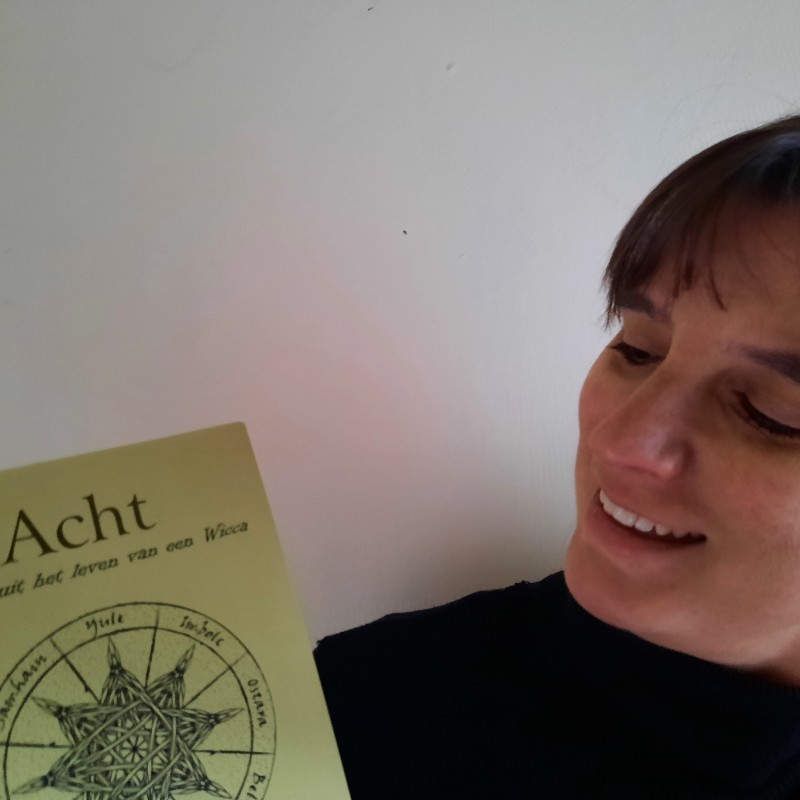 • Astrid HL Goossens • Het heden is de toekomst van het verleden • Auteur o.a. Acht, een jaar uit het leven van een Wicca •  Voor VolleMaanKalender.nl schrijft ze met name over hekserij/Wicca •