Dieren zijn krachtige boodschappers. Van de reusachtige walvis tot de kleine bij: elk dier heeft zo een eigen betekenis. Dankzij de 46 kaarten én het bijbehorende boekje van De geheime boodschappen van Dieren kom je weer in contact met de wijsheid die zij bij zich dragen. Lees hier onze review!
Gratis healings en meditaties beluisteren? Abonneer je dan op het VolleMaanKalender YouTube-kanaal!
Als ik een dier tegenkom, hoe groot of klein ook, dan ben ik altijd benieuwd wat er achter die ogen schuilgaat. Wat is de spirituele betekenis van…? Het geeft zo'n nederig gevoel om te beseffen dat we de aarde delen met deze prachtige creatures. En wij kunnen zóveel van hen leren. Chip Richards heeft die kennis met dit deck gebundeld. Letterlijk: boodschappen van de dieren.
In dit artikel zie je foto's van het deck én lees je onze bevindingen.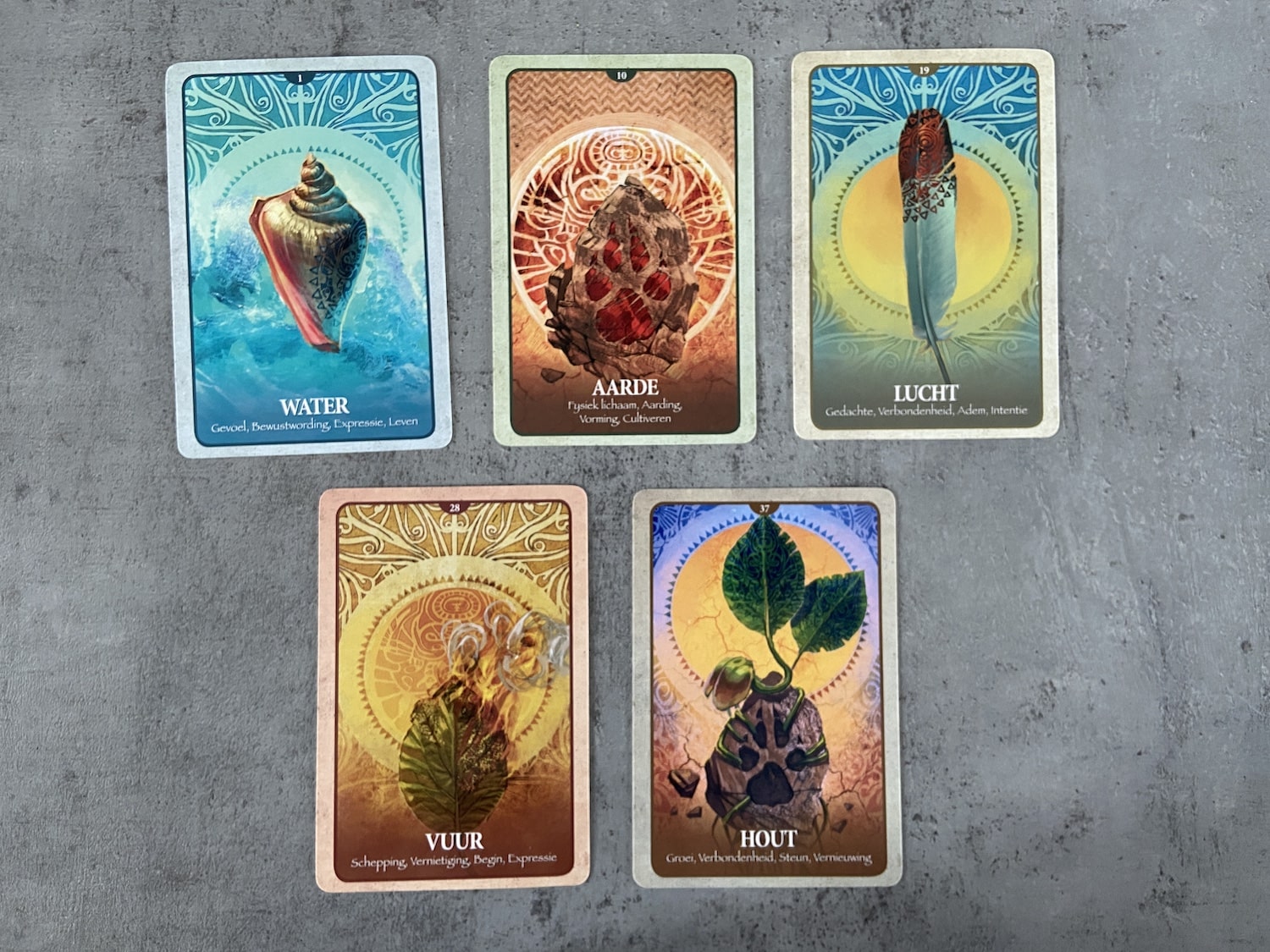 Opbouw kaartendeck
Het kaartendeck De geheime boodschappen van Dieren bestaat uit 46 kaarten die zijn opgedeeld in vijf elementen. Bekijk de lijst hieronder voor een overzicht van het deck. Achter elk element vind je acht kaarten van dieren, het element zelf is ook een kaart. De laatste kaart uit het deck is de prachtige kaart Gaia – daarover lees je meer.
Water

Blauwe Vinvis
IJsbeer
Dolfijn
Zalm
Doejong
Zeeschildpad
Rivierkreeft
Haai

Aarde

Leeuw
Berggorilla
Sneeuwluipaard
Kariboe
Witte Neushoorn
Olifant
Python
Brughagedis

Lucht

Arend
Valk
Witte Pelikaan
Albatros
Condor
Ornaatelfje
Kerkuil
Kraai

Vuur

Wild Paard
Libel
Bij
Gouden Zijdespin
Gekko
Vals Heideblauwtje
Zoetwaterkwal
Oranjebuikparkiet

Hout

Reuzenpanda
Wolf
Orang-Oetan
Boomkikker
Wandelende Tak
Rode Eekhoorn
Koala
Zwarte Kaketoe

Gaia
Legging met één kaart: boodschap voor de dag
Je kunt dit deck op diverse manieren gebruiken, maar de prettigste vind ik zelf om te werken met een enkele kaart. Wat mag jij op dát moment horen? Je kunt de kaart toevoegen aan een bestaande reading (bijvoorbeeld een legging met tarot) of je trekt een dagkaart voor jezelf. Ideaal voor je ochtendritueel. Je kunt er trouwens ook voor kiezen om de kaarten te bekijken en op gevoel een dier/kaart te kiezen die jou voor die dag zal begeleiden. Bekijk in alle gevallen éérst de kaart goed. Wat spreekt jou aan? Wat doen de kleuren met je? Welk gevoel geeft het dier jou? Komen er al inzichten? Pas daarna pak je het boekje erbij om het verhaal van het dier en de boodschap te lezen.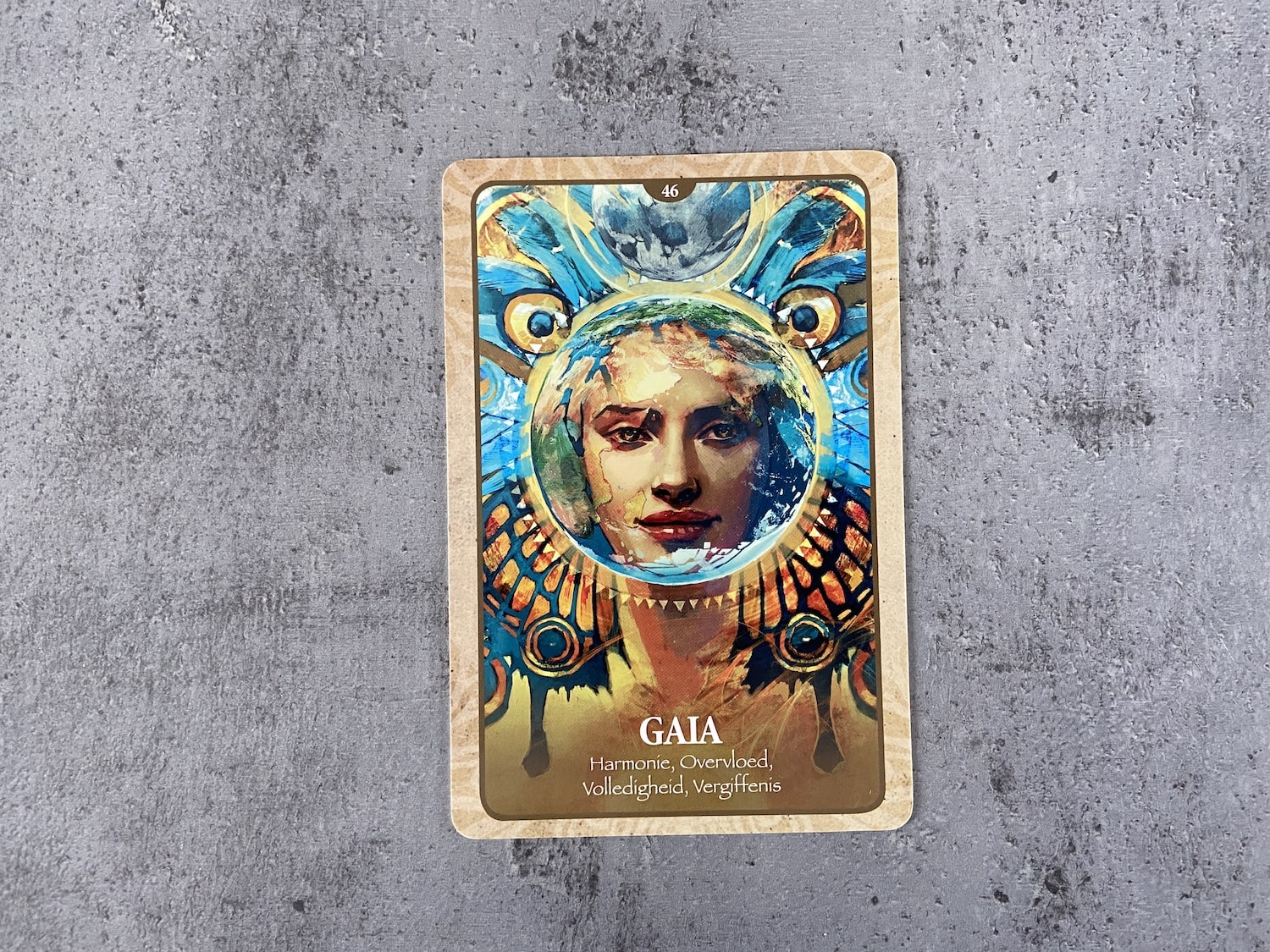 Gaia
Over kaart 46 wil ik wat meer vertellen, dit is namelijk mijn favoriet uit het deck. Wat een kracht straalt Gaia uit! Ik zie alle elementen die verwerkt zijn in deze kaart. Ook zie ik de vlinder hierin terug (transformatie), ogen (visie) en de aarde. Het is groots. Werelds. Gaia staat voor harmonie, overvloed, volledigheid en vergiffenis. Gaia biedt grenzeloze liefde, steun en koestering. Krijg jij Gaia als dagkaart of in je legging, dan is dit een positief teken. Gaia roept namelijk 'JA' tegen alles wat jij droomt en wenst.
En hoe mooi is het dat dit kaart 46 is? Opgeteld is dat (4+6=) 10, of dat weer teruggebracht (1+0=) 1. In numerologie is getal 1 het getal van de leider en inspirator. Helemaal passend!
Neem je eigen verantwoordelijkheid en take control of the situation. Neem het heft in eigen handen. Je wordt ondersteunt door alles om je heen.
Review
Dieren blijven magisch. Voor een test trok ik een kaartje voor een vriendin: de gekko. En dit kaartje paste perfect bij de situatie waar zij inzat. De Gekko staat voor synchroniciteit, optimisme, waarheid en beweeglijkheid. Laat kritische gedachten je waarheid niet vertroebelen. Het is kaart 33 uit het deck – hallo meestergetal 33! Zo bijzonder hoe je je intuïtie goed kan aanspreken met decks die zo pragmatisch zijn zoals deze. Een aanrader voor je collectie!
• Nadi Zoetebier • The future belongs to those who believe in the beauty of their dreams 🙏 • Eigenaar van VolleMaanKalender.nl, liefhebber van astrologie en spiritualiteit • Moeder van zoontje Jae '21 • Energetisch Therapeut in opleiding •