Ben jij benieuwd naar de wereld van Ayurveda? Wat Ayurveda voor jou kan doen en vooral: hóe? Dan is het boek Alles over Ayurveda iets voor jou. Je leest hier onze review!
Gratis healings en meditaties beluisteren? Abonneer je dan op het VolleMaanKalender YouTube-kanaal!
Alles over Ayurveda is geschreven door Cielke Sijben en Marleen Dijkhoff. Ze leerden elkaar in 2003 kennen, toen nog in een hele andere levensstijl. Toen ze Ayurveda leerden kennen en zich hierin verdiepten, kreeg hun leven een hele andere flow. Het boek is een hardcover uitgave van 232 pagina's, in full-color print. De kleuren die op de cover worden gebruikt zijn modern, de fotografie in het boek geeft een mood. Een zachte, warme energie. Dat maakt het lezen van het boek én het scannen van de pagina's als zijnde handboek erg prettig.
Wat is Ayurveda?
Voor ik iets over het boek vertel, wil ik graag wat delen over Ayurveda. Want wat is Ayurveda eigenlijk? Ayurveda is een oude gezondheidsleer. Het betekent in het Sanskriet letterlijk 'kennis van het leven'. Er zijn geen standaard richtlijnen die je kunt volgen, het is een levende leer waar je je in kunt blijven verdiepen. Je leert gaandeweg je geest, lichaam en ziel kennen. Daarmee kom je dichter bij de natuur en beter in balans (emotioneel, lichamelijk en spiritueel).
Beginnen met Ayurveda kan lastig zijn – het is zó veelomvattend. Daarnaast zijn er veel termen waar je waarschijnlijk nog niet eerder van hebt gehoord. In Alles over Ayurveda vind je een begrippenlijst en een boodschappenlijstje om te starten. Handig!
Alles over Ayurveda boek
Het boek bestaat uit zes delen. In het eerste deel leer je over Ayurveda – wat is Ayurveda eigenlijk en hoe begin je hiermee? Het tweede deel gaat over hoe jij bent binnen de Ayurveda. Een dosha-test geeft aan of je een Vata, Pitta of Kapha bent. Of misschien wel een combinatie (most likely!). Het derde deel neemt je mee de diepte in. Hoe en wat kun je het beste eten volgens je Ayurveda-type? Het vierde deel beslaat ritmes en routines. Hoe leef je het beste met de seizoenen en wat is jouw ideale slaappatroon? Het vijfde deel gaat over Ayurveda en je lichaam. Denk aan yoga, sport en je cyclus. Het laatste deel is denk ik mijn favoriete deel. Dit boek vertelt je namelijk niet alleen Alles over Ayurveda; het heeft namelijk ook tientallen pagina's met recepten. Van drankjes tot ontbijt en zoete snacks… Het is een heel kookboek in een boek. Ga je voor de Comfort Curry (blz. 173) of de Sexy Dadelshake (blz. 210)?
Dosha's
Zoals je hierboven al kon lezen zijn er drie Dosha's. Dosha betekent in het Sanskriet 'dat wat verandert'. Dosha's worden ook wel levenskrachten genoemd. Of body-mindtypes, zoals Cielke en Marleen het aangeven in dit boek. Elk mens bestaat uit deze Dosha's, maar de verhoudingen zijn bij iedereen anders. Als je eenmaal weet welk Dosha (of welke Dosha's) bij jou dominant zijn, dan kun je herkennen wat jouw talenten zijn en ontdekken wie je werkelijk bent. Ook je negatieve kanten horen hier bij. Je levenslessen. Alles draait om balans. Jij bent niet daadwerkelijke het negatieve; je bent niet volledig in balans.
De Dosha's zijn verbonden aan de elementen.
Vata – Ether, Lucht
Pitta – Vuur, Water
Kapha – Water, Aarde
Alles over Ayurveda heeft een handige Dosha-test, waarmee je kunt checken welke Dosha's bij jou overheersen.
Slaap
Ik wil graag nog iets uit hoofdstuk 19 uitlichten: Schone slaper. Dit hoofdstuk gaat over slaap. Wanneer is de beste slaap per Dosha, wat zijn tips om lekker wakker te worden en vooral: wat zijn tips voor het slapen gaan? Ik denk dat ik zelf tip 7 nog wel mag gebruiken: drink geen koffie na 13.00 uur. Als je er gevoelig voor bent, kan koffie nog wel tot 10 uur lang doorwerken in je lijf. En dan lig je onrustig in je bed, te staren naar het plafond. Ben je meer een Kapha-type, dan kun je het beste tegen de koffie. Vata's hebben er het meeste last van hebben zijn de Vata's. Ook hier geldt dus weer: ken je je type/verhouding van je Dosha's, dan kun je je hier je slaap, voeding en zoveel meer op afstemmen. Wat voor jou het beste werkt.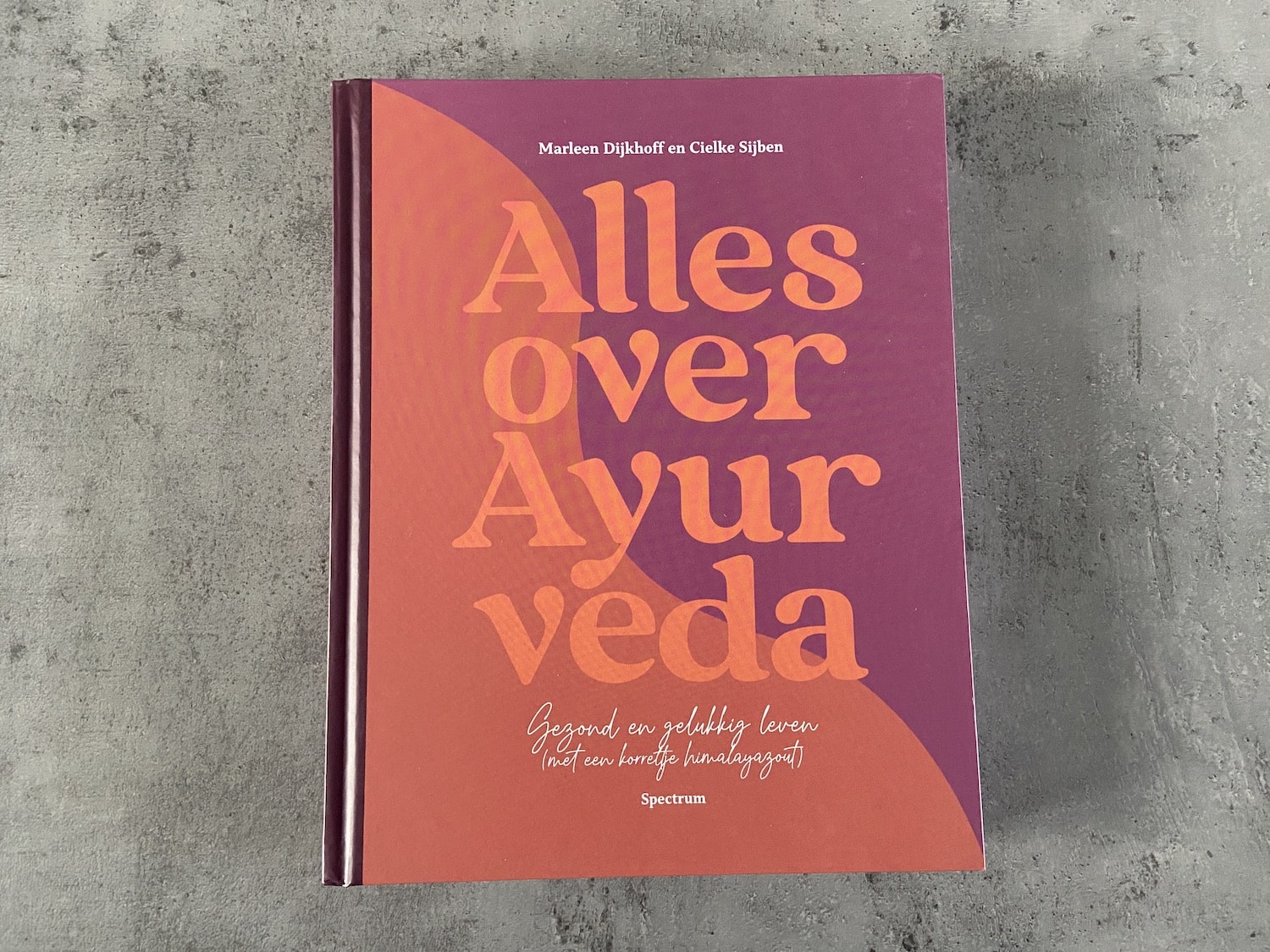 In de foto's hierboven zie je een impressie van het boek: de gekleurde pagina's, de prachtige vormgeving en de aansprekende fotografie.
• Nadi Zoetebier • The future belongs to those who believe in the beauty of their dreams 🙏 • Eigenaar van VolleMaanKalender.nl, liefhebber van astrologie en spiritualiteit • Moeder van zoontje Jae '21 • Energetisch Therapeut in opleiding •