In dit artikel legt spiritueel coach Esther je uit wat het oranje Heiligbeen chakra is, waar deze zit en hoe je hiermee kunt werken. Lees gauw verder!
Gratis healings en meditaties beluisteren? Abonneer je dan op het VolleMaanKalender YouTube-kanaal!
Chakra's zijn mooie gekleurde, draaiende 'ballen' in één van onze energetische lichamen. De chakra's hebben allemaal een kleur en staan voor een fysiek gedeelte van je lijf, je mentale en geestelijke staat van zijn. In dit artikel lees je over het tweede chakra: het oranje Heiligbeen chakra.
Ben je nieuw in de wereld van chakra's? Lees dan eerst 'Dit zijn de zeven hoofdchakra's en hun kleuren'.
Oranje Heiligbeen chakra
Het chakra in je energetische lijf ter hoogte van je onderbuik en je onderrug. Het gaat over je genitaliën, je baarmoeder, waterhuishouding menstruatie, seksualiteit als onderdeel van een fijn liefdesleven met jezelf en met de ander, intiem durven zijn en plezier maken. Voel je je op je gemak met jezelf, je lijf? Was er thuis alles open en bloot of alles achter gesloten deuren? Wil je alles controleren of doe je het tegenovergestelde: laat je de boel op z'n beloop? Doe je eerst alle klusjes en is de tijd die overblijft voor iets leuks of voor jezelf? Ook je onderrug valt onder dit chakra en je grootste orgaan, je huid. Je begrijpt dat als er fysieke problemen of mentale issues zijn over het bovengenoemde, je dit chakra wat aandacht en liefde mag geven.
Het element water hoort bij dit chakra en als je mee beweegt met het leven, je eigen sappen stromend houdt, door voldoende te drinken, te zweten en je liefdessappen niet op te laten drogen, gaat het over het algemeen goed met dit chakra. Je begrijpt dat in deze maatschappij de Godin in elke vrouw veel meer naar voren mag komen en dat intimiteit en seksualiteit horen bij een goed gevoel over jezelf. Nu kan dit best een uitdaging zijn, omdat dit chakra ook gaat over gezonde seksualiteit zonder oordeel daarop of schaamte, en over je baarmoeder, menstruatie, kinderen willen of niet, kunnen krijgen of niet. Het is een heel vrouwelijk chakra en vaak heeft dit intieme deel best wat aandacht nodig.
Werken met je oranje Heiligbeen chakra
Nu je dat weet kun je met jouw overtuiging aan de slag. En dit gaat heel mooi door bijvoorbeeld
Je verdiepen in je chakra
Intuïtief tekenen met oranje of een chakra tekening maken
Intuïtief schrijven met een oranje pen
Meer oranje kleding dragen met name op het chakra gebied
Edelstenen voor dit chakra bij je dragen
Affirmaties voor dit chakra onder een glas water leggen zodat het oplaadt en dit opdrinken.
De chakra's werken dus zo en je kunt op die manier heel veel te weten komen over jezelf. En wat nog beter is, op een simpele en praktische manier jezelf ontwikkelen. Zo kun je bepaalde zaken die jou belemmeren jouw zielsmissie of droomleven te leiden aanpakken!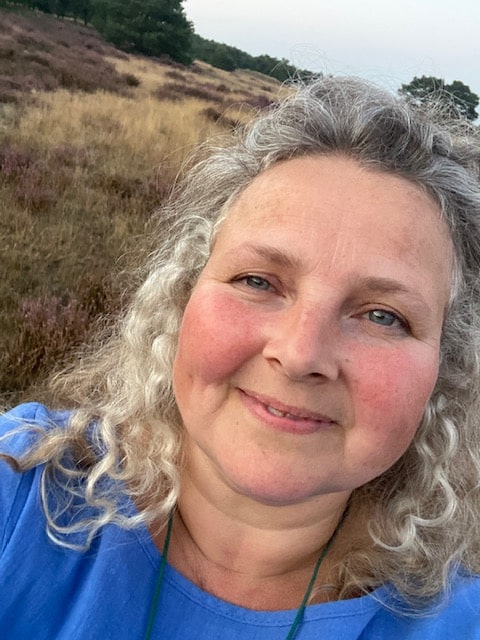 • Esther Foppen • Leeft met de maan en de seizoenen • Spiritueel kunstzinnig coach • Moeder, medium en heks • Ondernemer • Doet aan orakelen en kleurenmagie, onder andere door de chakra's als richtlijn te gebruiken • Laat haar cliënten bijvoorbeeld intuïtief tekenen of schrijven om tot de onderliggende kern van hun situatie te komen, waarna er heling plaats vindt • Voor VolleMaanKalender.nl schrijft ze voornamelijk over het magische leven zelf, haar werk, leven in de natuur en vrouw zijn •