Wil je weten wat chakra's zijn? Spiritueel coach Esther legt in dit eerste artikel graag uit wat de zeven hoofdchakra's zijn en welke kleuren daar dan bijhoren.
Gratis healings en meditaties beluisteren? Abonneer je dan op het VolleMaanKalender YouTube-kanaal!
Ik werk met de chakra's. Dat zijn mooie gekleurde, draaiende 'ballen' in één van onze energetische lichamen. Het zijn de laagjes om ons fysieke lijf heen, die in het gedrang komt als er iemand te dicht op je komt staan. Je aura is er ook één en zo blijk je er nog meer te hebben.
Die gekleurde ballen zitten op een bepaald punt en je schijnt er honderden te hebben. Ik concentreer me op de zeven hoofdchakra's en heel soms neem ik een uitstapje naar het chakra dat tussen twee van de zeven hoofdchakra's in zit. Dat komt later nog aan bod als ik het een keer over het groene hartchakra en lichtblauwe keelchakra heb.
De chakra's hebben allemaal een kleur en staan voor een fysiek gedeelte van je lijf, je mentale en geestelijke staat van zijn. Dit is voor mij als spiritueel creatief coach heel handig: ik baseer mijn werk dus heel veel op de chakra's.
Kleuren van de zeven hoofdchakra's
De chakraleer komt ergens uit de oosterse wereld en die zeven hoofdchakra's hebben de kleuren van de regenboog. Dat is uiteraard niet toevallig. De chakra's ontstaan gedurende je leven.
Hierbij de zeven hoofdchakra's van boven naar beneden, met de namen waarmee ik persoonlijk werk:
Lila Kruin chakra
Indigoblauwe Derde Oog chakra
Lichtblauwe Keel chakra
Groene Hart chakra
Gele Zonnevlecht chakra
In de headerafbeelding zie je de punten en kleuren terugkomen op het lichaam. Klik op de naam van het chakra om meer te lezen over het chakra.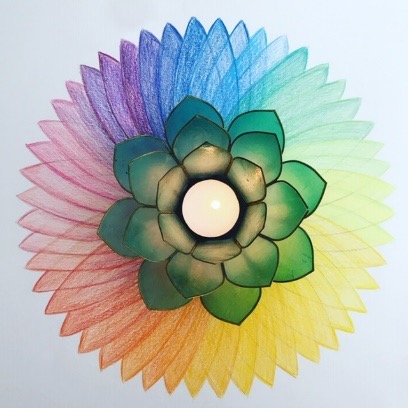 De kleur van jouw voorkeur of juist de kleur die je niet zo mooi of zelfs heel lelijk vindt, vertelt je ook veel over de chakra's bijvoorbeeld. Er is zoveel informatie over jezelf te halen uit kleuren en de chakra's, het kan bijna niet ontbreken in een ontwikkeling op spiritueel/intuïtief gebied.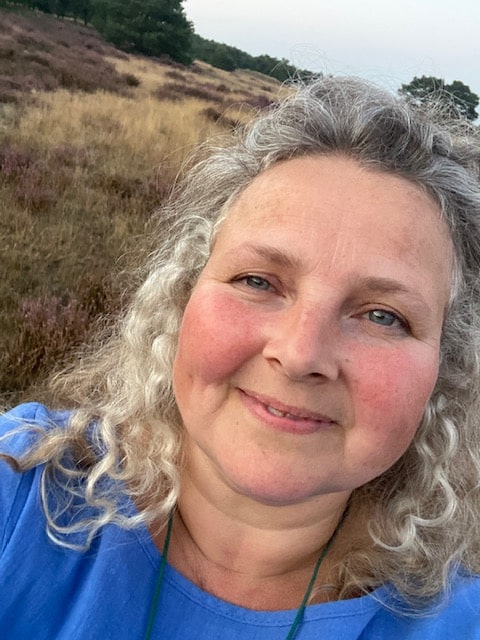 • Esther Foppen • Leeft met de maan en de seizoenen • Spiritueel kunstzinnig coach • Moeder, medium en heks • Ondernemer • Doet aan orakelen en kleurenmagie, onder andere door de chakra's als richtlijn te gebruiken • Laat haar cliënten bijvoorbeeld intuïtief tekenen of schrijven om tot de onderliggende kern van hun situatie te komen, waarna er heling plaats vindt • Voor VolleMaanKalender.nl schrijft ze voornamelijk over het magische leven zelf, haar werk, leven in de natuur en vrouw zijn •