Hoe leer je die 78 tarot kaarten nu kennen? In dit artikel legt Barbara uit hoe je dit gemakkelijk doet. Een ideale tarot techniek tip voor beginners!
Gratis healings en meditaties beluisteren? Abonneer je dan op het VolleMaanKalender YouTube-kanaal!
Je kent het wel, je ziet iets fantastisch interessants, je wordt er helemaal ingezogen, je springt er volop in. Je dan bots je volledig tegen een muur. Van voor frustratie. Dat is wat ik zie bij heel veel beginnende tarotisten. Superveel ambitie, hart op de goede plek, maar het lezen van de kaarten, vooral het soepel lezen van de kaarten, dat is echt superlastig.
In alle spirituele stromingen wordt er enorm gevraagd naar doorzetten, vastbijten en praktiseren. Voor sommige mensen is dat fantastisch, want die houden van de lange run, maar er zijn er ook genoeg die door juist die frustratie van dat het niet snel genoeg gaat helaas te snel de handdoek in de ring gooien.
De tarot is voor een heel klein groepje iets dat je compleet intuïtief binnen een dag zo oppikt. De rest van ons, gewone mensen (haha), moet toch echt aan de bak als we er kaas van willen maken.
Daarom een drietal tips en technieken die je kunt gaan oefenen als je een tarotdeck hebt dat ligt te verstoffen.
Pak dat deck
Ik kan me enorm voorstellen dat je compleet overweldigd wordt van de 78 kaarten, als je al eens hebt geprobeerd om er mee te gaan werken. Misschien heb je je deck zelfs ergens in een hoek gesmeten. Dat kan allemaal. Dat is ok. Ga eerst zonder verwachtingen de kaarten vasthouden. Schud ze. Bekijk de plaatjes vluchtig. Wat vind je mooi? Wat spreekt je aan? Wat vind je lelijk? Welke kaarten zijn er 'meh'? Als je weet van jezelf dat je in hyperfocus gaat (dat is dat je je uren en uren extreem met iets bezig kan zijn) dan is dit een heerlijke manier om even een paar minuutjes voor een band met je deck te zorgen. Zonder stress.
Leg dat witte boekje weg
Ga voor een dagkaart trekken. Beslis voor jezelf of je echt aan jezelf kunt beloven dat dat je dit zeven dagen in de week kunt doen, of zeg tegen jezelf dat je het op bepaalde dagen in de week doet (bijvoorbeeld je vrije dag(en)). Wat is voor jou de makkelijkste routine? Als je dat lukt, dan heb je kleine succesjes. En elk succesgevoel is goed. Met die dagkaart ga je NIET zoeken naar de betekenis. Kijk vooral naar de kaart zelf. Welk gevoel geeft de kaart je? Wat doen de mensen op de kaart? Houd dit een aantal weken bij. Geef jezelf een maand.
Koop één, maar dan ook één boek over tarot
Het is heel jammer, maar een groot deel van de boeken die je in de boekenwinkel ziet (vertaalt naar het Nederlands) zijn in mijn ogen echt niet best. Praktisch geen achtergrondinformatie over de kaarten (soms ook zelfs onwaarheden), de eeuwige verleden/heden/toekomst legging en de verschrikkelijke Keltisch Kruis die totaal niet te doen is voor een beginner. Ik vraag me wel eens af waarom die schrijvers niet even nadenken over hoe ze zelf zijn begonnen. En nee, ik geloof er geen snars van dat het voor hen zo supermakkelijk was. De tip die ik mijn cursisten meegeef is 'Learning the tarot' van Joan Bunning (haar boek over omgekeerde kaarten is ook fanatastisch). Dit is echt echt een perfect beginners boek. Houd dit aan als leidraad en houd jezelf tegen om eindeloos te blijven Googlen naar betekenissen. Werk dit boek door. En kijk daarna wat je nog wilt uitdiepen.
Dit is de start van de start. Ik kan je ook aanraden om zo snel mogelijk te gaan oefenen met voor anderen de kaarten te gaan lezen. Desnoods voor je kat of je hamster!
Als je het nog eng vindt en veel meer basis wilt en bij jezelf zegt: 'Ik heb echt wat hulp nodig', dan kun je ook nog een cursus volgen. Ik wil geen sluikreclame doen (want ik geef tarotcursussen en lessen), daar ben ik heel eerlijk in, maar kies voor een live cursus. Geen email of een van tevoren opgenomen reeks. Kies je voor het laatste (wat het meest goedkoop is) dan ben je nog steeds zelf aan het rommelen, en ik denk dat als we eerlijk zijn dat wij mensen vaak een stok achter de deur nodig hebben. Een goede docent is er dan voor je, en kan meteen direct jouw vragen beantwoorden. En het andere voordeel is dat je dan mensen ontmoet die hetzelfde willen als jij: mooie kennis voor je eigen spirituele groei en bloei uit de tarot halen!
Ik ben benieuwd wat je gaat doen met deze drie stappen!
Liefs,
Barbara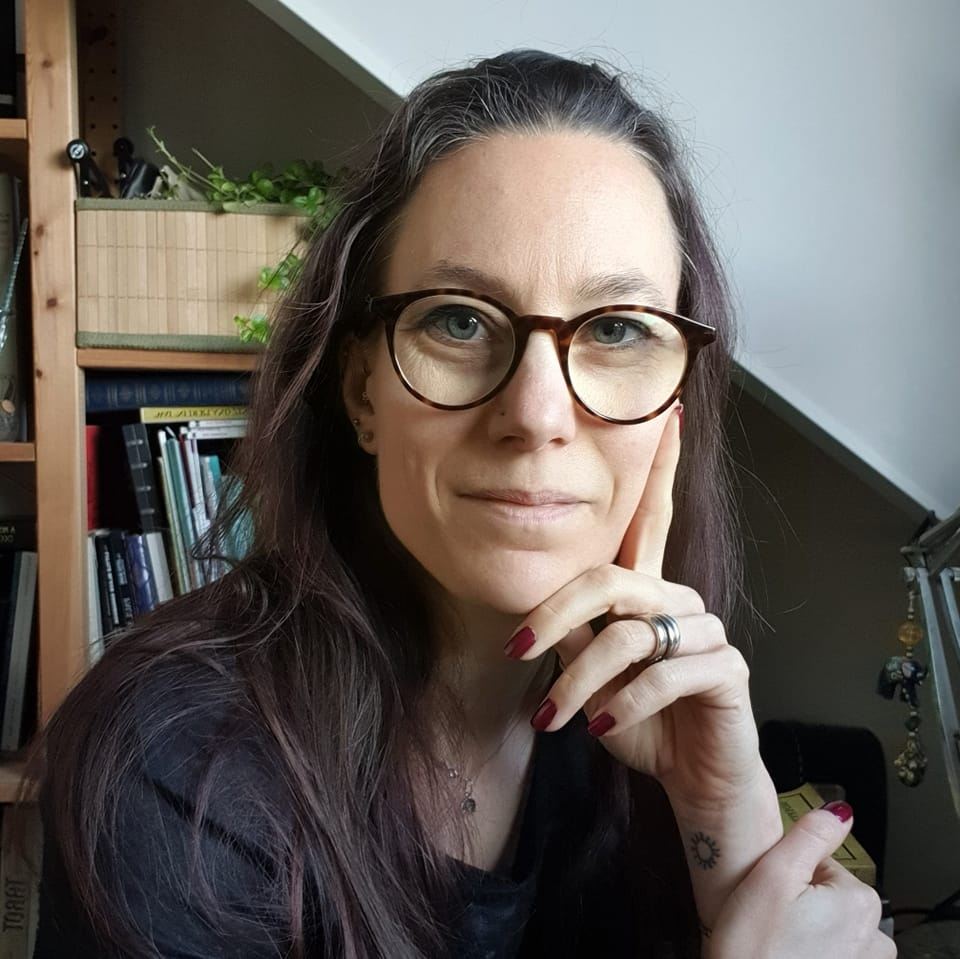 • Barbara Karnekamp • Tarotnerd, vrouw, moeder, heks en biologiejuf in het middelbaar onderwijs • Houdt van nieuwe tarottechnieken uitproberen en is altijd nieuwsgierig naar alle onderwerpen die met de tarot te maken hebben • Passie voor indie decks (wat niet goed is voor haar portemonnee) • Gebruikt ook graag Lenormand en orakelkaarten •