Met de kerstperiode voor de deur zie je weer de mooiste kerststallen staan. Wist je dat elk element uit de kerststal een betekenis heeft? Lees hier over de symboliek van de kerststal, mét uitgebreide uitleg.
Gratis healings en meditaties beluisteren? Abonneer je dan op het VolleMaanKalender YouTube-kanaal!
Het tafereel van de kerststal verbeeldt de geboorte van Jezus Christus in de stal in Bethlehem. De figuren in de kerststal worden gebruikt om het verhaal van de geboorte van Jezus te herinneren en opnieuw te delen. Je ziet een kerststal vaak in de aanloop richting Kerstmis al onder de kerstboom. Of je de kerststal nu in de woonkamer hebt staan of je komt een 'levende kerststal' tegen op een markt: dat het het kerstverhaal vertelt is wel duidelijk.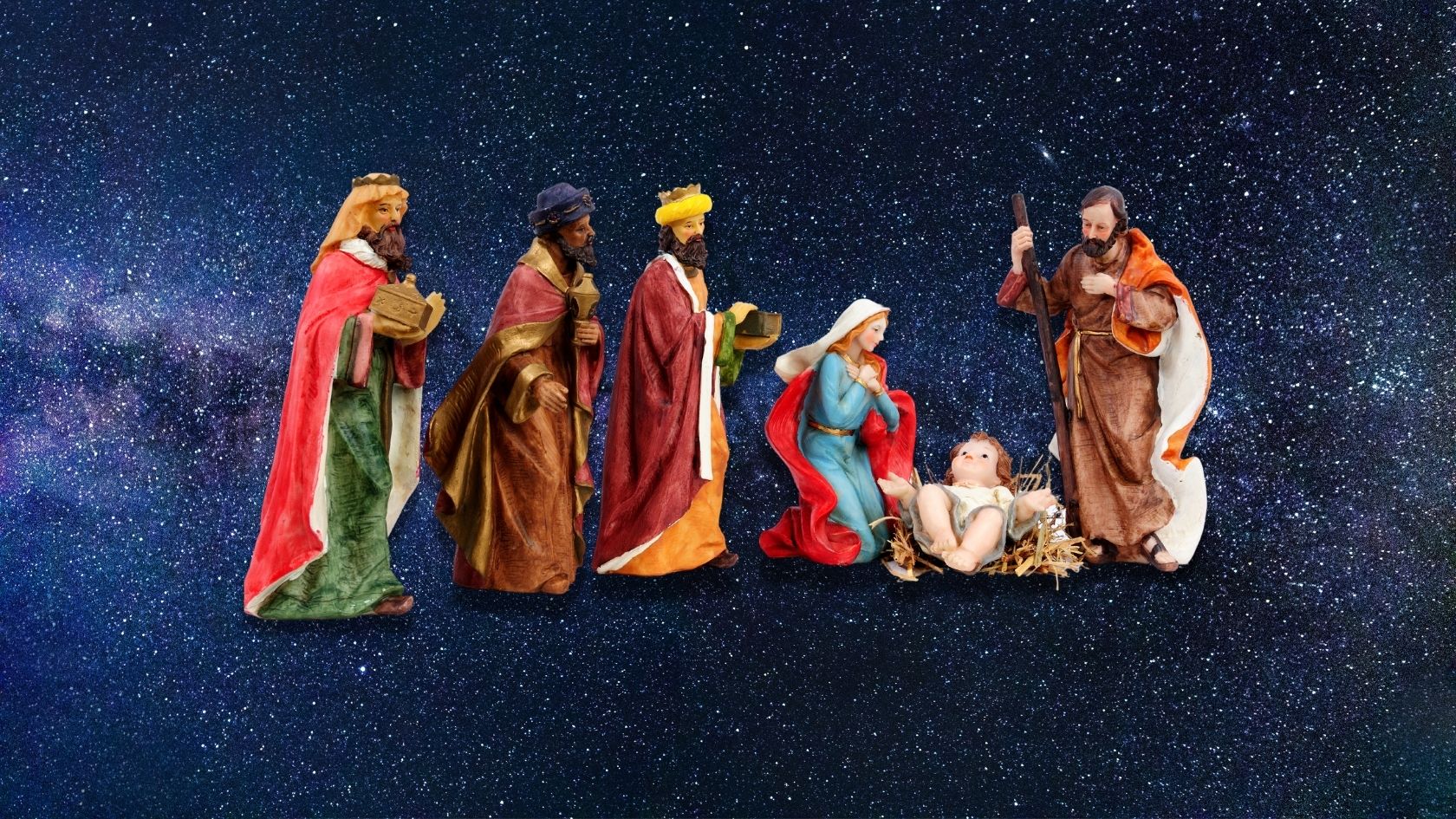 Elk element heeft een bepaalde betekenis en symboliek. Dat leggen we je graag uit, per onderdeel. Op alfabetische volgorde:
Drie wijzen
In het kerstverhaal zijn de drie wijze mannen, ook wel de magiërs genoemd, wijze en geleerde mannen die op bezoek kwamen bij de kerststal. De drie wijzen zijn meestal van drie leeftijden – jong, van middelbare leeftijd en oud. Dit staat symbool voor de verschillende stadia van het leven van een mens. De drie wijzen volgden een ster naar Bethlehem, op zoek naar het pasgeboren kindje Jezus. Volgens het bijbelse verslag brachten ze hem drie geschenken: goud, wierook en mirre, die zijn koningschap, goddelijkheid en uiteindelijke dood en begrafenis symboliseren.
Geschenken
Zoals je hierboven al kunt lezen hebben de drie geschenken (goud, wierook en mirre) die de drie wijzen meebrachten een symbolische betekenis. Goud staat voor het koningschap, wierook staat voor zijn goddelijkheid en mirre staat voor het offer dat hij voor de mensheid zal brengen.
Halo's
In sommige kerststallen hebben Maria, Jozef, baby Jezus en de engelen halo's rond (boven) hun hoofd. Halo's staan symbool voor heiligheid.
Herders
De herders vertegenwoordigen het gewone volk, maar staan ​​ook symbool voor de voorvader van Christus, koning David en voor Jezus zelf (de goede herder – good shepherd).
Hond
Soms vind je een hond in een kerststal. Een hond staat symbool voor loyaliteit en trouw.
Inbakerdoek
De (inbaker)doek waarin Jezus is gewikkeld is profetisch; ze voorspellen de lijkwade waarin hij zal worden begraven.
Jezus Christus
Het kindje Jezus Christus vertegenwoordigt de zoon van God en de redder van de mensheid.
Kerststal
De kerststal zelf staat symbool voor nederigheid en de eenvoud van Jezus' geboorteplaats. Het staat ook voor 'aarden' en gegrond zijn.
Lammeren
De lammeren (die de herders vergezellen) staan ​​symbool voor zowel Christus' onschuld als zijn (komende) offer.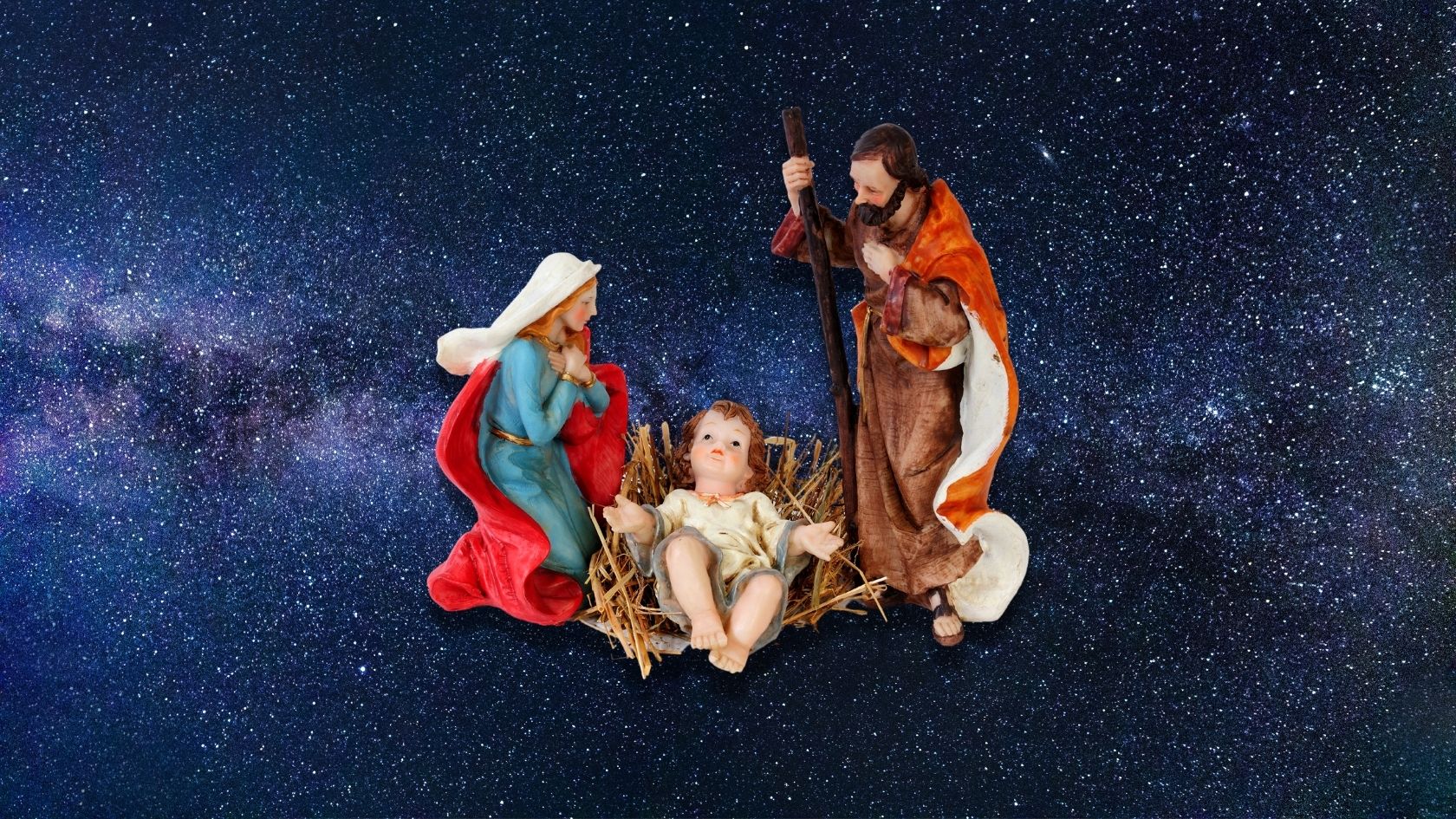 Maria
Maria wordt vaak afgebeeld in een blauw gewaad. Blauw staat als kleur symbool voor de lucht, dit laat zien dat zij de schakel is tussen hemel en aarde.
Open armen
Jezus wordt meestal afgebeeld met zijn armen wijd open. Dit staat symbool voor Jezus' uitnodiging om de hele mensheid te redden en voor ontvankelijkheid.
Os en ezel
De os en de ezel tonen aspecten van Jezus 'persoonlijkheid: de os staat voor geduld en de ezel staat voor nederigheid
• Nadi Zoetebier • The future belongs to those who believe in the beauty of their dreams 🙏 • Eigenaar van VolleMaanKalender.nl, liefhebber van astrologie en spiritualiteit • Moeder van zoontje Jae '21 • Energetisch Therapeut in opleiding •