In dit zesde interview uit de reeks Spirituele Powervrouwen, waarin we elke maand spirituele ondernemers uitlichten, spreken we met Liza en Charlotte van ZIELSZUSSEN.
Gratis healings en meditaties beluisteren? Abonneer je dan op het VolleMaanKalender YouTube-kanaal!
Hi! Wat is jullie naam en wat is het wat jullie doen?
Wij zijn Liza Klok (life coach) en Charlotte Anne (orthomoleculair therapeut). Naast vriendinnen en zielszussen zijn wij de oprichters van ZIELSZUSSEN; een (online) platform voor 'vrouwen' die affiniteit hebben met spiritualiteit en zich willen verbinden met gelijkgestemden, ofwel hun soul-tribe willen creëren. Middels ons platform brengen wij vrouwen in contact met elkaar. Daarbij hosten wij regelmatig ceremoniële (dans)avonden en retreats. Onze missie is om vrouwen weer volledig in hun eigen kracht te zetten, zodat zij de 'beste' versie van zichzelf tot bloei kunnen laten komen! Dit terwijl ze zich – online én offline – omringen met andere vrouwen die dezelfde hartsverlangens delen
Waarom zijn jullie hier ooit mee begonnen?
ZIELSZUSSEN is geboren vanuit onze eigen pijnpunten en verlangens; wij wilden iets moois en waardevols in de wereld brengen waar we voldoening uit konden halen en bieden tegelijkertijd.
Het ZIELSZUSSEN-zaadje werd al snel gepland; het begon tijdens onze ontmoeting. Wij hebben elkaar op een bijzondere manier ontmoet. Toen Liza nog voor de moeder van Lotte (Helen Adriana) werkte, zijn we op een soort 'blind date' gegaan. Lotte zat toen bij één van haar favoriete healthy lunch tentjes op Liza te wachten en toen we elkaar voor het eerst zagen, voelden wij al snel aan dat wij op zielsniveau met elkaar verbonden zijn.
Onze helingsreis kwam enorm overheen en naast onze liefde voor spiritualiteit delen we ook dezelfde levensvisie. Nog geen week later zaten we samen in de auto naar Italië en de rest is ZIELSZUSSEN-geschiedenis… 😉
Wat kunnen jullie voor iemand betekenen?
Tijdens onze ceremoniële (dans)avonden – die wij hosten rondom de volle maan en nieuwe maan – en retreats staan de polariteiten van het leven centraal, voornamelijk helen & spelen. Wij vinden spelen namelijk het zo belangrijk als helen; ''zonder spelen geen helen'' is hetgeen waar we voor staan en wat we belichamen.
Middels onze Dance Night's en plantmedicijnceremonies zetten we vrouwen weer in hun eigen kracht, maar dan op een liefdevolle en speelse wijze. Vrouwen voelen zich veilig en gehoord waardoor we de ui laagje voor laagje af kunnen pellen. Naar aanleiding hiervan ontstaan er zowel waardevolle transformaties als zielsconnecties; iets waar wij met- én als ZIELSZUSSEN enorm trots op zijn!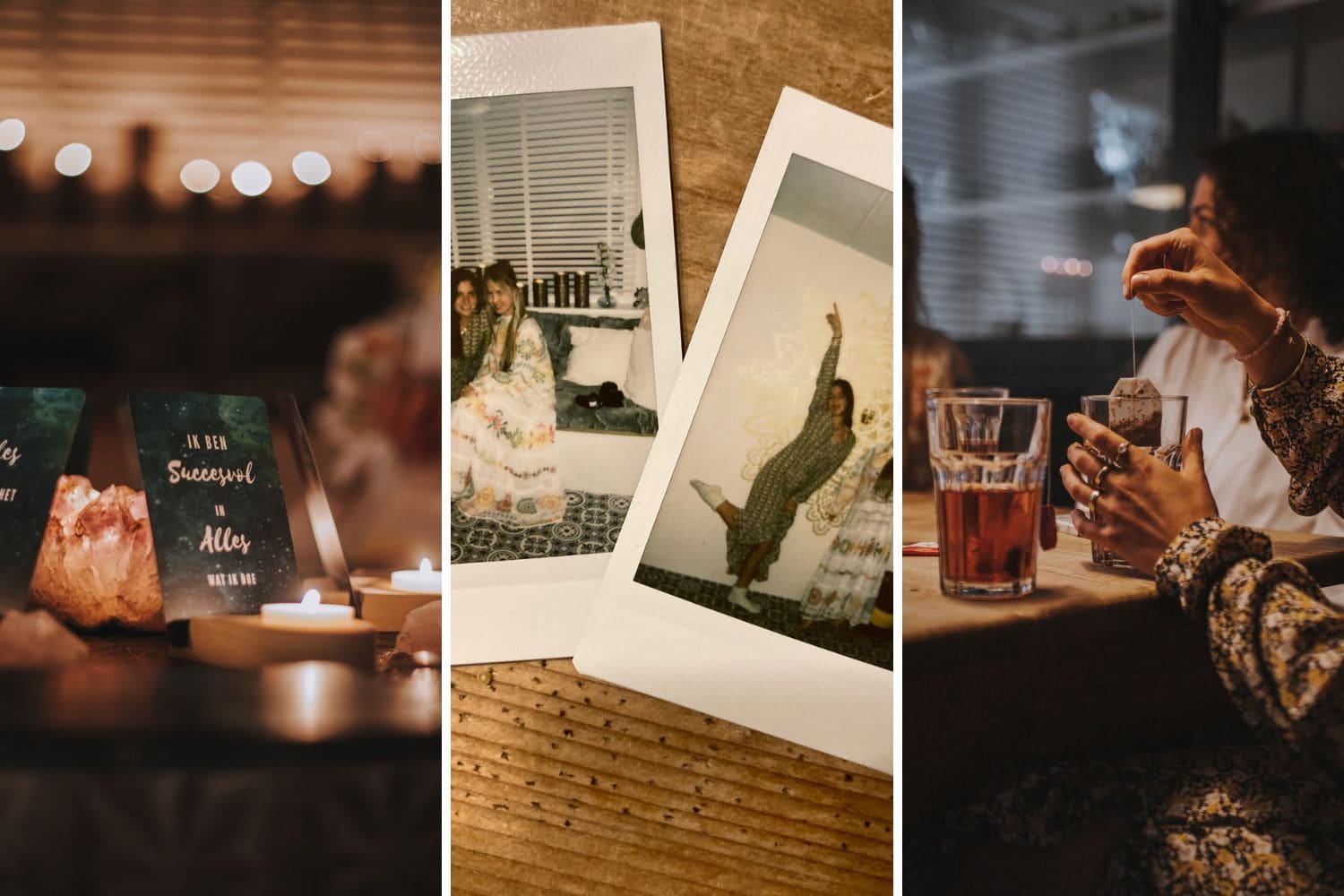 Welke praktische tools, tips of rituelen willen jullie meegeven?
Wij zijn zelf gek op volle maan rituelen, vandaar dat wij onder andere ceremoniële (dans)avonden zijn gaan organiseren rondom de volle maan. Los hiervan kun je (thuis) natuurlijk zelf ook een volle maan ritueel uitvoeren. Denk aan het maken van een altaar met kaarsen en edelstenen, het trekken van een tarotkaart, een fijne meditatie doen, journalen/reflecteren op de afgelopen maand/maancyclus of nieuwe plannen maken en doelen opstellen (dit dan weer het liefst rondom de nieuwe maan). Het belangrijkste hierin is dat jij doet wat goed voor jou voelt; dit is vaak voor iedereen anders en kan er dan ook voor iedereen anders uitzien.
Tot slot…
Tot slot willen wij jou meegeven om jezelf bewúst permissie te geven om vaker uit je comfort zone te stappen en je vaker te verbinden met gelijkgestemden (divine sisterhood!). Wij hebben meermaals ervaren hoe 'hoog' de energetische drempel soms kan zijn en hoe lastig het soms kan zijn om daadwerkelijk uit je comfort zone te stappen. Dit is (meer dan) oké, zolang je je er maar bewust van bent en – ondanks de oncomfortabele gevoelens die er bij kunnen komen kijken – tóch regelmatig uit je comfort zone stapt. Wij nodigen jou dan ook met alle liefde uit om een keer een ceremoniële (dans)avond bij te wonen bij ZIELSZUSSEN; you won't regret it ;).
In de Spirituele Powervrouwen-reeks interviewen wij vrouwen die bezig zijn op 't gebied van astrologie, spiritualiteit of de maan. Je leert over diverse werkzaamheden én kunt zelf aan de slag met de tips, tools & tricks die zij met jou delen! Wil je jezelf (of iemand anders) aanmelden voor een interview, lees dan dit artikel of vul meteen het interview-formulier in.
• Nadi Zoetebier • The future belongs to those who believe in the beauty of their dreams 🙏 • Eigenaar van VolleMaanKalender.nl, liefhebber van astrologie en spiritualiteit • Moeder van zoontje Jae '21 • Energetisch Therapeut in opleiding •