Wat gaat september 2022 jou brengen? Iedere maand legt Liane orakelkaarten om te kijken welke boodschap jij mag horen. Dit keer mag je je eigen kaart kiezen! Lees je mee?
Gratis healings en meditaties beluisteren? Abonneer je dan op het VolleMaanKalender YouTube-kanaal!
De boodschap voor september is iets anders dan anders. Deze maand mag jíj kiezen welke kaart – en welke boodschap – voor jou is. 'Pick a card' heet dat.
Voor deze maand heb ik de Engelen Antwoorden Orakelkaarten van Doreen Virtue gebruikt. Dit zijn kaarten die antwoord geven op een ja-nee vraag, waarmee je duidelijkheid kunt krijgen op een vraag of een bepaalde situatie.
Belangrijk is het dus dat je vooraf al iets in je hoofd hebt (met betrekking tot september 2022), voordat je gaat voelen welke kaart voor jou is.
Tijd om te kiezen! Pick a card
Heb je een vraag/situatie in je hoofd? Mooi zo! Bekijk dan de kaarten hieronder… Van links naar rechts heb je kaart 1, kaart 2, kaart 3 en kaart 4.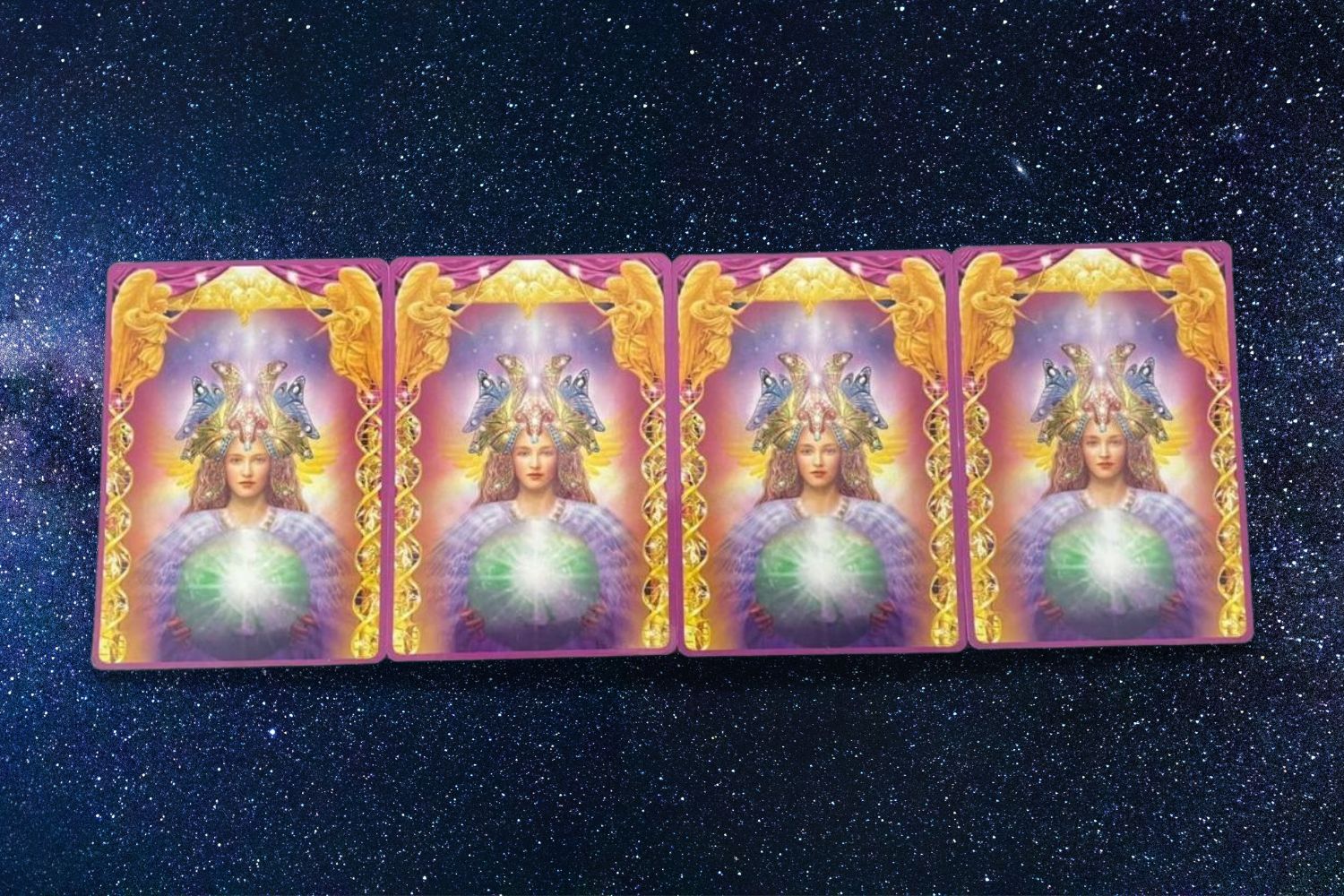 Ik heb de engelen gevraagd welke boodschap voor jou is…
Sluit je ogen en tune in op de kaarten…
Gebruik je intuïtie…
Kies een kaart op gevoel…
En bekijk de afbeelding hieronder. De kaarten zijn omgedraaid!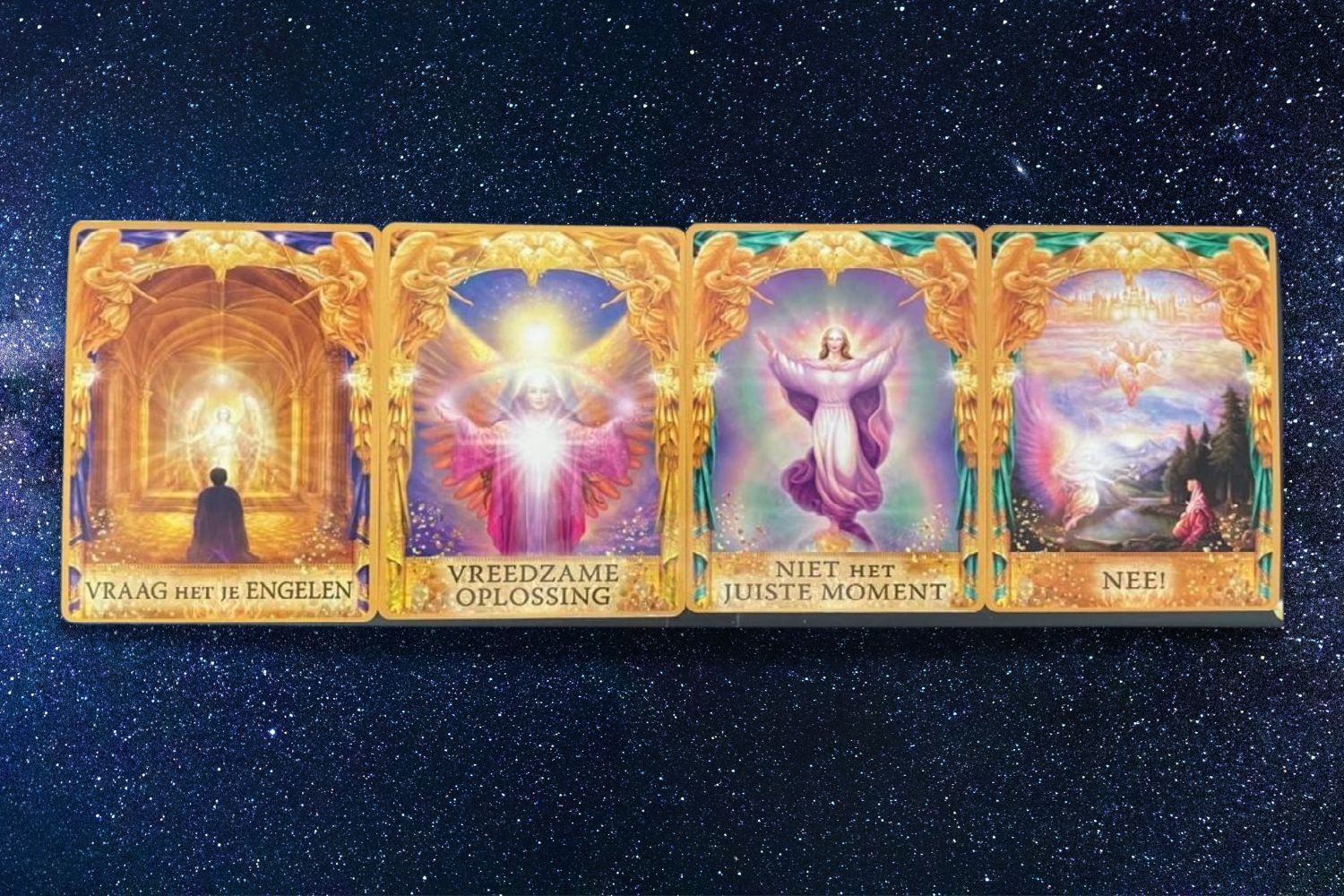 Tijdens het schudden zijn er vier kaarten uit gevallen. Kaart 1 is links en kaart 4 is rechts. Welke kaart had jij gekozen? Lees hieronder de engelenboodschap voor jou!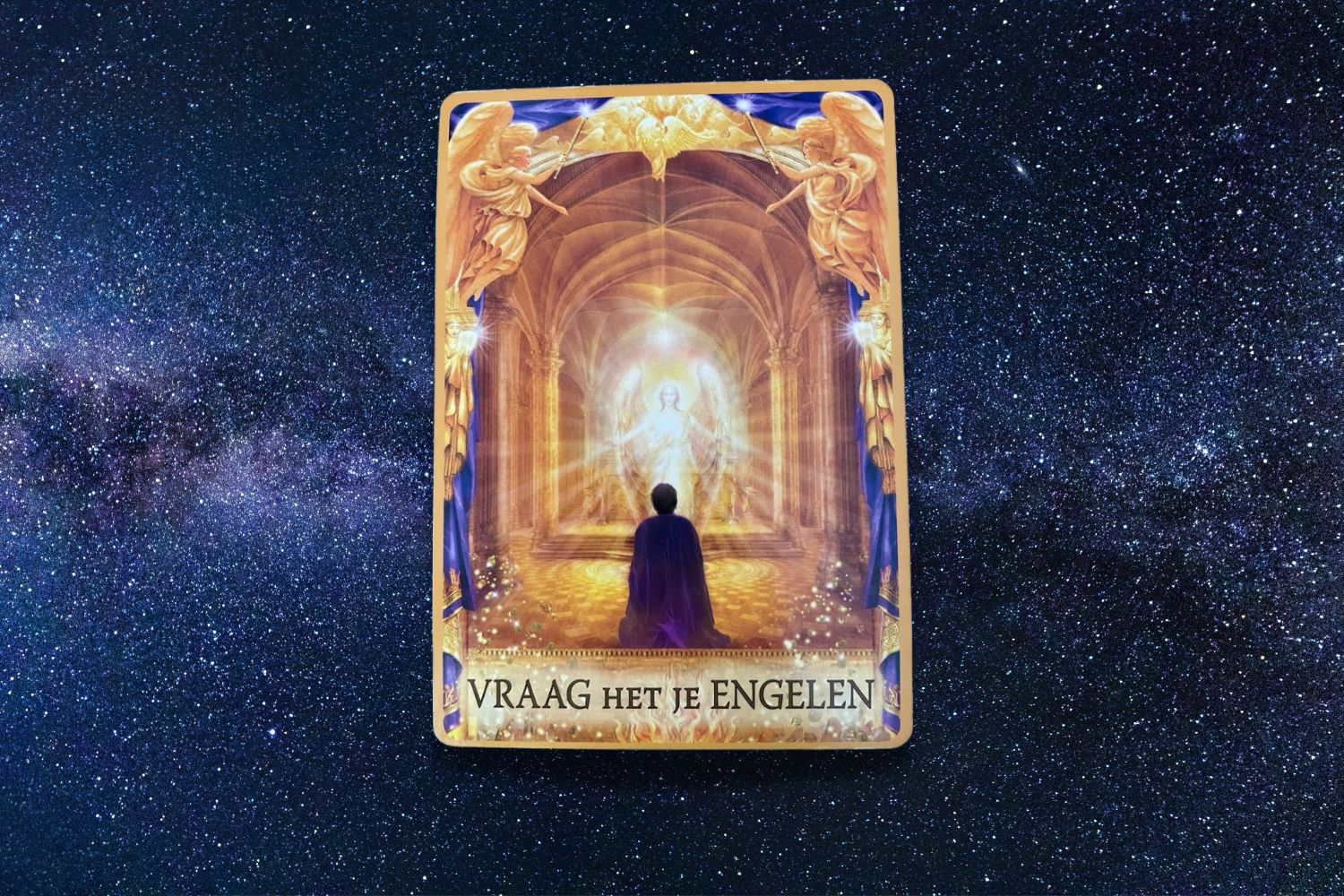 Vraag het je engelen
Had jij kaart 1? Dan is 'Vraag het je engelen' voor jou! Als je je vraag nog niet concreet hebt of als je vraag nog niet met helder beantwoordt kan worden, vraag dan je engelen voor meer informatie omtrent jouw vraag. Luister goed naar je intuïtie en let op tekens die je zal krijgen. Je moet nog iets dieper graven voordat je een duidelijk antwoord mag krijgen. In ieder geval kan je je engelen altijd om hulp vragen en deze keer zal je vrij snel weten waarom/waarvoor je de hulp nodig had.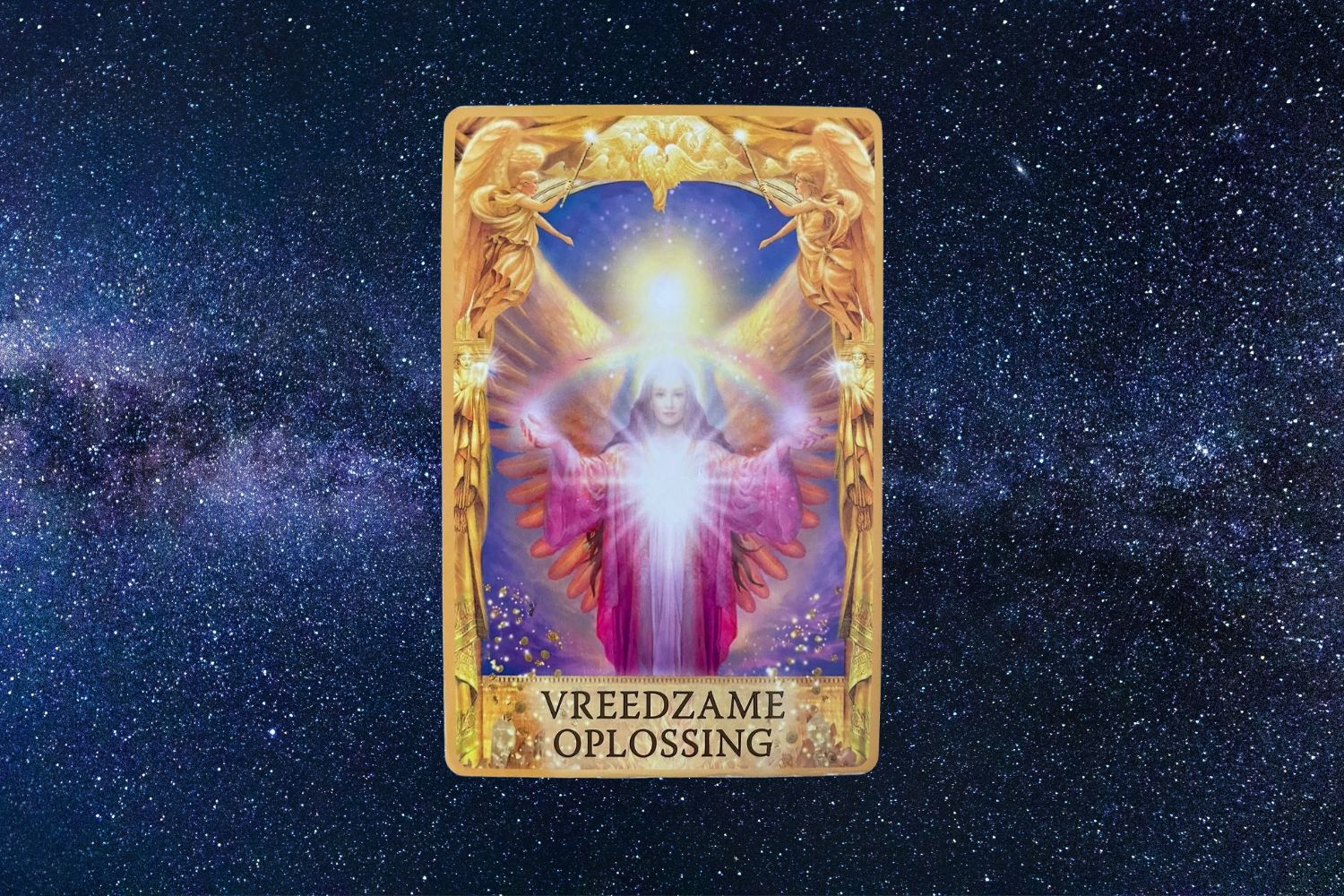 Vreedzame oplossing
Had jij kaart 2? Dan is 'Vreedzame oplossing' voor jou. Er is een vreedzame oplossing voor jouw vraag of situatie. Wees bereid om water bij de wijn te doen, het kan niet van één kant komen. Blijf praten, sta open voor de ander, luister naar de plannen en ideeën van een ander en kom samen tot een vreedzame oplossing. Al denk je misschien nu dat dat absoluut niet mogelijk is; toch is het mogelijk. Mits je dus niet zo koppig blijft (sorry, ik moet het zo opschrijven). Iedereen is er bij gebaat als het opgelost wordt en daar is het nu de tijd voor. Stel het niet langer uit!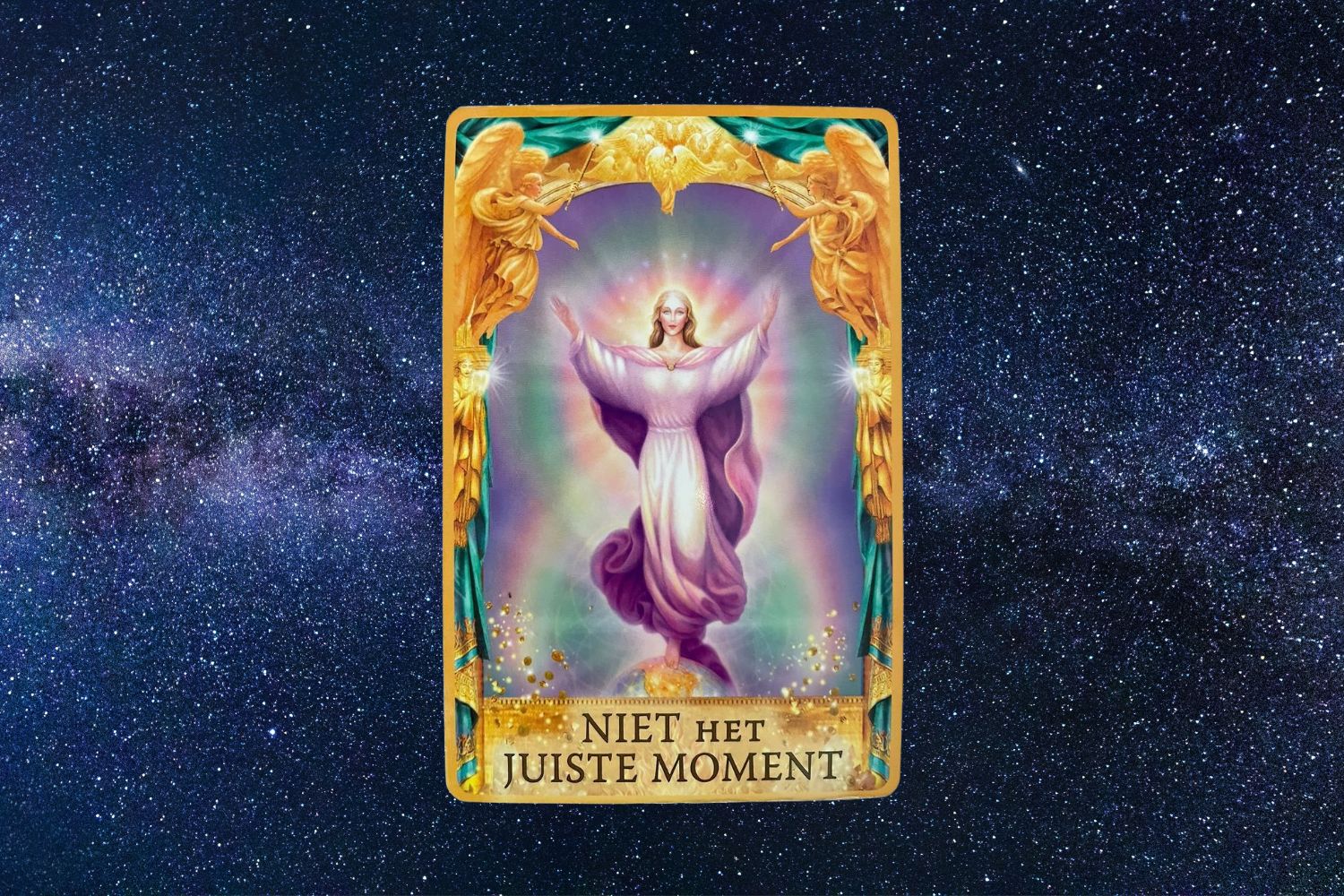 Niet het juiste moment
Heb jij kaart 3? Dan is 'Niet het juiste moment' voor jou. Het kan zo zijn dat het nog niet het juiste moment is. Dit kun je 't beste checken bij je engelen. Blijf open en in de vraag. Je zal snel een gevoel krijgen of ineens diep van binnen weten: ja of nee. Ga dus niet op voorhand uit dat het niet het juiste moment is, wees vooral eerlijk naar jezelf.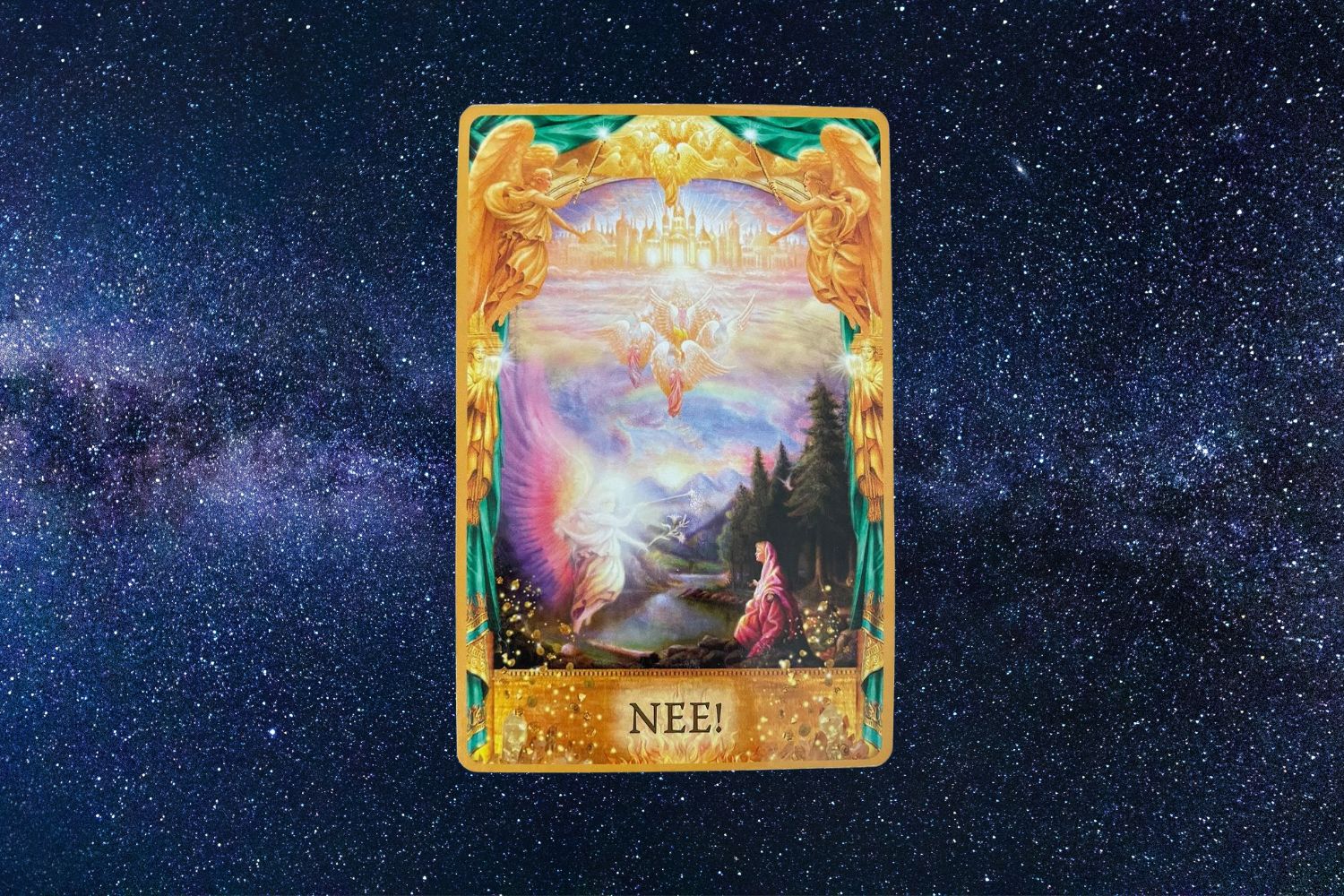 Nee!
Is kaart 4 de kaart die jij gekozen hebt? Dan is 'Nee!' het antwoord voor jou. De kaart met NEE! is het meest duidelijke nee antwoord van het kaartendeck (je hebt namelijk ook een kaart met NEE zonder het uitroepteken).
Deze kaart geeft een kort en krachtig antwoord op jouw vraag, bijvoorbeeld of je €10.000,– moet overbieden op de woning die je graag wilt of een opleiding moet volgen. Of wat je dan maar vooraf in je hoofd had als vraag/situatie… Je weet zelf op welke vraag dit antwoord van toepassing is. 😉 Ten slotte kan deze kaart ook wijzen op het feit dat je je geen zorgen hoeft te maken over de situatie, omdat je nu inziet dat nee het juiste antwoord is.
Hulp nodig? Vraag je engelen!
Deze keer vragen de kaarten meer van jou, met als doel dat je hulp kan vragen aan je engelen als je het even niet weet. Al denk ik dat je diep van binnen precies weet wat ik bedoel met deze antwoorden en dat het precies is wat jij deze maand nodig hebt.
Ik ben benieuwd welk kaartendeck ik volgende maand ga gebruiken. Ik vond dit weer heel leuk om te doen en heb tijdens het schrijven een aantal keer moeten lachen, omdat ik een aantal verbaasde gezichten voor mij zag.
Geniet van de nazomer!
Liefs Liane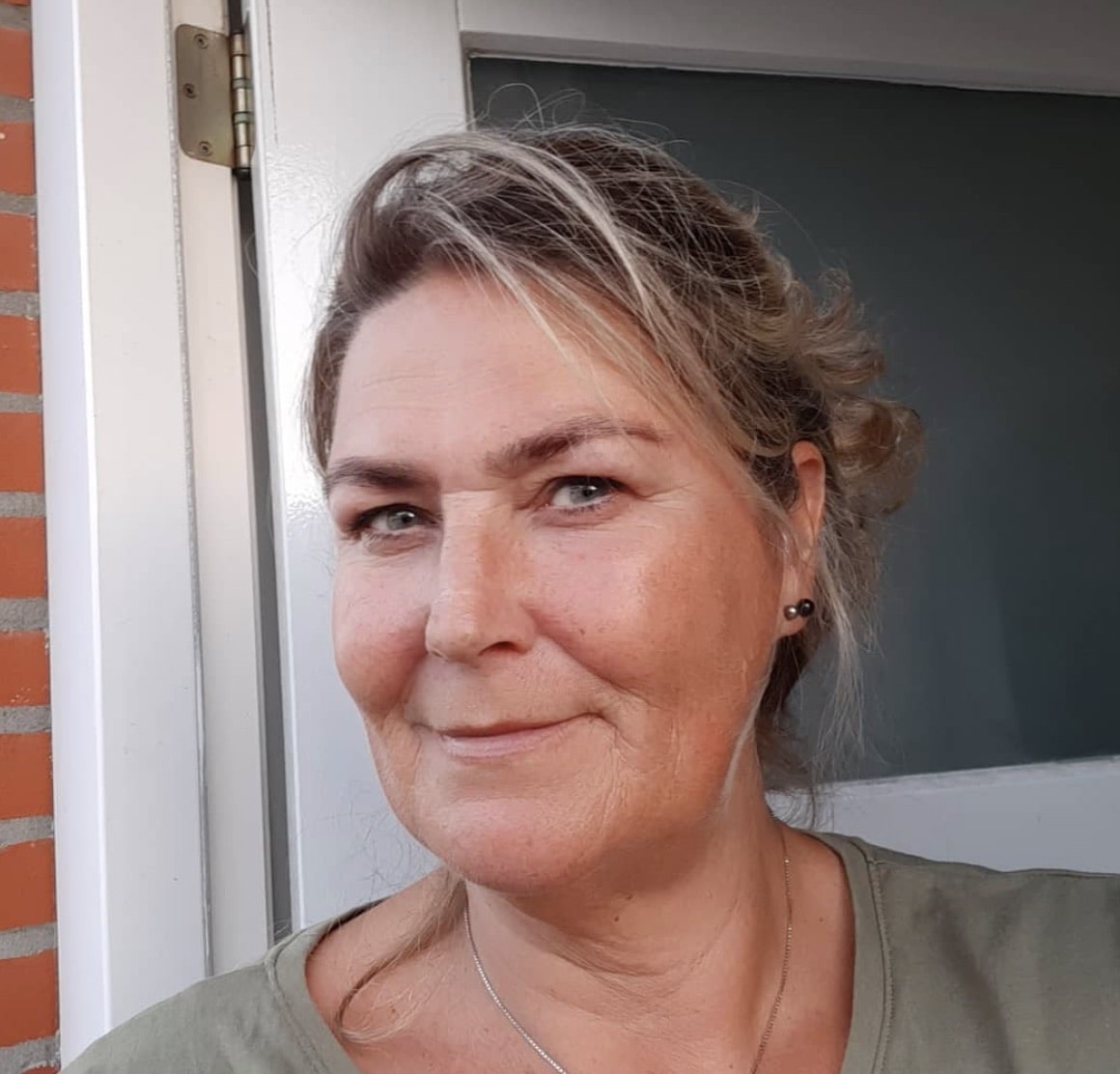 • Liane Strijder • Liane is heldervoelend en helderwetend • Kaarten zijn haar hele leven al belangrijk voor haar geweest en ze bezit zo'n 100 decks  • Ze voelt dat haar leven weer begint te leven en dat haar leven weer kwaliteit krijgt, ondanks haar chronische pijn en beperking  •  Via haar social media kanalen brengt ze haar weg #terugnaargeluk in woord en beeld  •