Als je op zoek bent naar een fijn handboekje om te starten met manifesteren, dan is Manifesteren voor beginners voor jou. Dit boek is met 126 pagina's compact, maar bomvol informatie. Lees hier onze review!
Gratis healings en meditaties beluisteren? Abonneer je dan op het VolleMaanKalender YouTube-kanaal!
Wat is manifesteren?
Manifesteren gaat over het aantrekken van dat wat jij wil. Er wordt veel over gesproken en er zijn al meerdere boeken over geschreven. Maar waar moet je nu écht beginnen? Of je nu je soulmate wil vinden, je droomcarrière wil verwezenlijken of een huis wil kopen: aan de hand van de tips en technieken uit Manifesteren voor beginners leer je hoe je je gedachten en energie op je doelen richt en ze zo realiseert. Het universum is bereid je te geven wat je wil, als je er zelf klaar voor bent om de juiste stappen te zetten. alle informatie staat bij elkaar in dit zakboekje Manifesteren voor beginners.
De 5 basisstappen van manifesteren
Er zijn vijf belangrijke basisstappen om te manifesteren. Auteur Astrid Carvel somt ze op:
Kiezen wat je wil manifesteren
Je verlangens visualiseren (of scripten – het opschrijven van je wensen)
Obstakels (of blokkades) vaststellen en wegnemen
Actie ondernemen
Erkennen en dankbaar zijn
Dit zijn basisstappen die je zelf kunt uitbreiden met eigen rituelen en handelingen. Hoe vaker je iets doet, hoe meer 'eigen' het wordt.
Wat heb je nodig om te starten met manifesteren?
In principe heb je weinig nodig om te starten. Sterker nog; je kunt per direct aan de slag. Het gaat over je mindset; geloven in dat iets voor jou is en dat het Universum weet hoe het het jou kan geven. Wees positief, geloof, heb geduld en wees bereidwillig.
Toch kun je ook praktisch aan de gang. Pak een pen en een journal/dagboek/notitieboek naar keuze (tip; gebruik een nieuwe en gebruik deze alleen voor je wensen) en begin met schrijven. Wat is het dat je wil? Schrijf op alsof je het al hebt (in het nu). Om extra kracht bij te zetten kun je je wensen prevelen terwijl je ze opschrijft. Wil je meer zintuigen aanspreken, brand dan een geurkaars of gebruik wierook. Zo kun je een bepaalde geur koppelen aan een droom en elke keer als je die geur dan ruikt, dan word je weer gemotiveerd.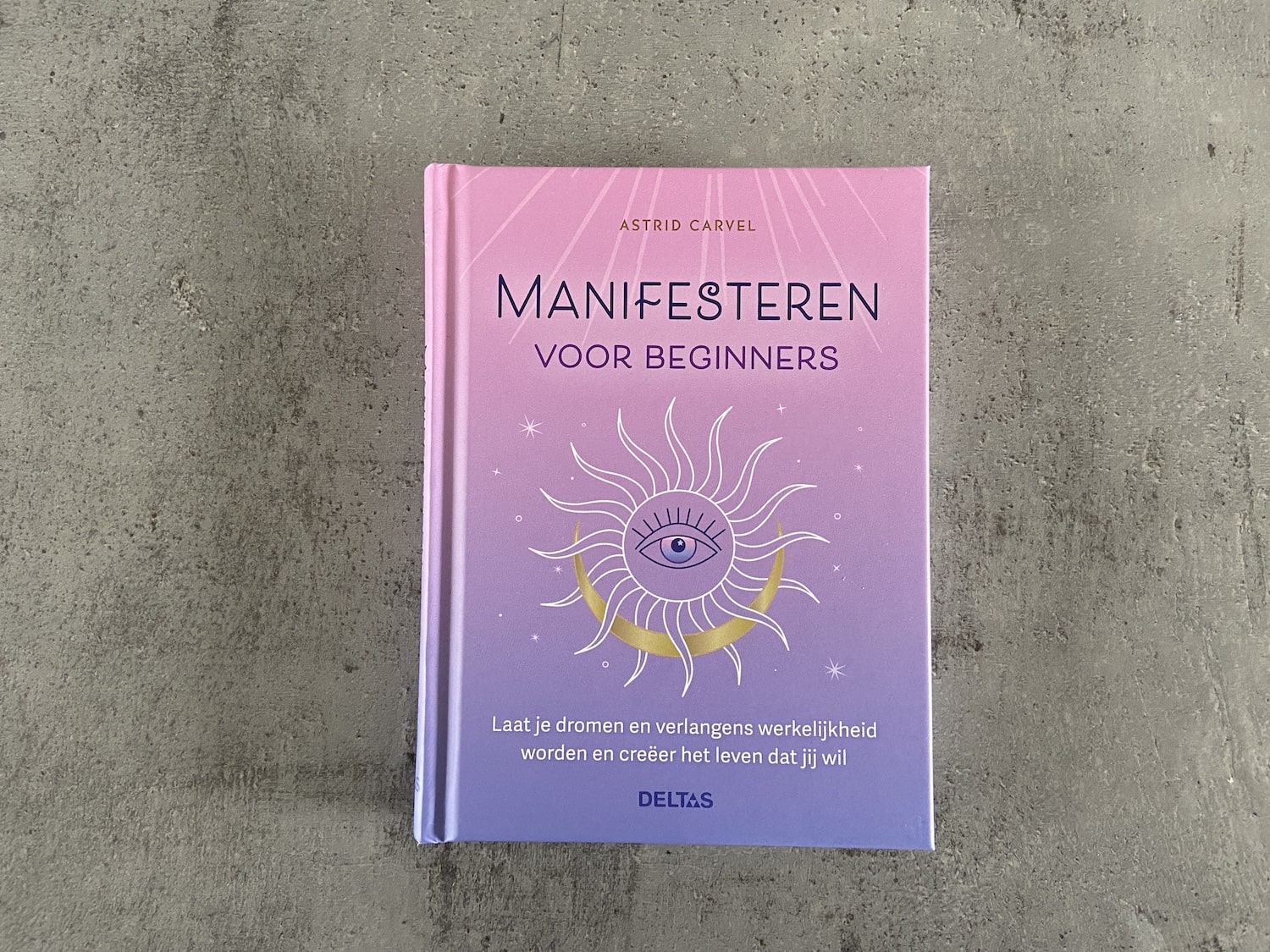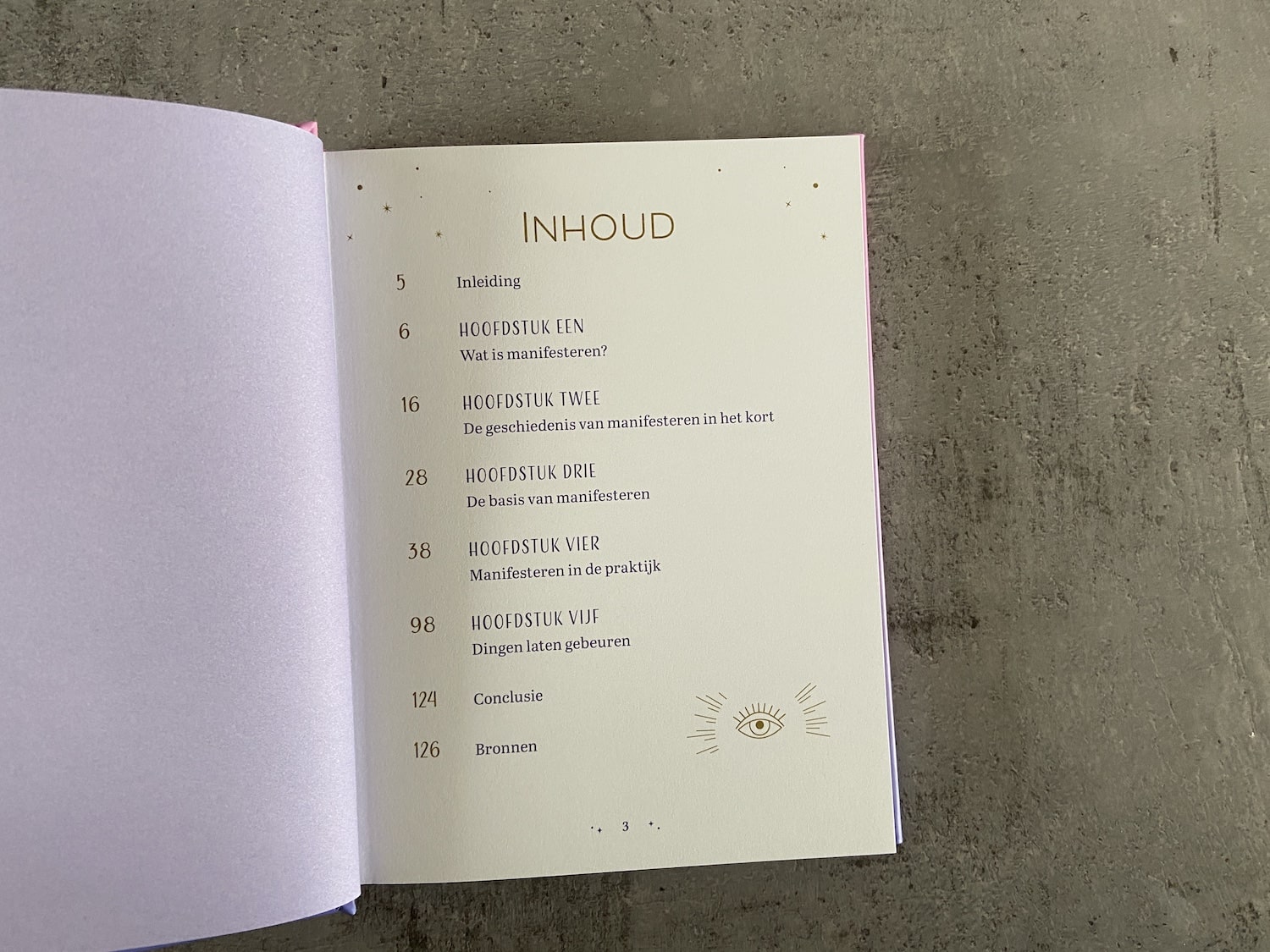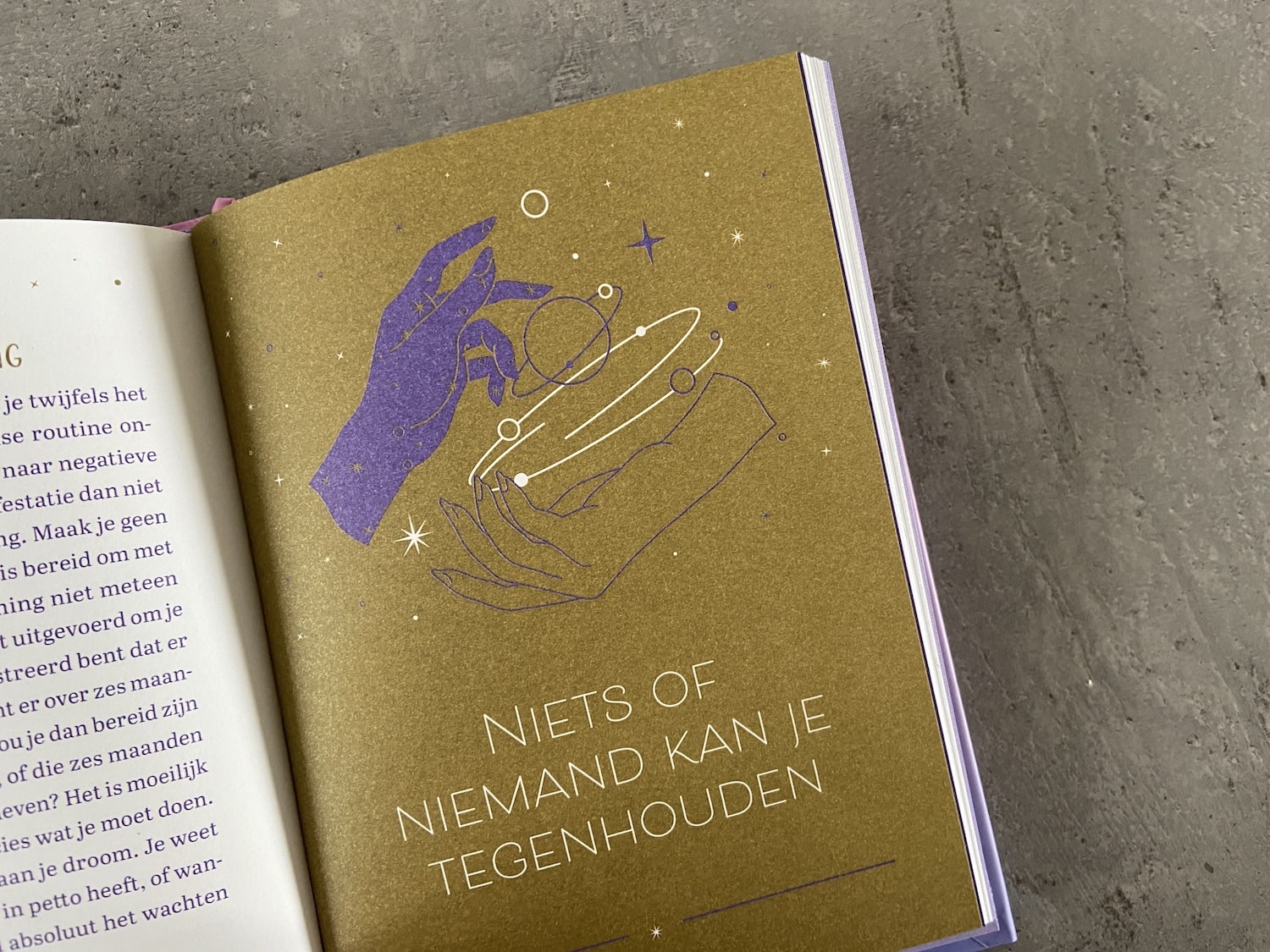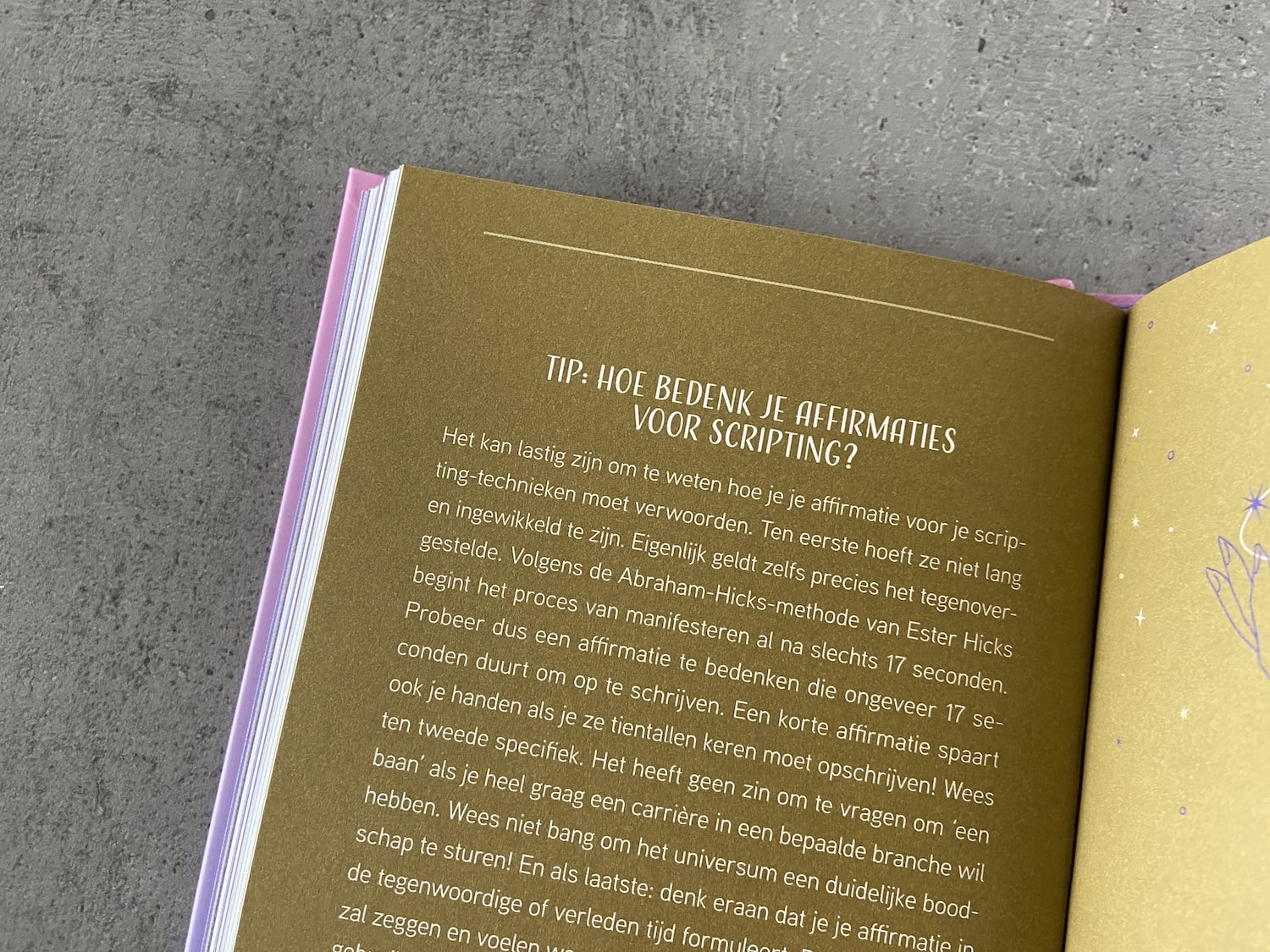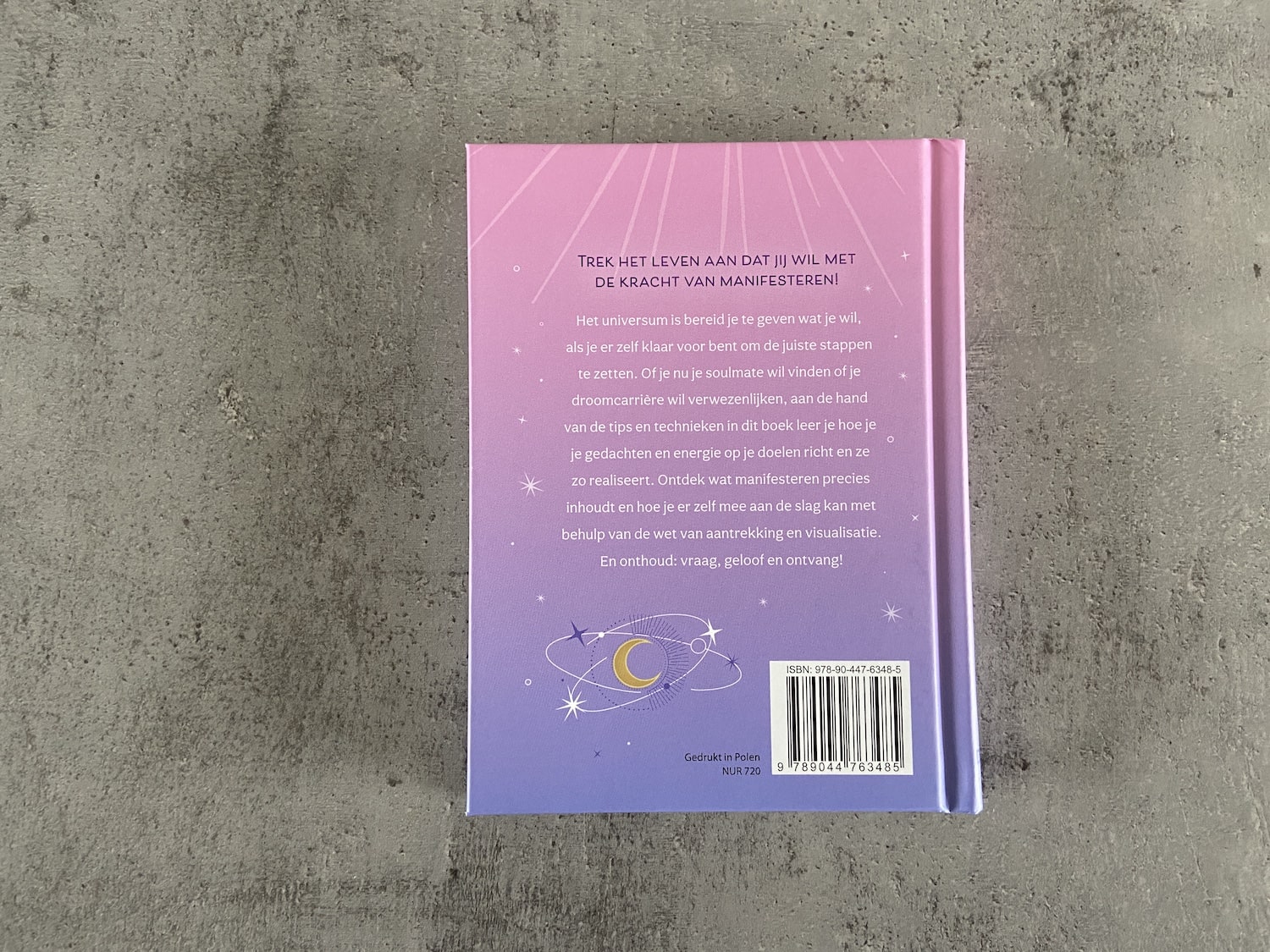 Review
Manifesteren voor beginners bestaat uit vijf hoofdstukken waarin je wordt meegenomen in de wereld van manifesteren. Nadat je de basics en de geschiedenis van manifesteren en de Wet van Aantrekkingskracht hebt geleerd, ga je aan de slag. Leuk! Er zijn diverse technieken om te manifesteren, zoals de 3-6-9 methode, de kussenmethode en de 55×5 methode. Dat zegt je nu helemaal niets waarschijnlijk, dat mag je in het boek ontdekken. Verwacht geen groot boek (het is een handboekje), maar zie het ook niet als klein. Met 126 pagina's omvat het namelijk echt álles om te kunnen beginnen – zelfs een aantal engelengetallen staan uitgelegd.
• Nadi Zoetebier • The future belongs to those who believe in the beauty of their dreams 🙏 • Eigenaar van VolleMaanKalender.nl, liefhebber van astrologie en spiritualiteit • Moeder van zoontje Jae '21 • Energetisch Therapeut in opleiding •