Yasmin Boland, auteur van de bestseller Leven met de Maan, heeft een deck uitgebracht dat nu vertaald is naar het Nederlands: Manifesteren met de maan. Een deck met 48 kaarten die visueel zeer aantrekkelijk zijn. Lees hier onze review!
Gratis healings en meditaties beluisteren? Abonneer je dan op het VolleMaanKalender YouTube-kanaal!
'Werken met de maan wanneer je bezig bent met manifesteren is een sleutel tot succes. Terwijl je in theorie op elk tijdstip en overal met de juiste bedoelingen en betrokkenheid aan je manifestatie kunt werken, zullen je dromen, als je dat in harmonie met de maan doet, een extra boost krijgen.' – Yasmin Boland
Manifesteren met de maan
Dat de maan krachtig is, dat merken we allemaal wel. Vooral de volle maan heeft een grote invloed op ons, maar wist je dat de andere maanfasen (er zijn er in totaal acht) ook veel met je doen? Om hier mee te leren leven (en er vooral je voordeel uit te halen) heeft Yasmin Boland naast haar eerdere boeken en decks nog een kaartenset uitgebracht: Manifesteren met de maan.
Het Manifesteren met de maan deck draait om de vier belangrijkste maanfasen: nieuwe maan, eerste kwartier, volle maan en laatste kwartier. Elke maanfase heeft een bepaalde energie; eentje die jou vooruitduwt of juist even laat stilstaan in dat wat is. Dit deck begeleidt jou laagdrempelig bij het manifesteren met de maan, zodat je je droomleven kunt leven.
Elke kaart heeft een maanfase in combinatie met de plaatsing in een sterrenbeeld. De nieuwe maan in Ram betekent 'Ga ervoor', het Eerste kwartier in Kreeft betekent 'Doorbreek elke onzekerheid' en de volle maan in Maagd betekent 'Onderneem geïnspireerde actie'. En zo zijn er nog 45 andere kaarten die jou een boodschap brengen. Daarnaast vind je in het begeleidende boekje (zie foto hieronder) van 143 pagina's een uitgebreide uitleg per kaart, inclusief to do's rondom manifesteren van je wensen.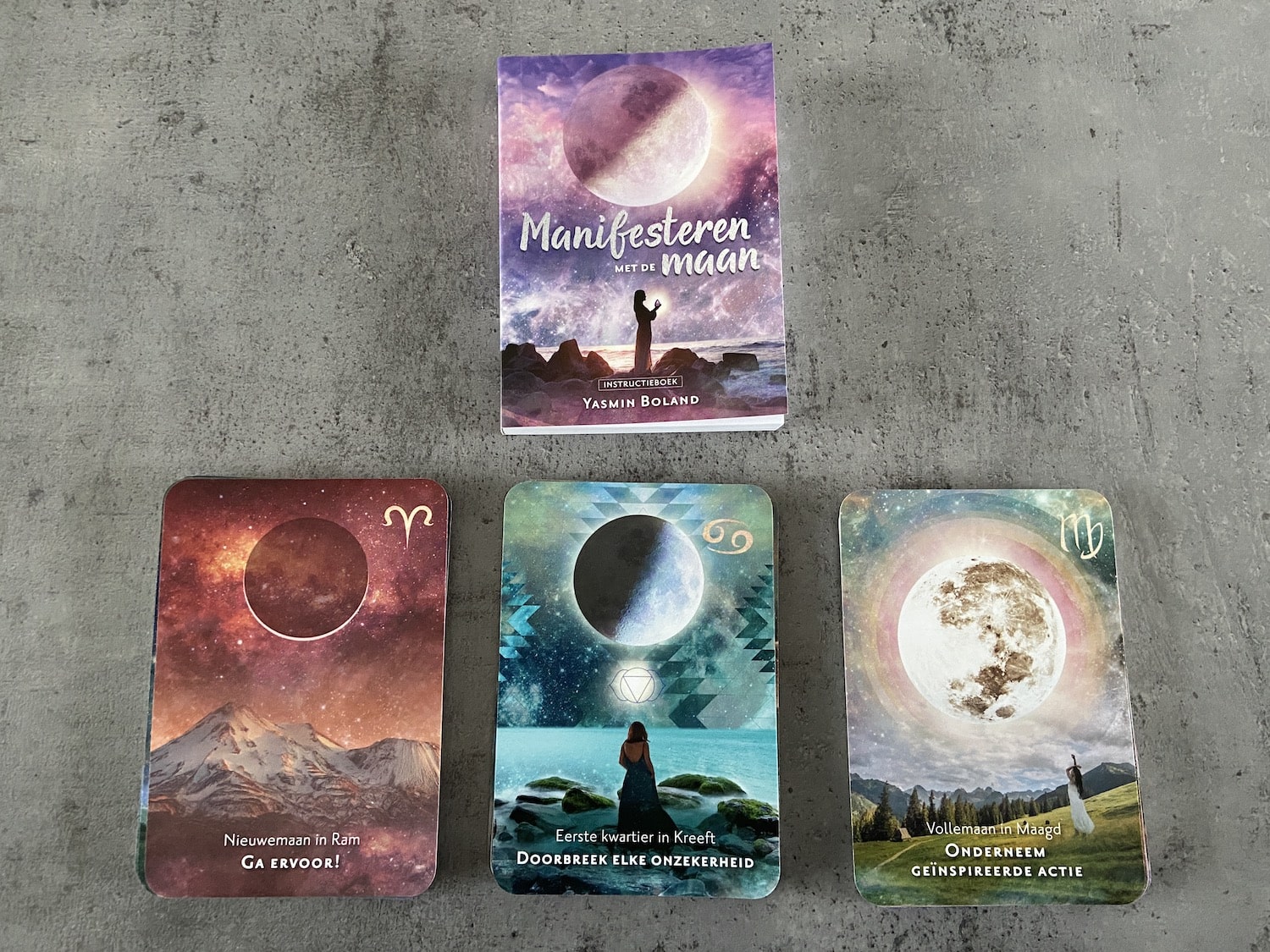 Het deck gebruiken
Voor gebruik van het deck moet je het eerst reinigen en zegenen. Zo leg je energetisch al contact met de kaarten en geef je aan dat je er respectvol mee om zult gaan. Iedereen heeft eigen manieren om een deck te reinigen/zegenen, maar mocht je inspiratie zoeken dan deelt Yasmin Boland een ritueel in het boekje.
Er zijn meerdere manieren om het Manifesteren met de maan deck te gebruiken. Er is geen goed of fout. Net zoals bij andere orakelkaarten kun je ook hier zelf bepalen wat bij jou past en hoe je de kaarten wil inzetten. Zo kun je bijvoorbeeld…
Een dagkaartje trekken (blind, op gevoel) en de boodschap tot je nemen – ongeacht of de maanfase past bij waar de maan op dat moment daadwerkelijk in staat.
Een kaart zoeken die past bij de huidige maanfase en plaatsing, om zo de energie optimaal in te zetten.
Een legging doen, zoals de verleden-heden-toekomstlegging of de maancycluslegging.
De nieuwemaankaarten gebruiken om nieuwe kansen te zien .
De Eerste-kwartierkaarten gebruiken voor je chakra's (uitgebreide uitleg vind je in het boekje).
De vollemaankaarten gebruiken om te ontdekken hoe je met een bepaalde situatie/energie om moet gaan.
De Laatste-kwartierkaarten gebruiken om een conclusie te ontvangen (op een specifieke vraag van jezelf)
Review
In Leven met de maan laat Yasmin Boland zien hoe de maancycli werken, hoe je je kunt verbinden met de maan, welke rituelen bij welke maanfase horen en hoe de maan jou verbindt met de kosmos. Dit deck is een mooie aanvulling op het boek, maar je kunt het uiteraard ook los van elkaar gebruiken. De 48 kaarten zijn letterlijk plaatjes om te zien. Ook zonder de uitleg van het bijbehorende (uitgebreide!) boekje kun je al lezen wat de boodschap van de kaart voor jou is. En voor de prijs (€17,99) hoef je 'm al helemaal niet te laten liggen. Geef dit deck cadeau aan je spirituele vriend(in); blije ontvangers gegarandeerd!
Titel: Manifesteren met de maan
Auteur: Yasmin Boland
Prijs: €17,99
Uitgever: Altamira
ISBN: 9789401305457
Bekijk ook: Het orakel van de maan
• Nadi Zoetebier • The future belongs to those who believe in the beauty of their dreams 🙏 • Eigenaar van VolleMaanKalender.nl, liefhebber van astrologie en spiritualiteit • Moeder van zoontje Jae '21 • Energetisch Therapeut in opleiding •