Op reis gaan zónder te vliegen. Een duurzame optie! In deze uitgave van Lonely Planet vind je 80 duurzame reizen door Europa, waarbij je het vliegtuig niet in hoeft te stappen. Lees hier onze review van 80 Duurzame reizen!
Gratis healings en meditaties beluisteren? Abonneer je dan op het VolleMaanKalender YouTube-kanaal!
80 Duurzame reizen is een hardcover uitgave van maar liefst 312 pagina's, volledig full color gedrukt en voorzien van práchtige foto's. Het boek bestaat grofweg uit twee delen: duurzame reizen van ongeveer één week en duurzame reizen van twee weken of langer.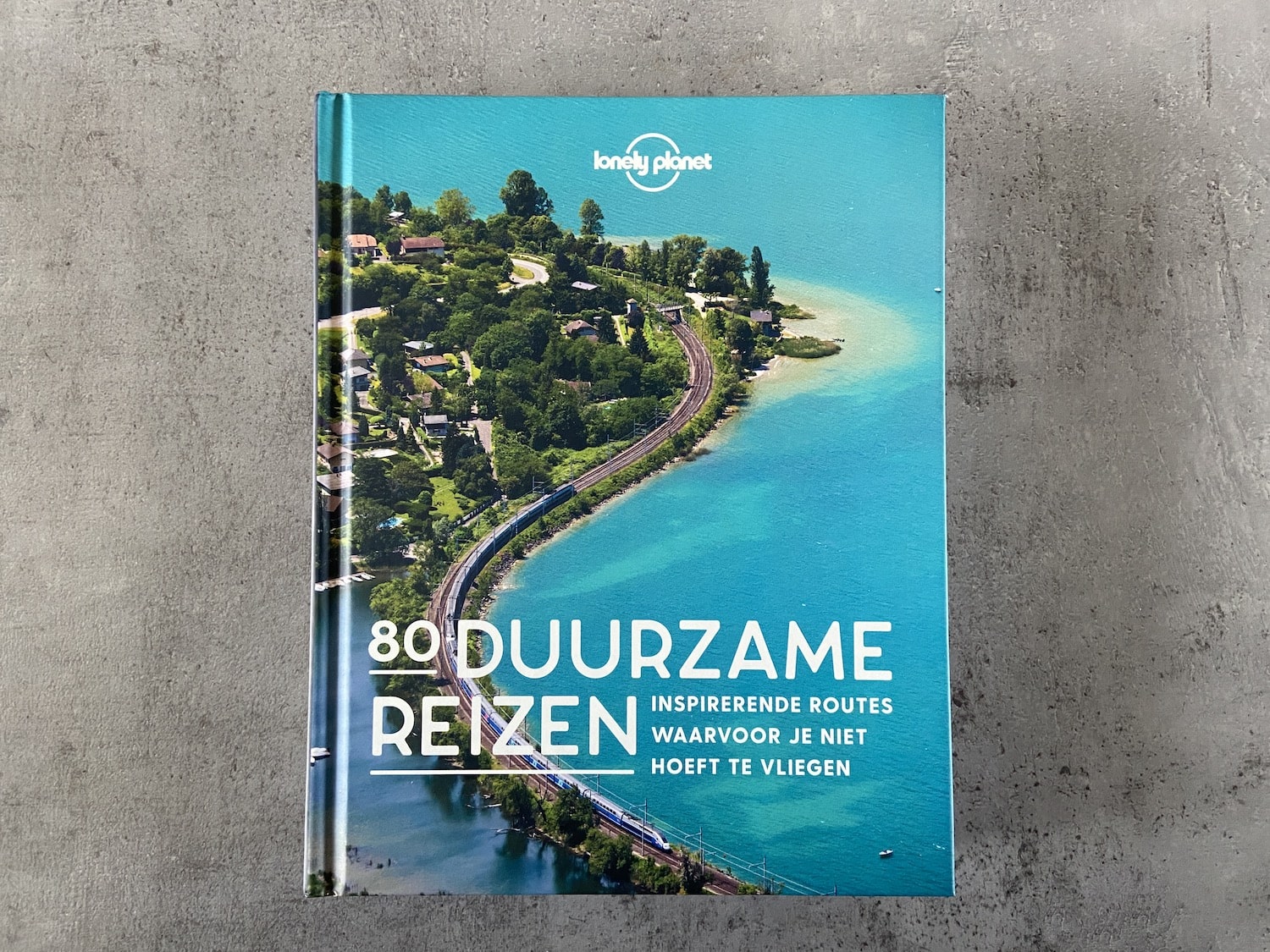 De inleiding geeft al aan waarom duurzaam reizen meer en meer in opkomst is. Bezienswaardigheden zijn slachtoffer van hun eigen succes en kampen met téveel mensen tegelijk op één plek, reizen is tegenwoordig haasten en stressen (denk aan de drukke vliegvelden) en we worden ons meer en meer bewust van de CO2-uitstoot die vliegen veroorzaakt. Reden genoeg om duurzaam reizen te omarmen. En waarom ook niet? Reizen met de trein, bus, auto, boot, fiets of te zelfs te voet is prachtig. Je ziet onderweg veel meer én je kunt echt even ontstressen. Slow travel gaat wat dat betreft hand in hand met duurzaam reizen.
80 Duurzame reizen is zo opgebouwd dat elke reis start in een Europese stad. Per route vind je de geschatte CO2-uitstoot per persoon, berekend via de calculator van Resurgence. Beiden zijn dus zonder de reis van en naar de betreffende Europese stad; die trip moet je er zelf nog bijrekenen (zowel qua reistijd als qua vervoer en CO2-uitstoot).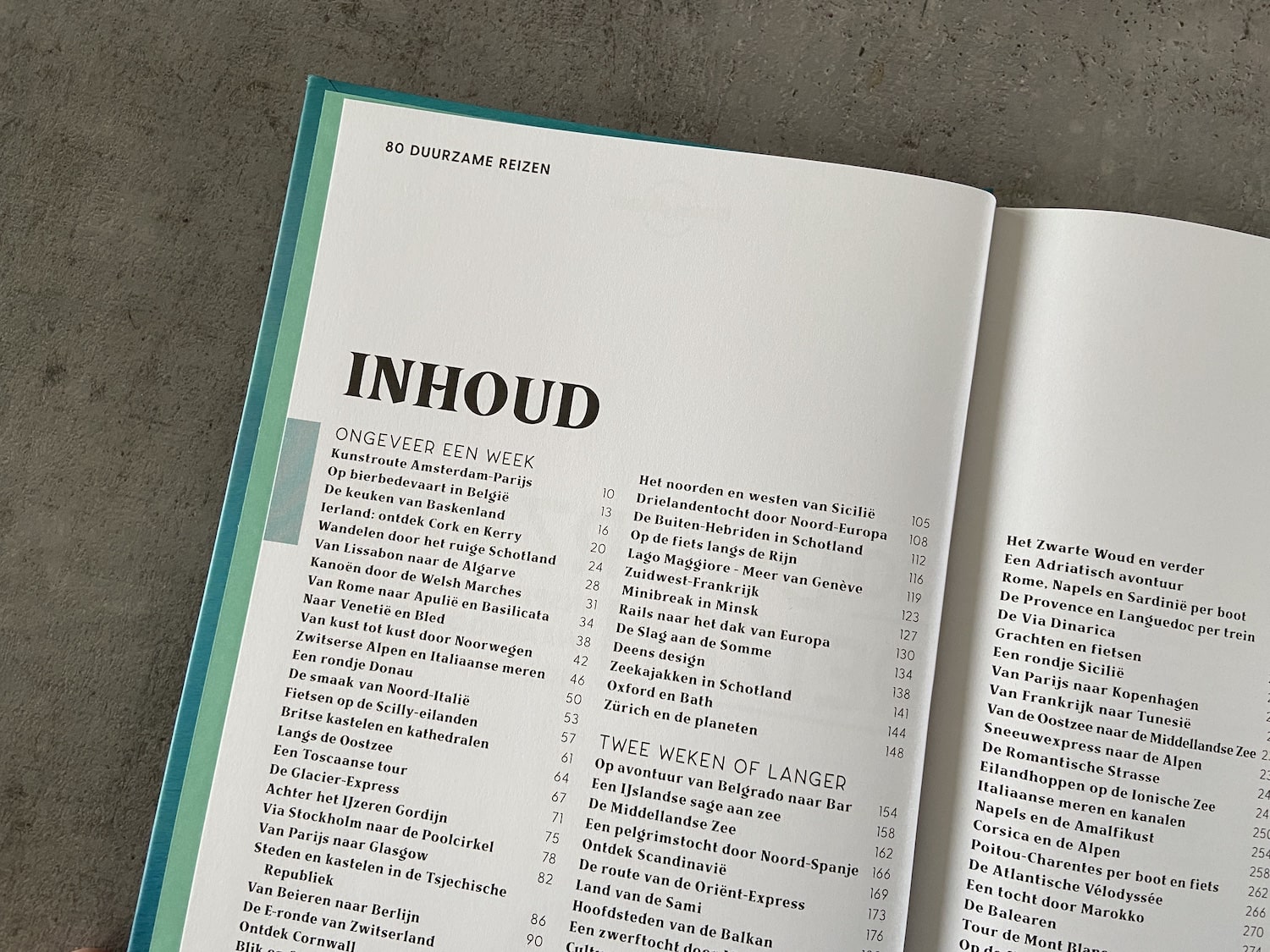 Tips voor duurzaam reizen
Neem zo min mogelijk bagage mee – Met welk vervoersmiddel je ook gaat; een paar kilo minder bagage scheelt je een hoop slepen. En tegenwoordig is alles overal wel te koop.
Accepteer (iets) hogere kosten van je reizen – Ja, een treinkaartje is doorgaans een stuk duurder dan een vliegticket. Maar vergeet niet dat je ook moet betalen voor vervoer van-naar het vliegveld, je bagage et cetera. Daarnaast is de trein écht beter voor het klimaat.
Geniet van het reizen zelf – Vaak wil je zo snel mogelijk en zo makkelijk mogelijk van A naar B reizen. Verander je mindset en geniet van het reizen zelf. Boot- en treinreizen bijvoorbeeld zijn een feestje opzich. Geniet van het landschap en de gehele trip. Zo ga je ook meteen minder gestresst op pad.
Boek lokaal – Steun de lokale economie en boek reizen en tours lokaal. In plaats van dat je de grote reisaanbieders uit je eigen land spekt.
Huur een fiets of neem een dagkaartje voor de bus – Dit is vaak veel leuker dan het huren van een eigen auto. Je bent wat langer onderweg, maar je ziet ook veel meer van de lokale leefwijze.
Neem wasbare verzorgingsproducten mee – Make-updoekjes, wattenschijfjes en oorstokjes: tegenwoordig zijn er al een heleboel wasbare varianten te vinden. Zulke kleine producten zijn prima met de hand te wassen op de plek van bestemming. Even uithangen 's avonds en de volgende dag zijn ze weer droog en goed om te gebruiken.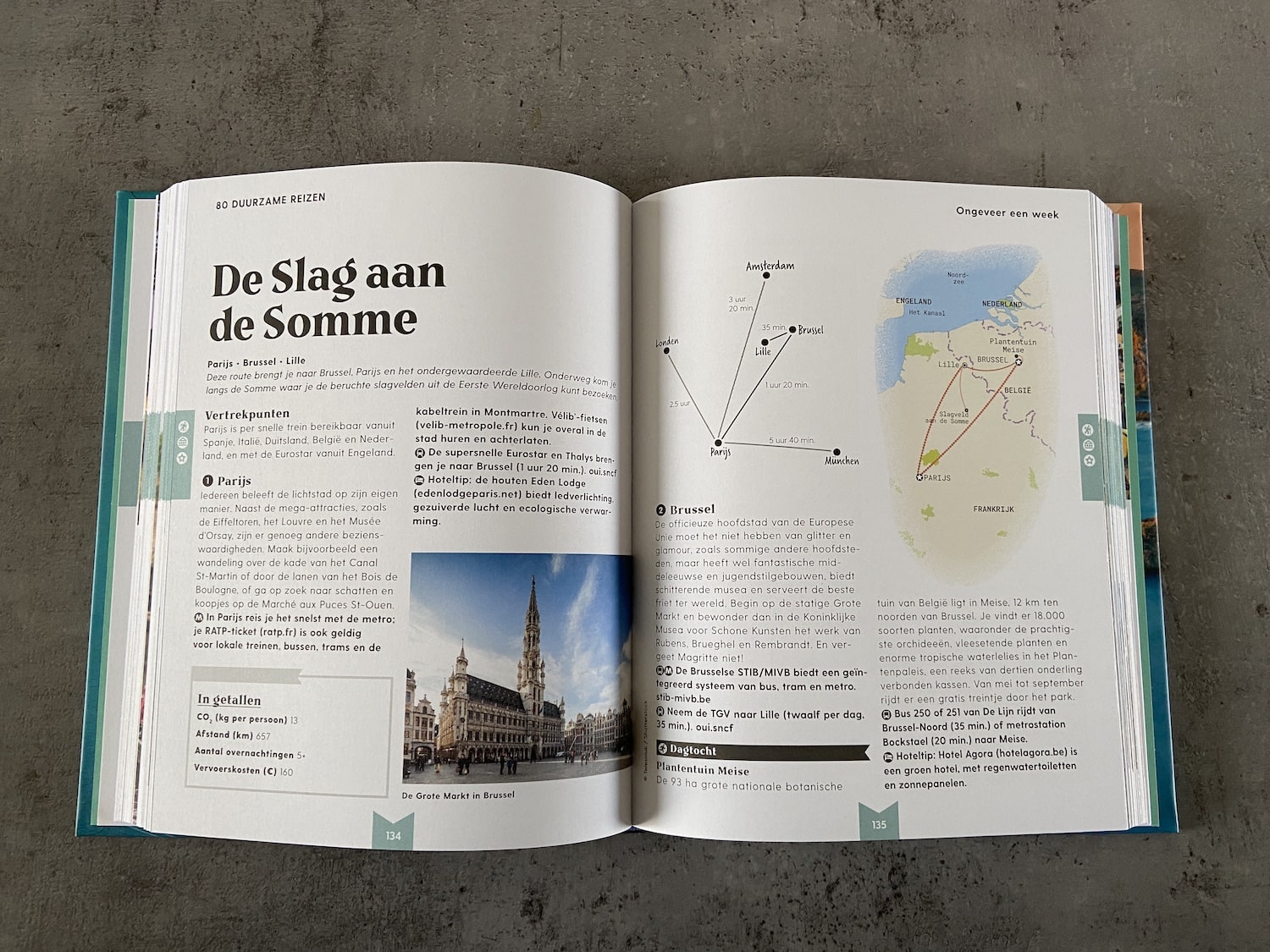 Review
80 Duurzame reizen is een prachtige, luxe uitgave van Lonely Planet. Het boek wil graag dat jij en ik, de lezers, ons bewust zijn van de impact van reizen op de wereld. Reizen hoeft geen negatieve impact te hebben, als we maar nadenken over hoe het beter kan. En als het maar niet alleen bij nadenken blijft; er is actie nodig. Lonely Planet geeft het in de inleiding goed aan: 'We moeten niet stoppen met reizen, maar op zoek gaan naar manieren om dat met z'n allen anders, beter te gaan doen'.
Per trip vind je informatie over het vertrekpunt, tips voor een dagtocht, de getallen (hoeveel CO2 het per persoon 'kost'), de afstand van de trip, het gemiddelde aantal overnachtingen en de geschatte vervoerskosten. Wel moet je zelf nog zorgen dat je op het beginpunt komt. En dat je vanaf het eindpunt weer naar huis gaat. Ik denk dat daar juist de grootste uitdaging inzit, want veelal zul je het vliegtuig boeken als je bijvoorbeeld een tripje naar Praag en omgeving wil doen (blz. 86 tm 89). Heb je in het boek dus een trip van acht overnachtingen gevonden, tel daar dan nog de kosten én overnachtingen bij die je nodig hebt om op die plek te komen. Wat een voordeel is: dit boek gaat over Europa en met het huidige trein- en busnetwerk kun je overal komen.
Al met al een heel leuk cadeau voor de feestdagen, dit boek!
Titel: 80 Duurzame reizen
Auteur: Lonely Planet
Prijs: €25
Uitgever: Kosmos Uitgevers
ISBN: 9789043925808
• Nadi Zoetebier • The future belongs to those who believe in the beauty of their dreams 🙏 • Eigenaar van VolleMaanKalender.nl, liefhebber van astrologie en spiritualiteit • Moeder van zoontje Jae '21 • Energetisch Therapeut in opleiding •