Wil je meer leren over Tarot en hoe je een kaartlegging kunt uitlezen met behulp van het grote arcanum en het kleine arcanum? In dit artikel legt Barbara uit hoe je dit gemakkelijk doet. Een ideale tarot techniek tip voor beginners!
Gratis healings en meditaties beluisteren? Abonneer je dan op het VolleMaanKalender YouTube-kanaal!
Voel jij dat ook? Dat de kracht van de zon zo aan het afnemen is dat je weer naar binnen keert? Dat het weer tijd wordt om op de bank onder een dekentje te kruipen met een goed boek en een warme kop thee? Ik houd van deze tijd! Het is dan echt weer introspectie (naar binnen kijken) tijd. En dus ook voor tarot.
Deze maand deel ik een waardevolle tip die je bij alle soorten tarotleggingen kunt toepassen. Denk maar aan dagkaarten, verleden/heden/toekomst, niet-positionele leggingen en natuurlijk ook het Keltisch Kruis.
Bij de tarotkaarten lezen is het zo dat je goed naar de kaarten kijkt en naar de verbanden tussen de kaarten. Soms is dat een waas als je een beginner bent, maar de tip van vandaag gaat je alvast helpen om die waas wat minder te maken. Hier gaan we een simpele oefening voor doen.
Oefening
Stel, je neemt je deck. Haal hier alle grote arcanum kaarten allemaal uit en leg die apart op een stapel. Als je nog niet zo goed weet welke kaarten dat zijn; ze hebben een Romeins cijfer en ze hebben namen zoals de Dood, de Wereld. Echt namen.
Nu weet je waarschijnlijk wel dat die kaarten een andere lading of waarde hebben dan de kleine arcanum kaarten. We weten dat de grote arcanum kaarten staan voor de grote spirituele veranderingen in je leven, dat ze eigenlijk aangeven wat er binnen in je allemaal speelt en geven ook advies hoe je van de ene fase in je leven naar de andere fase kunt groeien. Best wel heftige stuff dus!
In een legging is het dus ook zo dat je door 'waarde' te geven aan de verschillende soorten kaarten, ze makkelijker op een bepaalde volgorde kunt lezen.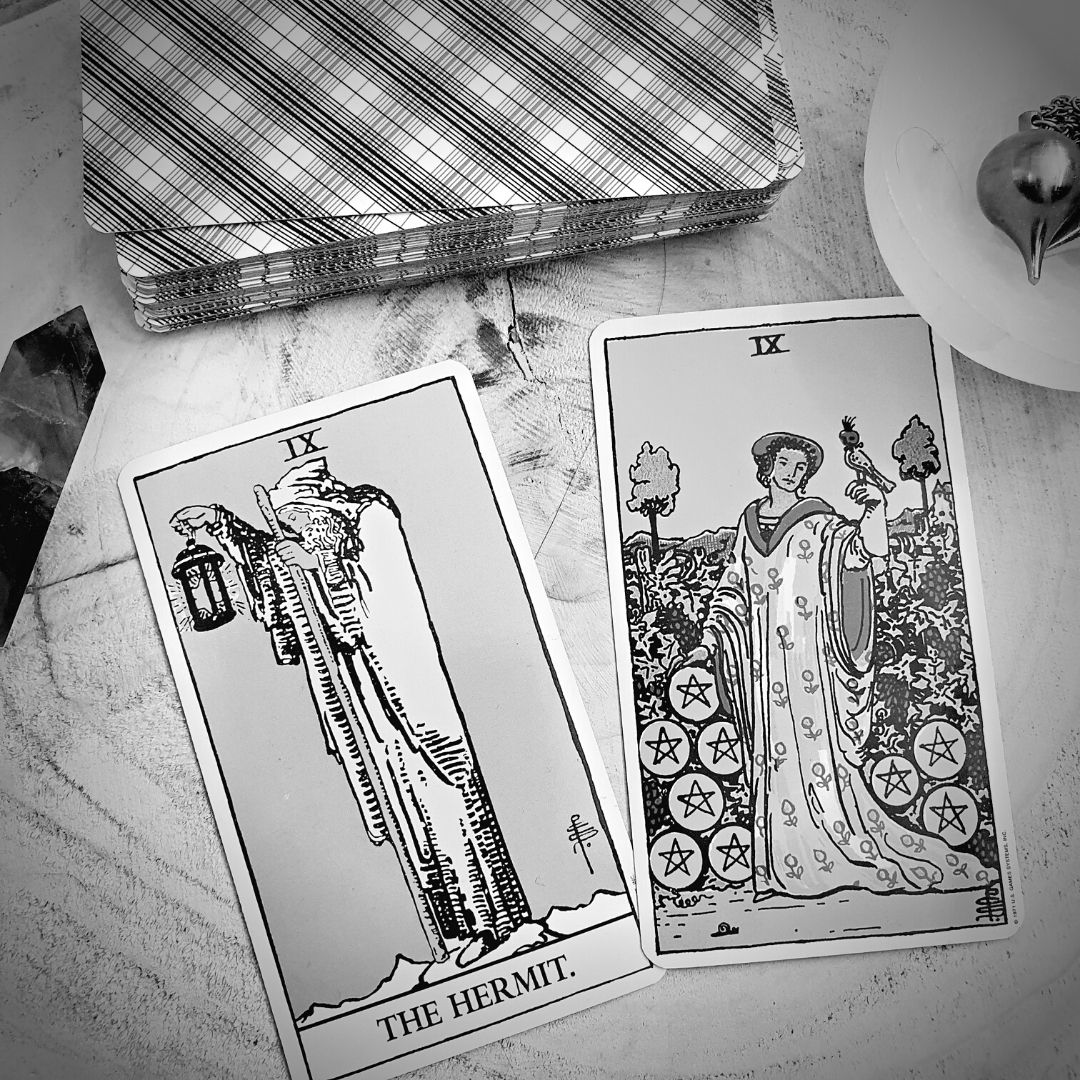 Neem nu bijvoorbeeld een kaart uit je grote arcanum stapel en eentje uit je kleine arcanum stapel. Zoals de afbeelding hierboven.
De grote arcanum kaart zal voor jou als 'heftiger' of zwaarder voelen ten opzichte van de kleine arcanum kaart (die staat voor het dagelijks leven). Nu zul je waarschijnlijk een soort van drang voelen om juist met die grote arcanum kaart te beginnen. En dat is helemaal ok!
Proberen de verschillende groepen kaarten zo te zien gaat je helpen om stapje voor stapje grotere leggingen te gaan lezen.
Stel nu dat je tien kaarten hebt getrokken en er zijn er drie van het grote arcanum, dan is het helemaal goed om juist eerst met die drie kaarten te beginnen en pas later met de hofkaarten en de elementkaarten.
Waarom vertel ik je dit?
Ik merk dat juist beginners helemaal overweldigd worden bij tarotleggingen met meerdere kaarten, en door eerst een bepaalde waarde aan een groep kaarten vast te maken zorgt er voor dat je ogen echt naar die eerste groep getrokken wordt en dat je daar als eerste mee aan de slag gaat.
Dus:
Doe voor jezelf af en toe een dagkaart legging met een grote arcanum kaart en een kleine arcanum kaart.
Zeg hierbij: Van binnen voel ik me als [grote arcanumkaart] en dat betekent…. Van buiten ga ik [kleine arcanumkaart] merken en moet ik letten op….
Ga je naar bijvoorbeeld een verleden/heden/toekomst legging of een andere grotere legging, dan noteer je eerst (echt waar, schrijf het op, dat helpt) de betekenissen van de grote arcanum kaarten en daarna naar de rest. Geef vooral ook extra aandacht aan de plekken waar de grote arcanum kaarten liggen, want die hebben volgens de legging de meeste invloed op jou.
Veel plezier met deze tip!
Warme groet,
Barbara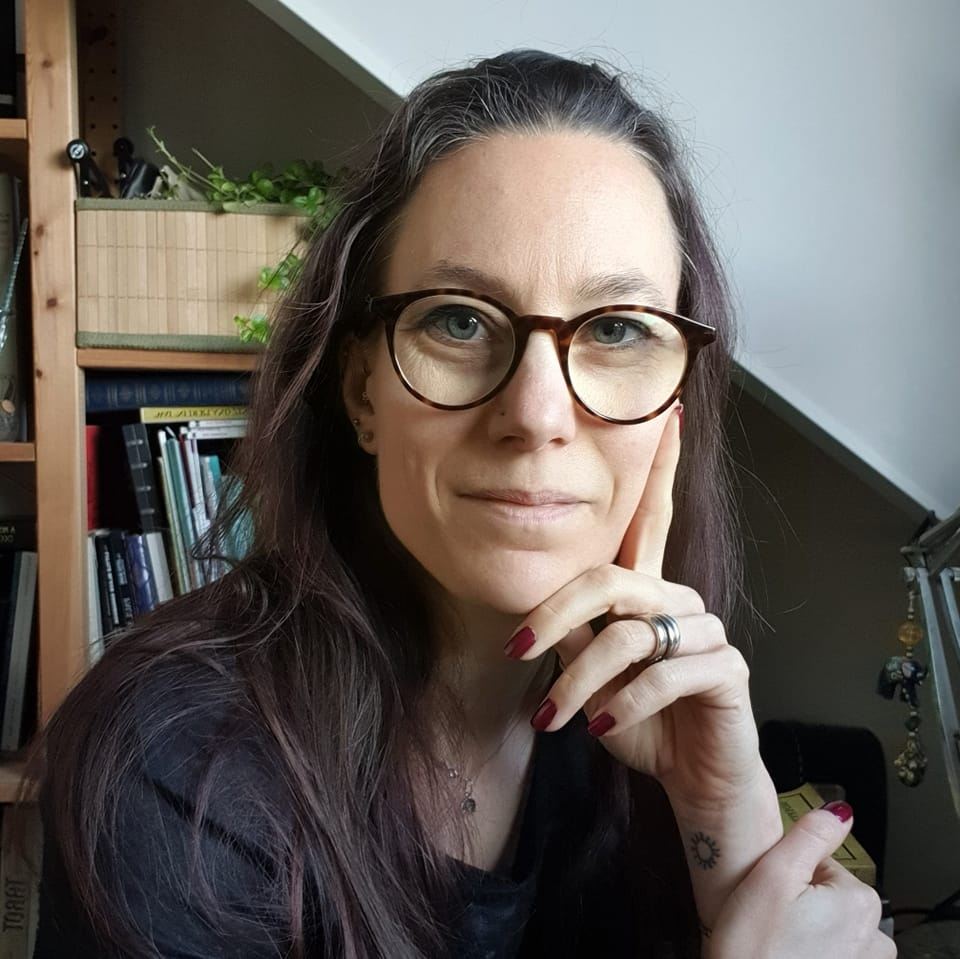 • Barbara Karnekamp • Tarotnerd, vrouw, moeder, heks en biologiejuf in het middelbaar onderwijs • Houdt van nieuwe tarottechnieken uitproberen en is altijd nieuwsgierig naar alle onderwerpen die met de tarot te maken hebben • Passie voor indie decks (wat niet goed is voor haar portemonnee) • Gebruikt ook graag Lenormand en orakelkaarten •