Het Keltisch Kruis in tarot bestaat al heel lang. Het is een uitgebreide legging, waarbij veel aan bod komt. Je gebruikt namelijk tien kaarten. Ideaal voor als je de diepte in wil gaan. Wil je weten hoe je een Keltisch Kruis legt en kunt uitlezen, lees dan verder!
Gratis healings en meditaties beluisteren? Abonneer je dan op het VolleMaanKalender YouTube-kanaal!
Keltisch Kruis in tarot
Bekijk de afbeelding hierboven voor een voorbeeld van een Keltisch Kruis. Elk nummer correspondeert met een kaart. Je legt de kaarten in die volgorde neer. Daarna lees je de kaarten ook in die volgorde uit. Dus van kaart 1 tot en met kaart 10.
Kaart 1 en kaart 2 vind je in het midden van het Keltisch Kruis. Zij symboliseren de elementen Lucht en Aarde. Kaart 3 tot en met kaart 6 leg je daar vervolgens omheen. Deze kaarten symboliseren de vier windrichtingen: Noord, Oost, Zuid en West.
Keltisch Kruis leggen
Schud je deck. Je kunt je tarotkaarten nu één voor één trekken, waarbij je na elke kaart opnieuw je deck schudt, óf je legt ze allemaal achter elkaar neer. Dat is aan jou. Doe vooral wat goed voelt! Bekijk het plaatje voor de plaatsing van de kaarten. Soms zijn de plaatsingen rondom het kruis op een andere volgorde. Kies de variant die bij jou past.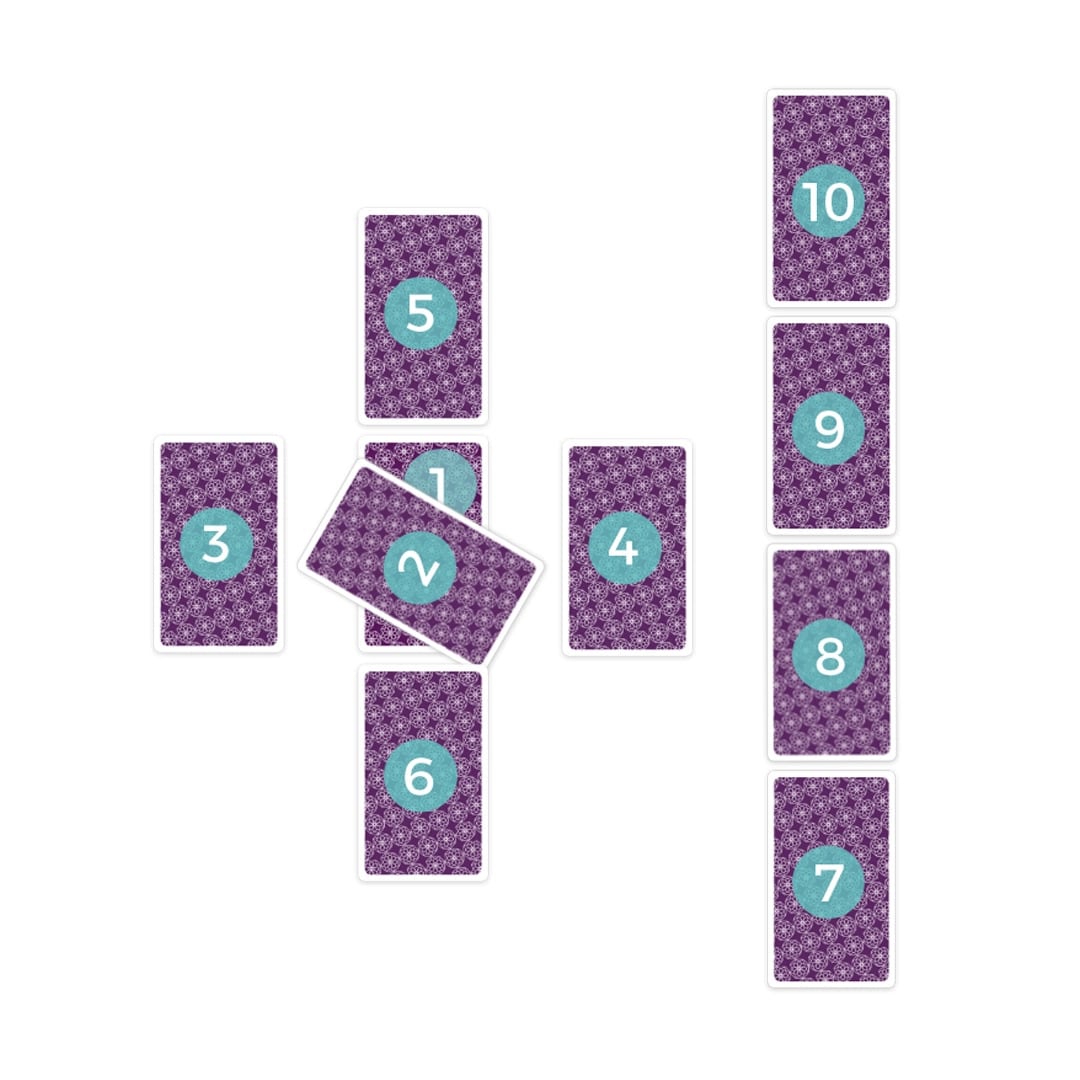 Keltisch Kruis lezen
Kaart 1 in het Keltisch Kruis staat voor jouw omgeving. Deze kaart is de basis van de legging. Het vertelt je de algemene energie van de lezing. Een belangrijke kaart om misschien wel het thema van de legging nog eens goed te duiden.
Kaart 2 in het Keltisch Kruis ligt horizontaal op de eerste kaart. Daarmee doorkruist 'ie de kaart bijna letterlijk. Dat maakt dat deze tweede kaart voor dat wat jouw pad kruist of blokkeert. Dit is jouw conflict, obstakel of uitdaging.
Kaart 3 in het Keltisch Kruis is de eerste windrichting kaart die je in het kruis legt. Dat maakt 'm tevens een belangrijke basiskaart in deze legging. Het is de fundering, de pijler waarop je bouwt. Deze derde kaart staat voor wat jou drijft. Waarom doe je wat je doet? Wat geeft jou (on)bewust energie?
Kaart 4 in het Keltisch Kruis staat voor het verleden. Wat ligt er nu definitief achter je? Wat mag jij volledig loslaten? Als je loslaat, ontstaat er ruimte voor groei.
Kaart 5 in het Keltisch Kruis staat voor jouw doelstelling(en). Wanneer ben jij tevreden? Wat zijn jouw idealen? Welke uitkomst zou voor jou het beste zijn?
Kaart 6 in het Keltisch Kruis staat voor de nabije toekomst. Wat staat jou op korte termijn te gebeuren?
Kaart 7 in het Keltisch Kruis staat voor jouzelf, zoals jij jezelf ziet in de wereld. Wat is jouw plek? Wat is jouw ruimte en welke ruimte neem jij in? Dit is de basis van de rij kaarten rechts. Een belangrijke positie.
Kaart 8 in het Keltisch Kruis staat voor jouw omgeving. Dus je thuis, vrienden, familie, gezin, geliefde, collega's en community.
Kaart 9 in het Keltisch Kruis staat symbool voor dat waar je bang voor bent, maar ook voor dat wat hoop geeft. Een vraag die je hier mag stellen en beantwoorden: hoe wil je de toekomst benaderen?
Kaart 10 in het Keltisch Kruis staat voor de uitkomst.
Je kunt optioneel nog bekijken welke kaart onderop het deck ligt. Dit is de algemene energie voor de lezing / wat je verder mag horen. Kom je er met een kaart niet helemaal uit of is het niet duidelijk genoeg? Trek er dan nog een kaart bij.
Shop de leukste tarot items
• Nadi Zoetebier • The future belongs to those who believe in the beauty of their dreams 🙏 • Eigenaar van VolleMaanKalender.nl, liefhebber van astrologie en spiritualiteit • Moeder van zoontje Jae '21 • Energetisch Therapeut in opleiding •