Met de Lichtmeesters Healing Cards haal je een kaartenset in huis waarmee je je eigen licht en kracht kunt ontdekken en versterken. Lees hier onze review!
Gratis healings en meditaties beluisteren? Abonneer je dan op het VolleMaanKalender YouTube-kanaal!
Ik ben al wel bekend met orakelkaarten, tarot en inzichtkaarten. Healingkaarten zijn voor mij iets nieuws. Ik kijk er dan ook erg naar uit om de Lichtmeesters Healing Cards voor jullie te recenseren!
Soms wil je graag een boodschap ontvangen. Om sturing te krijgen, heling of inzicht. Met deze set ontvang je boodschappen van vier grootheden uit de spirituele wereld, te weten:
Aartsengel Michael, deze geeft jou licht en kracht
Aartsengel Rafael, deze geeft jou healing
Verheven Meester Saint Germain, deze geeft jou transformatie
Verheven Meester Sananda, deze geeft jou leven vanuit de ziel
Ze bieden je licht en kracht. Of eigenlijk: ze laten je jouw eigen licht en kracht (her)ontdekken. Je hebt het namelijk al in je, maar soms heb je net wat meer hulp nodig om het eruit te krijgen.
Opbouw van de kaartenset
De Lichtmeesters Healing Cards kaartenset bestaat uit 54 kaarten, maar daarvan zijn er zes instructiekaarten. Dit zijn de eerste kaarten, die geven je de handleiding van hoe je dit deck kunt gebruiken. Dan houd je inhoudelijk 48 kaarten over waar je mee kunt werken. Die 48 kaarten zijn weer opgedeeld in 12 healingkaarten, 12 challengekaarten, 12 channelingkaarten en 12 opdrachtkaarten. Voor elke lichtmeester is een eigen kleurstelling gebruikt, dus je kunt ze gemakkelijk herkennen. Daarnaast geeft de kaart direct aan wat voor soort kaart het is.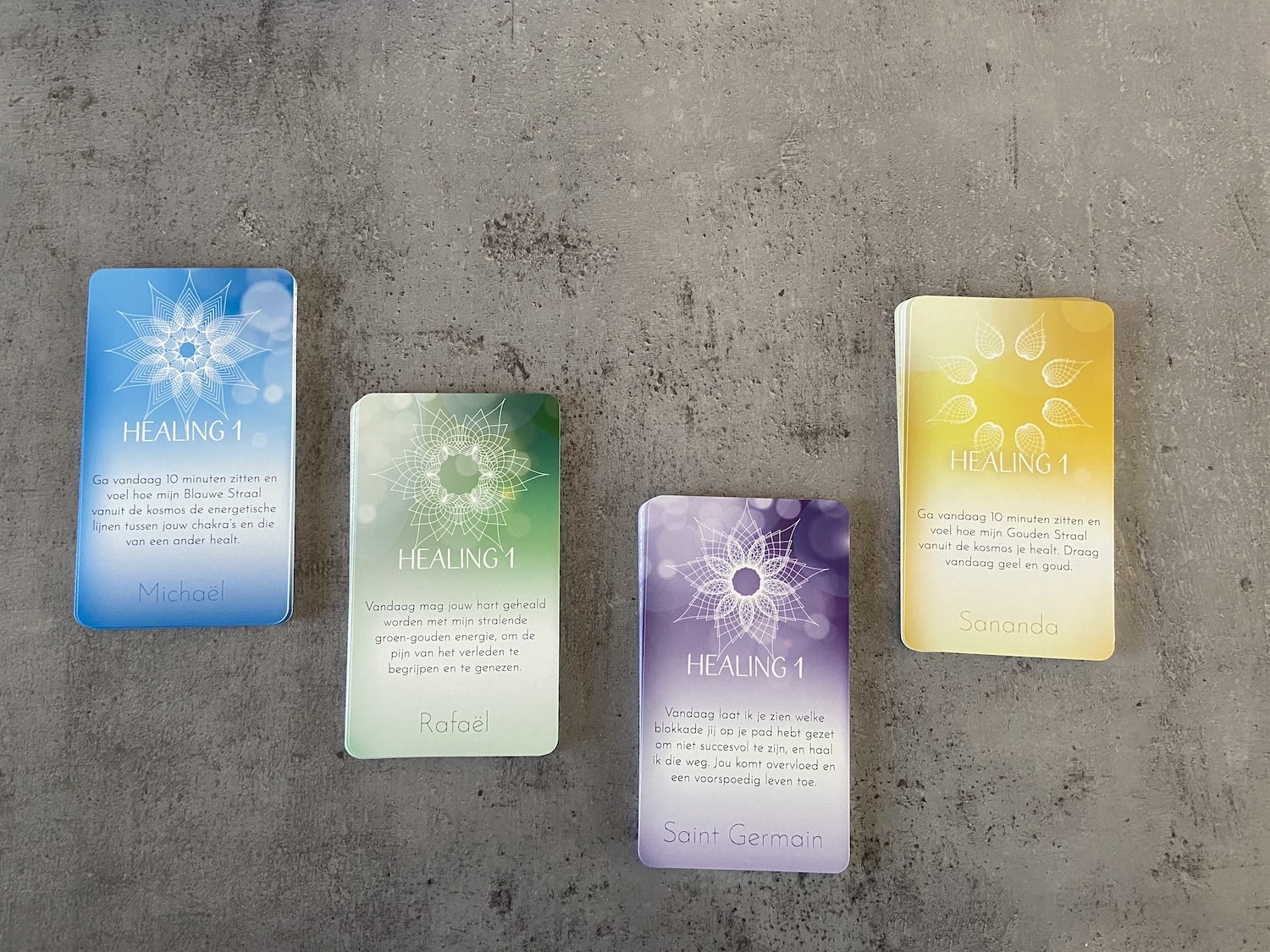 De Healingkaarten gebruik je voor fysieke, emotionele en astrale healing. De Channelingkaarten zijn voor dagelijkse leiding. Deze gebruik je daarnaast ook als je voor belangrijke keuzes staat. De Challengekaarten zijn kaarten die je uitdagen om in je eigen Kracht en Licht te gaan staan. De Opdrachtkaarten geven je een concrete opdracht, waarmee je kunt groeien.
Lichtmeesters Healing Cards gebruiken
De kaarten zijn op verschillende manieren te gebruiken. Je kunt elke dag blind een kaartje trekken en de hele dag met de boodschap van die kaart leven. Als er een opdracht instaat, dan doe je die. Een andere manier is een open kaart trekken. In dit geval zoek je zelf uit wat op dat moment bij jou past en van wie die boodschap/opdracht van is. Je kunt er ook voor kiezen om drie kaarten te trekken, bijvoorbeeld als je een keuze moet maken. Dat is dan een verleden, heden en toekomst legging. Tetsiea geeft zelf nog een leuke tip voor het trekken van een Lichtmeesters Healing Cards: trek de kaart en leg hem 's nachts onder je kussen. Schrijf de volgende ochtend op wat je hebt gedroomd en bekijk dan pas de kaart.
Saint Germain channeling
Uiteraard hebben we voor deze review een kaartje getrokken. De kaart die naar boven kwam was een channelingkaart van Saint Germain. Laat de boodschap op je inwerken.
Het heilige leven, het Goddelijke leven is dat wat je den diepste kent uit jouw tijd in Lemurië. Daar leidde jij een heilig leven, een verbonden leven vanuit Bewustzijn. Herinner je wie je bent.

Saint Germain
Lees ook: Wat is Lemurië?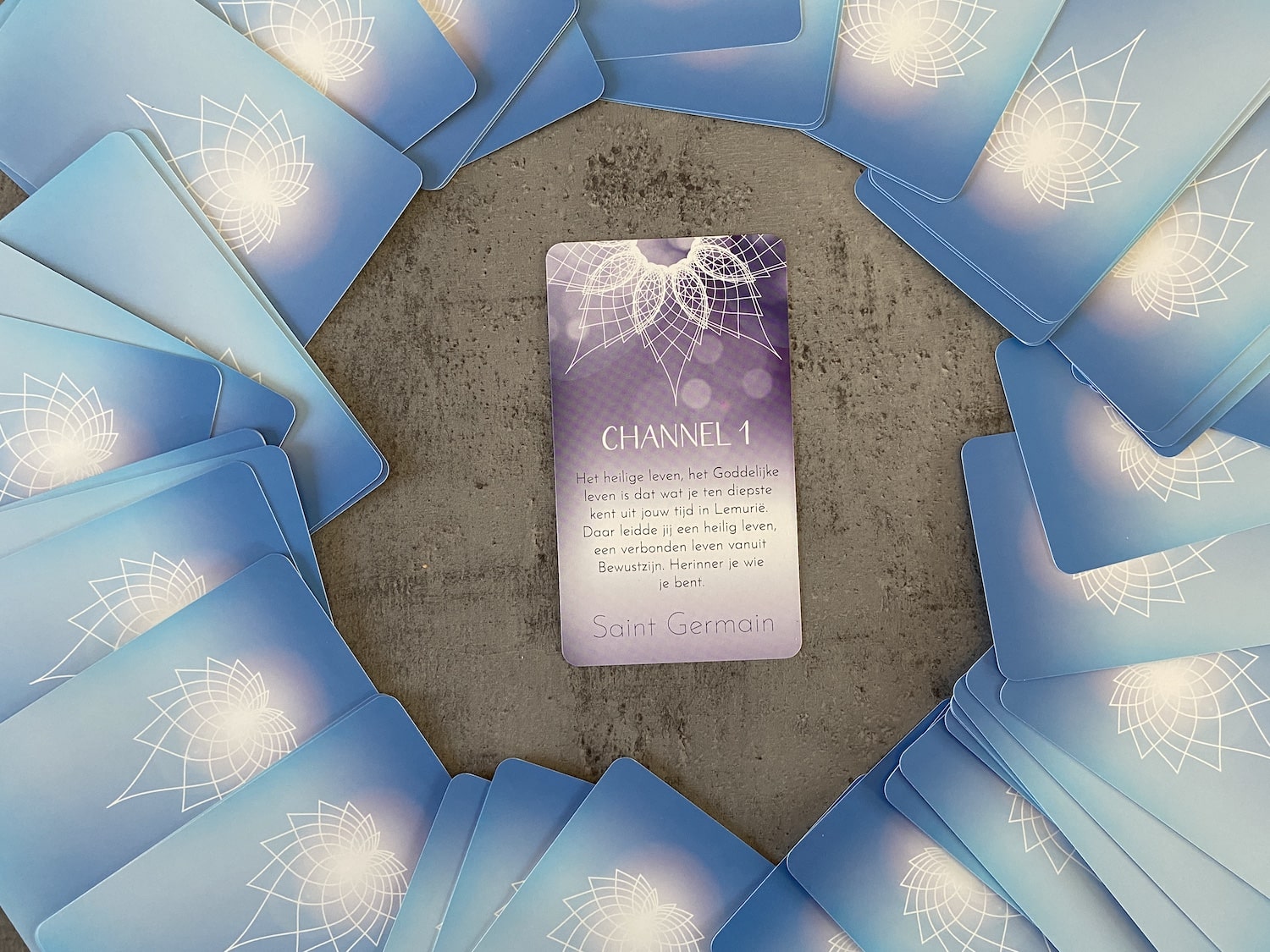 Review Lichtmeesters Healing Cards
De Lichtmeesters Healing kaarten liggen heel fijn in de hand. Ze zijn licht, plakken niet aan elkaar (geen glossy materiaal) en schudden daarom prettig. Er zijn 48 kaarten met een boodschap of opdracht. De variatie is voldoende, al lijken sommige boodschappen wel enigszins op elkaar. Niet dat dat erg is (ik geloof er in dat je de boodschap/kaart krijgt die op dat moment bij jou past), maar wel goed om vooraf te weten. Dit deck is een leuke aanvulling voor je verzameling of in readingen. Als je aan het einde van een reading met bijvoorbeeld tarot nog een concrete boodschap/opdracht mee wil geven, dan kun je aanvullend een kaartje uit dit deck trekken. Verder kun je dit deck op meerdere manieren gebruiken (zie ook het kopje hierboven). Daarom krijgt het Lichtmeesters Healing kaartendeck van ons dan ook een mooie 3,5*.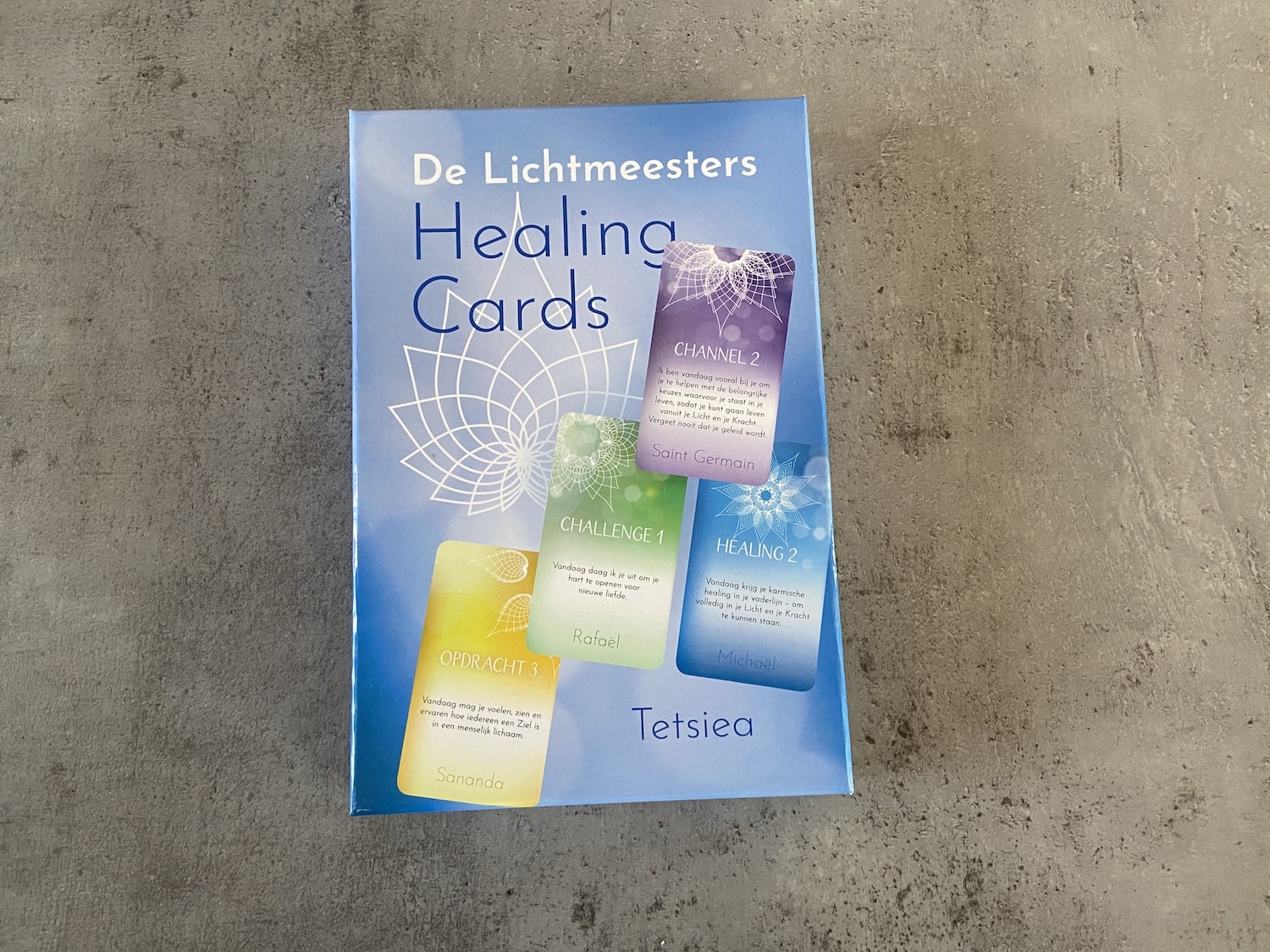 Titel: Lichtmeesters Healing Cards
Auteur: Tetsiea
Prijs: €22,50
Uitgever: Uitgeverij Akasha
ISBN: 9789460151798
Lees ook: Handboek energetische basiskennis
• Nadi Zoetebier • The future belongs to those who believe in the beauty of their dreams 🙏 • Eigenaar van VolleMaanKalender.nl, liefhebber van astrologie en spiritualiteit • Moeder van zoontje Jae '21 • Energetisch Therapeut in opleiding •