Deze is voor de Harry Potter fans! Het nieuwste kookboek De Kookschool voor Potterheads staat vol gerechten geïnspireerd op de magische wereld van Harry Potter. Lees hier onze review.
Gratis healings en meditaties beluisteren? Abonneer je dan op het VolleMaanKalender YouTube-kanaal!
Laat je met het kookboek De Kookschool voor Potterheads inspireren door de magische gerechten van de grote tafel van Zweinstein, tante Petunia, de keuken van mevrouw Wemel en meer. De Kookschool voor Potterheads bevat meer dan 60 gloednieuwe recepten en praktische vakkennis. Wat dacht je van een Zweinstein-buffet, de Amortentia liefdesdrank of elfen-eclairs? Ideaal voor themafeesten, kinderpartijtjes of een filmavondje. Beloofd: er komt geen explosie aan te pas! Perfect voor fans van Harry Potter.
Harry Potter kookboek
De Kookschool voor Potterheads is opgebouwd in zes delen:
Ontbijt en snacks
Soep
Hoofdgerechten
Desserts
Taart en andere baksels
Zoetigheid en dranken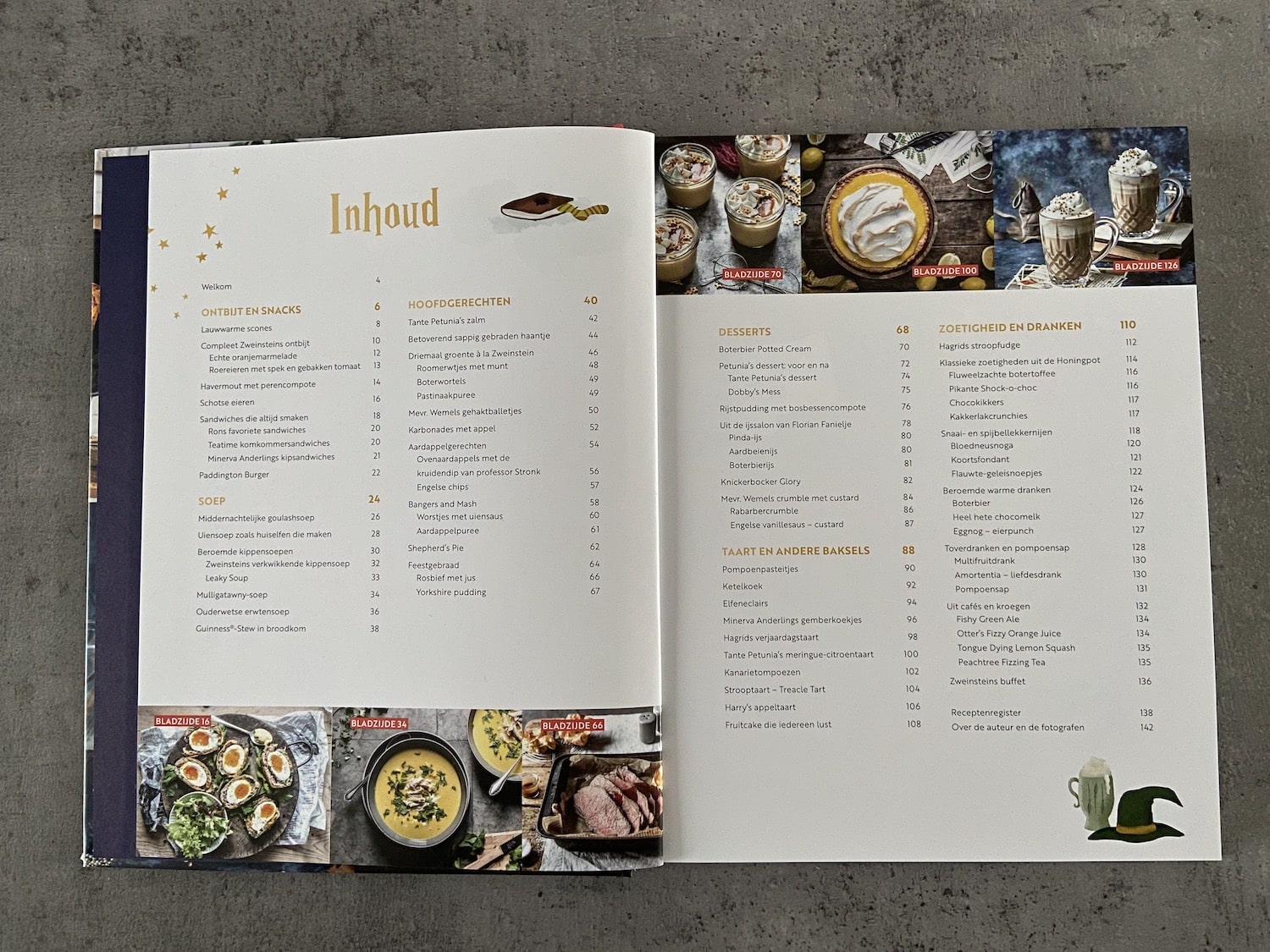 Achterin vind je nog een receptenregister. Het spreekt voor zich wat je onder elk deel aan recepten en inspiratie vindt. Het mag duidelijk zijn dat Harry Potter in Engeland is ontstaan, want het boek bestaat voornamelijk uit gerechten uit de Britse keuken. Denk hierbij aan Lauwwarme Scones, Shepherd's Pie en Yorkshire Pudding. Elk recept is voorzien van een lijst met benodigde ingrediënten, de bereiding en prachtig beeldmateriaal. Ook zie je meteen voor hoeveel personen het is en vind je er veel extra tips, bijvoorbeeld hoe je iets kunt serveren.
Het is allemaal ingestoken op thema Harry Potter en dat zie je ook terug in de namen van veel gerechten. Zo heb je…
Hagrids verjaardagstaart
Zweinsteins buffet
Mevr. Wemels gehaktballetjes
Chocokikkers
Natuurlijk mag Boterbier ook niet ontbreken. En dit is slechts een kleine greep uit de meer dan 60 recepten die in dit boek staan!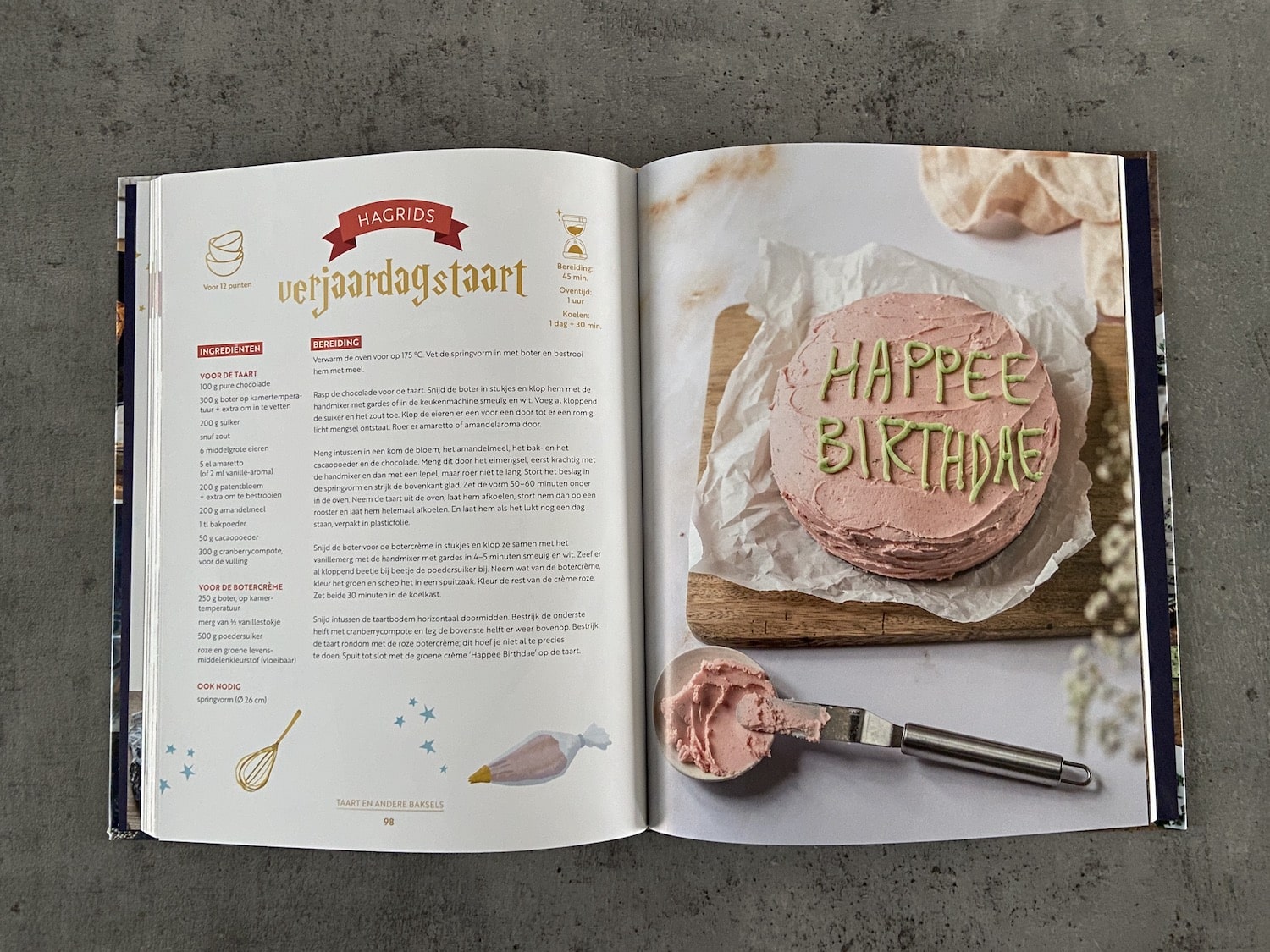 Recept: Boterbier
Om alvast een preview te geven vind je hier het recept voor Boterbier. Dit recept is voor 3 glazen en duurt circa 25 minuten om te maken.
Ingrediënten
2 eetlepels suiker
1 zakje vanillesuiker
25 gram boter
200 milliliter slagroom
400 milliliter melk
3/4e theelepel kaneel
2 mespuntjes kruidnagelpoeder
1/4e theelepel gemberpoeder
1 theelepel cacaopoeder
300 milliliter (alcoholvrij) moutbier
Om het geheel te decoreren kun je naar wens kaneel, chocosprinkles, suikersprinkles of gekleurde suiker toevoegen.
Bereiding
Hoe maak je boterbier? Dit recept komt uit De Kookschool voor Potterheads.
Laat de suiker en de vanillesuiker in een pan op halfhoog vuur lichtbruin karamelliseren. Roer de boter erdoor en blus de karamel voorzichtig af met 100 milliliter slagroom (pas op: het kan gaan sissen en spetteren). Blijf onder het koken net zolang roeren tot de karamel helemaal is opgelost. Roer de melk, kaneel, kruidnagel, gember en cacao erdoor. Laat alles op laag vuur 3 tot 5 minuten zachtjes pruttelen.
Klop intussen de rest van de slagroom met een handmixer met gardes luchtig, maar niet te stijf. Neem de pan van het vuur en schenk al roerend 250 milliliter moutbier bij het karamelmengsel. Zet de pan weer op het vuur en verwarm de inhoud al roerend op laag vuur. Laat het niet te heet worden, want dan gaan melk en room schiften.
Verdeel het warme boterbier over glazen (met handvat), schenk de rest van het moutbier erbij en roer kort. Lepel er dan de slagroom op. Wie wil kan nog kaneel, choco- of suikersprinkles of gekleurde suiker op het boterbier strooien. Serveer warm.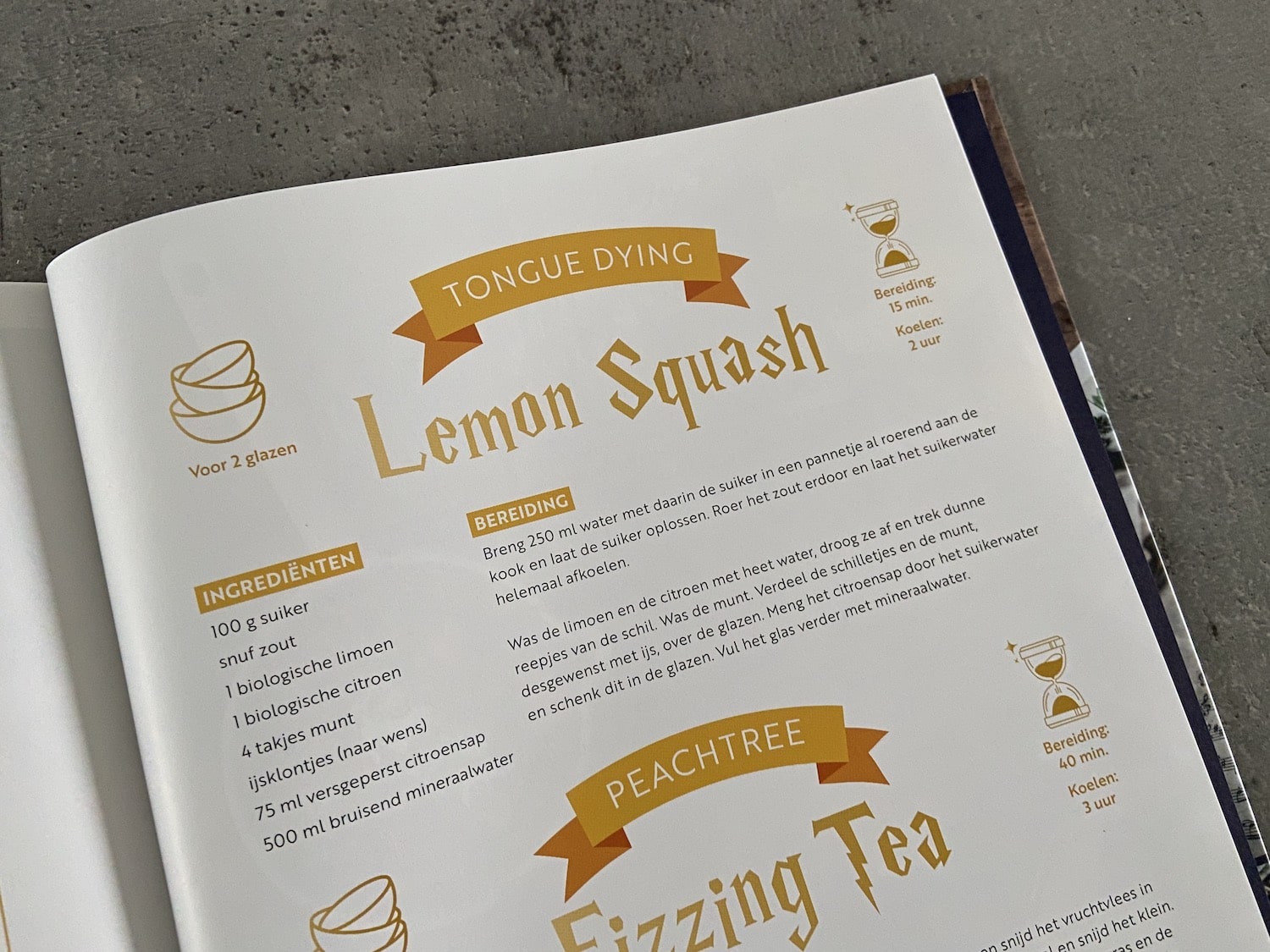 De Kookschool voor Potterheads review
Als Harry Potter fan ben ik mega enthousiast over dit boek. Je leest als kind die boeken en vanaf dat moment 'hoor' je bij die magische wereld. Dat ik nu als volwassene recepten geïnspireerd op deze wereld kan maken vind ik dan ook héél leuk. Ik denk dat dit voor veel van jullie ook zo zal zijn. De recepten zijn simpel te volgen en omdat ze voorzien zijn van mooie foto's is het vrij goed/makkelijk na te maken. Moet je een keukenprinses zijn om dit boek te kunnen volgen? Niet per sé, maar ik denk wel dat het boek juist leuk is voor mensen die graag in de keuken staan.
E-book: via Bol.com
Auteur: Tanja Dusy
Prijs: €22,50
Uitgever: Kosmos Uitgevers
ISBN: 9789043925631
• Nadi Zoetebier • The future belongs to those who believe in the beauty of their dreams 🙏 • Eigenaar van VolleMaanKalender.nl, liefhebber van astrologie en spiritualiteit • Moeder van zoontje Jae '21 • Energetisch Therapeut in opleiding •