Fan van Harry Potter? Lees hier waarom je The Leaky Cauldron, het Harry Potter café in Krakau (Polen), écht moet bezoeken.
Gratis healings en meditaties beluisteren? Abonneer je dan op het VolleMaanKalender YouTube-kanaal!
Ben je fan van Harry Potter en reis je af naar Krakau in Polen? Dan móet een bezoek aan Dziórawy Kocioł, oftwel The Leaky Cauldron, op je lijstje staan! Dit Harry Potter café in het centrum van Krakau is een magisch uitje.
Midden in het centrum van Krakau
Midden in het centrum van Krakau, in de drukste winkelstraat bij het plein, vind je een magische plek. Verborgen voor wie er niet op let. Maar wie er oog voor heeft, ziet de uil meteen staan. De bordjes voeren je mee naar een Harry Potter café onder de grond. Tovenaar, heks of dreuzel: je bent van harte welkom*. Alcohol serveren ze niet in deze bar, maar je kunt er wel een boterbiertje bestellen. 😉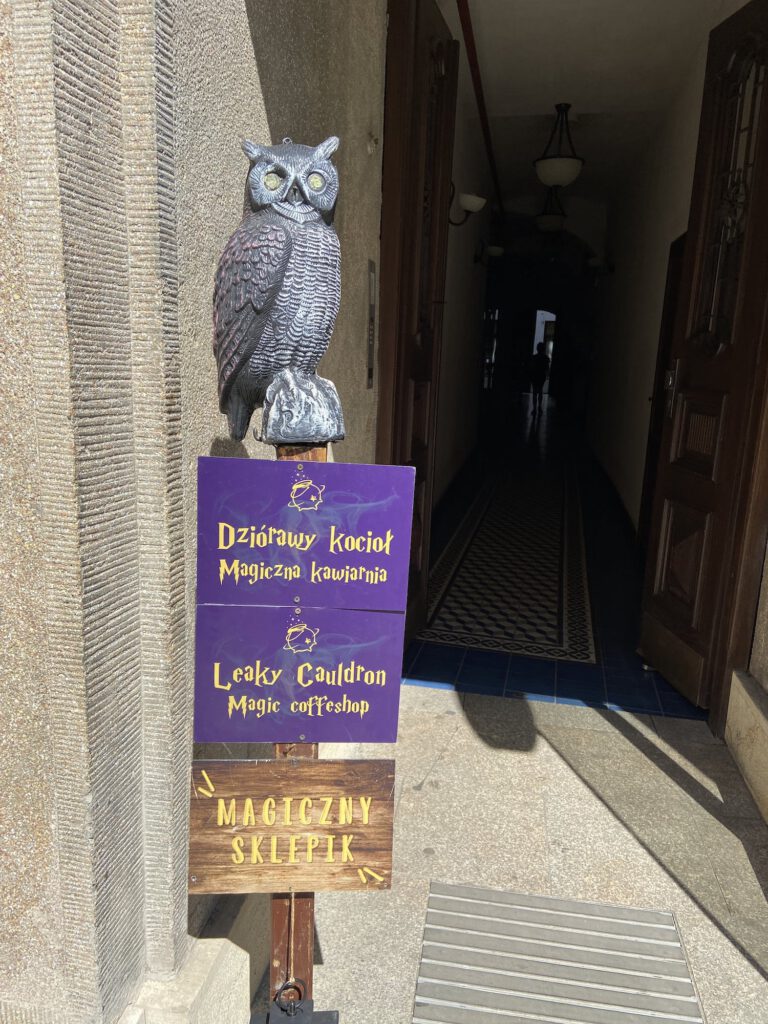 Via een trap naar beneden vind je er, in een grot-achtige ruimte (kelder) een in Harry Potter thema gestoken café. Wij moesten heel even in de rij staan (zo'n 10-15 minuten, geloof ik). Dat was prima te doen. Krakau is in de zomer een bloedhete stad, dus de afkoeling van de kelder en de trap hier naartoe was welkom.
Onderaan de trap konden we aangeven met hoeveel personen we waren en op basis daarvan werden we naar een tafel gebracht. Misschien dat je op andere dagen zelf een plekje kunt zoeken, dat weet ik niet.
Je loopt eerst door een winkeltje heen met een heleboel Harry Potter items. Dit kun je bij het verlaten rustig bekijken. Overal hangen kerstlampjes, en de lampen zijn gedimd. Op elk tafeltje staat een zoutlamp. Alle lampjes samen geven een fijne, magische en rustgevende gloed. In de gang hangen de brieven die Harry van Zweinstein kreeg, een eindje verderop kun je je bezem stallen. In de grote ruimte hangt een Dementor en in de kleine ruimte is Jammerende Jenny af en toe te zien (via een projector).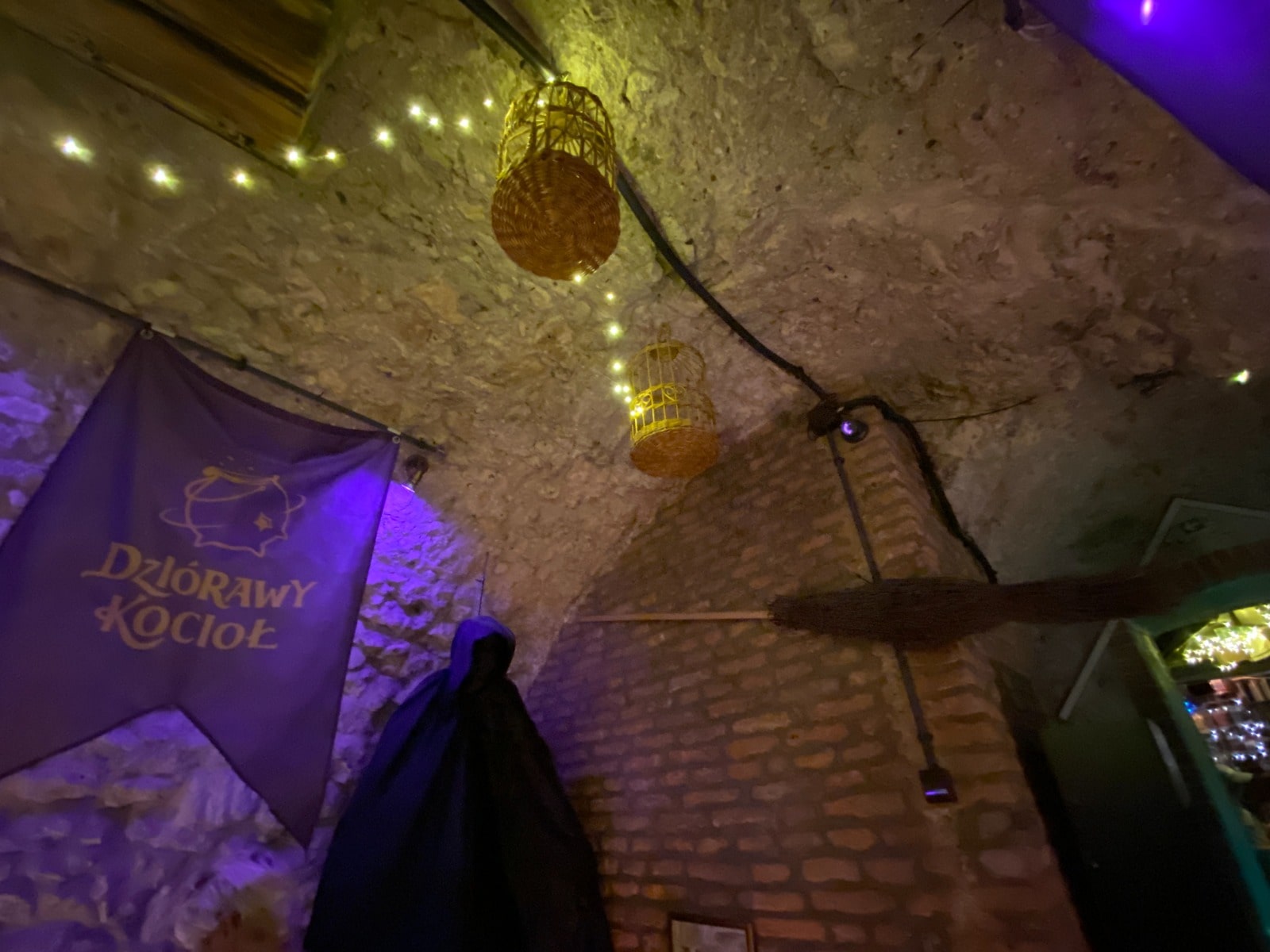 Boterbier, cheesecake met Mandragora en toverdranken
De kaart geeft al gelijk dé Harry Potter klassieker aan: boterbier. En dat klinkt als een alcoholisch drankje, maar zoals ik al aangaf serveren ze geen alcohol in deze bar. De boterbier hier is een drankje dat is gebaseerd op melk, aangevuld met karamel en kruiden.
Daarnaast serveren ze hier broodjes (in hamburgerstijl, en ja – er is een hele fijne vega optie!) en zoete hapjes zoals de cheesecake met Mandragora (oeps, een foto heb ik hier helaas niet van). Hmmm, lekker.
Laat je betoveren.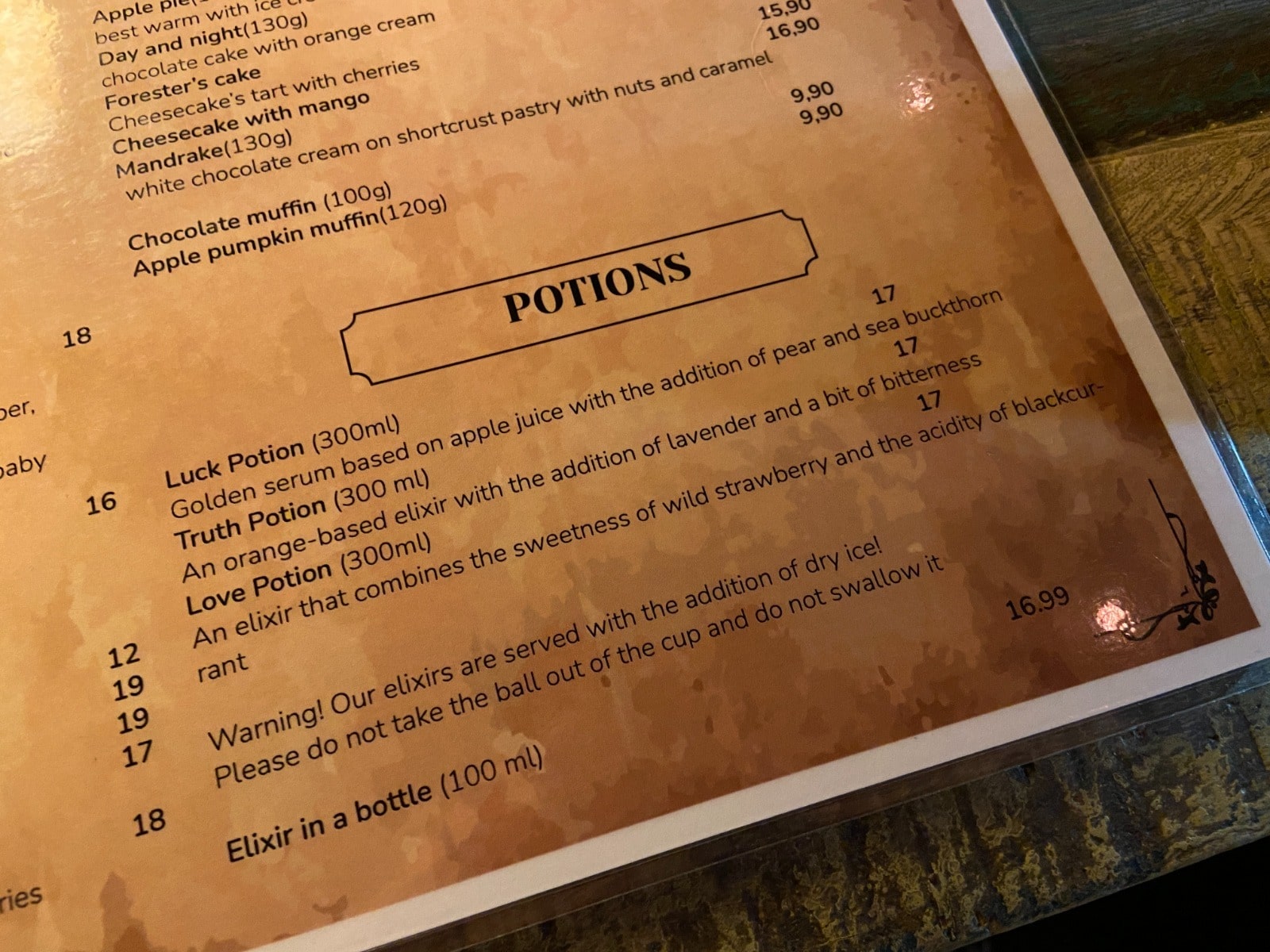 Ga je voor de Luck Potion, Truth Potion of Love Potion? Voor 17 zloty (zomer 2022, omgerekende prijs vandaag €3,61) heb je een magisch drankje met een bijzondere smaak én een bijzonder effect. De rook komt er vanaf en je drankje borrelt bij het uitserveren. Je voelt je helemaal als bij een toverdrank les op Zweinstein.
Ik heb zelf gekozen voor de Truth Potion (bitter is mijn middle name) en die smaakte goed! Een toverdrankje met de smaak van sinaasappel en lavendel. Niet te zoet, niet te bitter. De lavendel geeft een ietwat aparte smaak. Eigenlijk precies zoals je bij een toverdrankje verwacht. Het is niet te vergelijken met iets wat ik eerder heb gedronken. En voor 17 zloty is zo'n toverdrankje hier écht geen geld.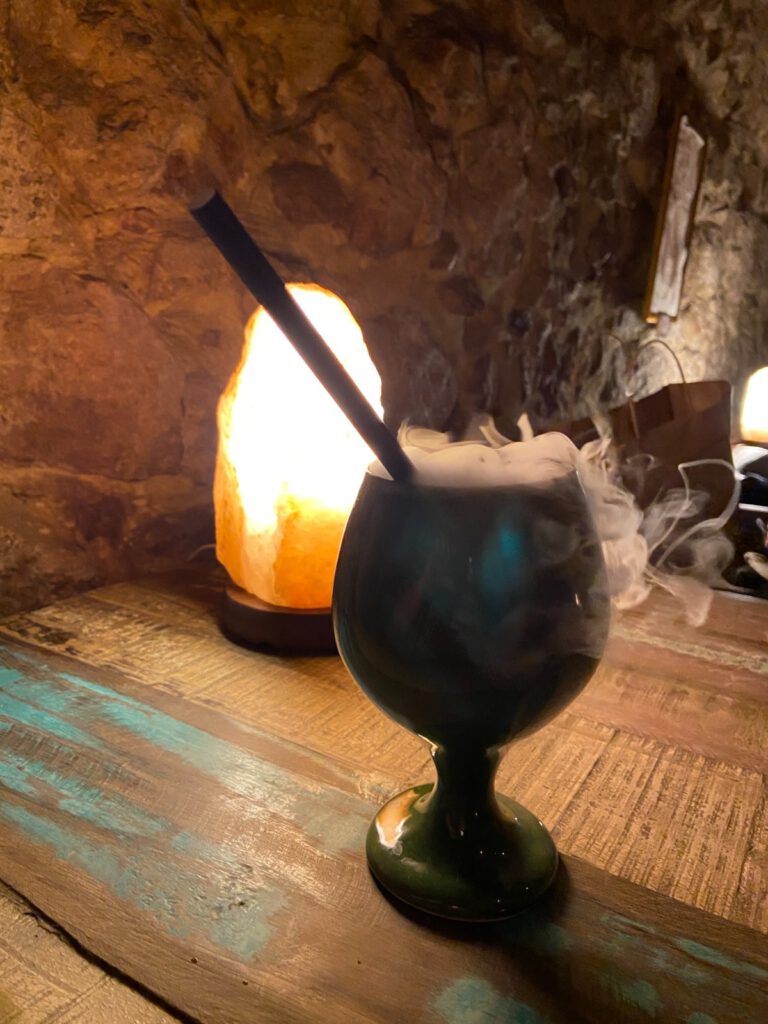 Is het Harry Potter café in Krakau een aanrader?
Eh, yes, het Harry Potter café in Krakau is een aanrader! Deze wil je niet laten liggen. De wachttijd is (meestal) minimaal, de prijzen zijn er laag en de sfeer is er goed! Het eten is er lekker, evenals het drinken. En bestel je een boterbier of toverdrankje, dan ben je helemaal in stijl. Ook het rustmomentje hier en het 'wegkomen van de prikkels van de stad' was een prettige doorbreking van de dag.
*Het Harry Potter café bevindt zich op het adres Grodzka 50/1, Krakau 31-044 in Polen. Of zoek via Google Maps naar Dziórawy Kocioł. Volgens mij is het níet toegankelijk voor mensen met een rolstoel, kinderwagen, etc. Je moet er namelijk wel wat trappen voor af en ik heb geen lift gezien.
• Nadi Zoetebier • The future belongs to those who believe in the beauty of their dreams 🙏 • Eigenaar van VolleMaanKalender.nl, liefhebber van astrologie en spiritualiteit • Moeder van zoontje Jae '21 • Energetisch Therapeut in opleiding •