Ben je benieuwd naar het boek Eros – Een terugkeer naar onvoorwaardelijke liefde? Lees dan de review van twinflame expert Natasja!
Gratis healings en meditaties beluisteren? Abonneer je dan op het VolleMaanKalender YouTube-kanaal!
Ontdek in 'Eros' met spiritueel leraar Don Miguel Ruiz hoe we de leugens die ons over de liefde zijn geleerd kunnen overstijgen om te ontdekken hoe prachtig zij zonder voorwaarden is.
Als tweelingzielenreader en -coach is onvoorwaardelijke liefde hét onderwerp waar ik dagelijks mee te maken heb, zowel zakelijk als privé. Vanuit die kennis en interesse was ik dan ook nieuwsgierig naar het boek Eros. Je leest hier mijn review!
💡 Eros is in de Griekse mythologie de god van de liefde en het schoonheidsverlangen, en de drijvende kracht achter aantrekking en binding en blinde passie voor iets of iemand. Hij maakte gebruik van zijn pijl-en-boog om op mensen te schieten. Als hij dan iemand geraakt had, was die persoon op slag verliefd.
Eros
Het boek was voor mijn gevoel groter dan toen ik 'm daadwerkelijk in mijn handen kreeg. Het is een pocket-formaat (17,5 x 12,5) dat 144 pagina's telt. Dat vind ik persoonlijk wel prettig, omdat je hem dan makkelijker overal mee naar toe neemt. Het boek ligt prettig in de hand om te lezen. Voor mij is het 'kleine' formaat dus een pluspunt, met name omdat ik met de trein op en neer reis naar mijn werk.
Geen standaard boek, maar een masterclass
Wanneer je dit boek aanschaft en leest zul je meteen opmerken dat het geen 'standaard' boek is dat gaat over terugkeren naar jezelf vanuit onvoorwaardelijke liefde. In feite woon je doormiddel van dit boek een 'masterclass' bij van schrijvers Don Miguel Ruiz en Barbara Emryz. Dat maakt dit boek op zichzelf al erg uniek.
De hoofdstukken en inhoud is ingedeeld in dagen, alsof je in totaal vijf dagen lang een masterclass bijwoont. Ik heb er zelf daarom ook wel een tijdje over gedaan dit boek te lezen, omdat er redelijk wat stukken in mezelf werden getriggerd door dit boek. Ik had wat verwerkingstijd nodig, voordat ik verder kon lezen. Daar leent het boek Eros zich dan ook echt perfect, dus neem vooral je tijd ervoor. Je hoeft dit niet in vijf dagen te doen.
Bonus: wil je liever luisteren? Er wordt in de beschrijving van het boek aangegeven dat je dit boek ook kan aanschaffen als luisterboek'. Wat ik denk ook nog ga doen, nu na het lezen van het boek zelf.
Inhoud Eros
Zoals ik al eerder beschreef woon je doormiddel van het boek te lezen een masterclass van vijf dagen lang bij. Het boek opent eerst met een oriëntatie. De verdere hoofdstukken in het boek zijn opgedeeld in die vijf dagen:
Dag 1 – Het verhaal
Dag 2 – Onschuld
Dag 3 – Twijfel
Dag 4 – Bevrijding
Dag 5 – Totale overgave
In het eerste hoofdstuk 'Het verhaal' wordt je ontvangen bij de masterclass alsof je het zelf bij gaat wonen. 'Goedemorgen! Laten we de dag beginnen met een glimlach. Een nieuwe uitdaging kan intimiderend zijn, dus haal diep adem en ontspan je. Dat is de clou. Bereid je erop voor plezier te hebben, te beginnen met de opdracht van deze week: onze sterke overtuigingen over de liefde onder ogen zien. Om te beginnen kunnen we onderkennen waar deze overtuigingen vandaan komen.' Je hoort de stem van de schrijvers bijna in je hoofd. Je kunt je er in ieder geval goed een voorstelling van maken.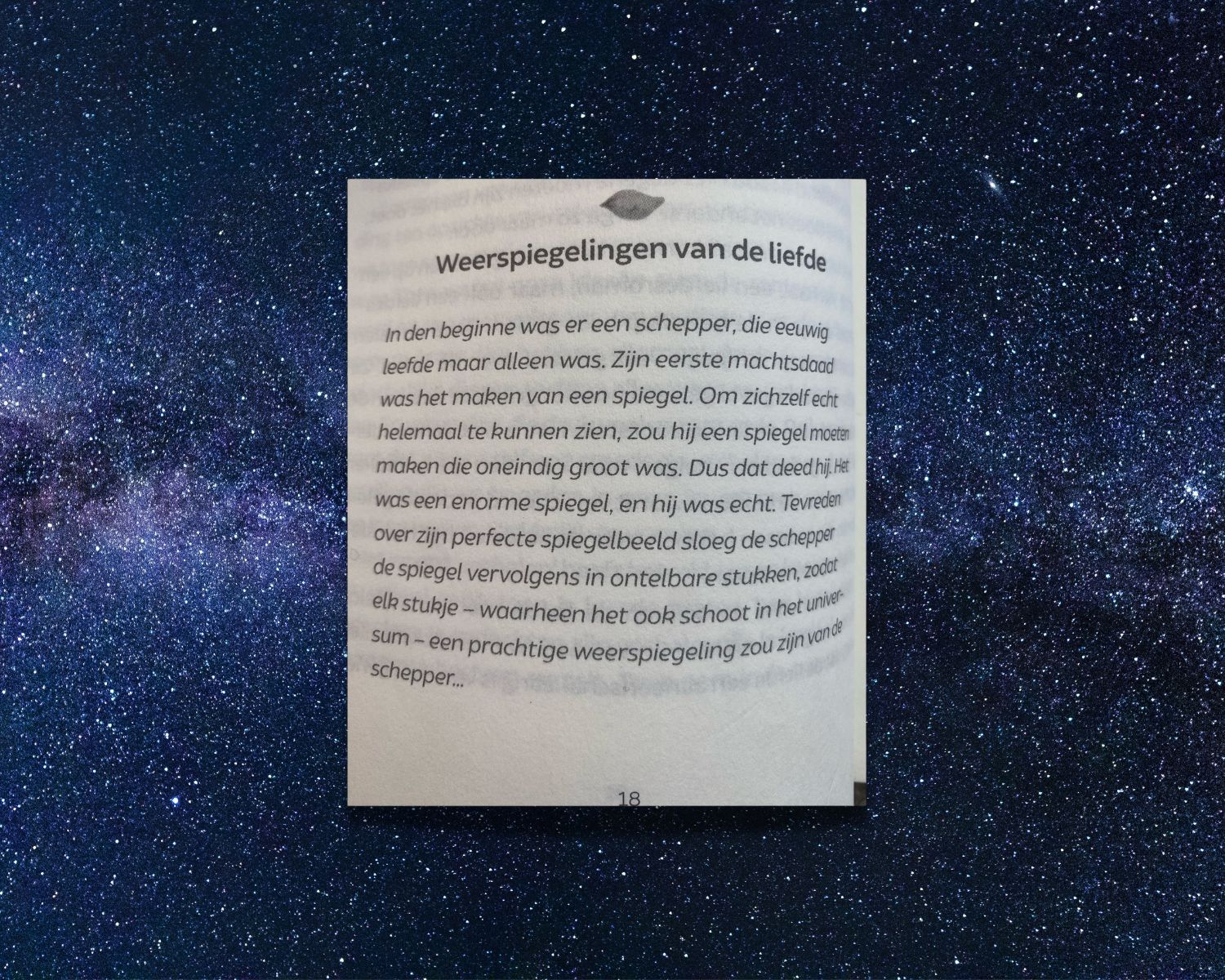 Op de eerste dag van de masterclass, hoofdstuk 1 Het Verhaal', zit een stuk tekst dat mij wel raakte.
🍃 Weerspiegeling van de liefde 🍃
In den beginne was er een schepper, die eeuwig leefde maar alleen was. Zijn eerste machtsdaad was het maken van een spiegel. Om zichzelf echt helemaal te kunnen zien, zou hij een spiegel moeten maken die oneindig groot was. Dus dat deed hij. Het was een enorme spiegel, en hij was echt. Tevreden over zijn perfecte spiegelbeeld sloeg de schepper de spiegel vervolgens in ontelbare stukken, zodat elk stukje – waarheen het ook in het universum – een prachtige weerspiegeling zou zijn van de schepper…
Dit korte verhaaltje brengt me bij de gedachte dat we kleine stukjes van een spiegel zijn, die verlangen naar hetgeen we weerspiegelen. En zo lees je meteen: op deze manier word je meegevoerd tot aan de laatste dag van de masterclass, waarin je (zoals het hoofdstuk qua naam al aangeeft) door de masterclass naar een staat van 'totale overgave' gaat.
Totale overgave
Bladzijde 117: 'Hier begint de laatste dag van de masterclass. En ik kan me geen betere manier voorstellen om ons gesprek te eindigen dan met een les over overgave. 'Overgave aan wat?', denk je misschien. 'Aan wie?' Overgave is een woord dat we associëren met zwakte, of verlies. Doet het je aan iets denken? Precies hetzelfde hebben we ook gezegd over het woord 'liefde'…
Meer over het boek wil (en ga) ik niet verklappen ;-). Door de masterclass zelf bij te wonen (door het boek te lezen of naar het boek te luisteren) zal schrijver Don Miguel Ruiz je op zijn manier helpen terug te keren naar de onvoorwaardelijke liefde voor jezelf.
Voor mij als tweelingzielen-reader en coach is Eros een interessant boek om te lezen. Juist omdat het tweelingzielenproces draait om onvoorwaardelijke liefde en het terugkeren en thuiskomen bij jezelf. Dit boek gaf mij nét weer even een andere invalshoek. Een invalshoek die ik absoluut meeneem in mijn eigen proces en bij mijn werk.
Voordat ik het boek Eros in handen kreeg, had ik zelf nog nooit gehoord van Don Miguel Ruiz en zijn boeken. Een bestseller van hem is 'De vier inzichten', die ik na dit boek wil lezen.
Eros wordt uitgegeven door Ankhhermes. Je koopt Eros als paperback of als e-book.
Titel: Eros
Audioboek: via Storytel
Auteur: Don Miguel Ruiz
Prijs: €15
Uitgever: AnkhHermes
ISBN: 9789020219050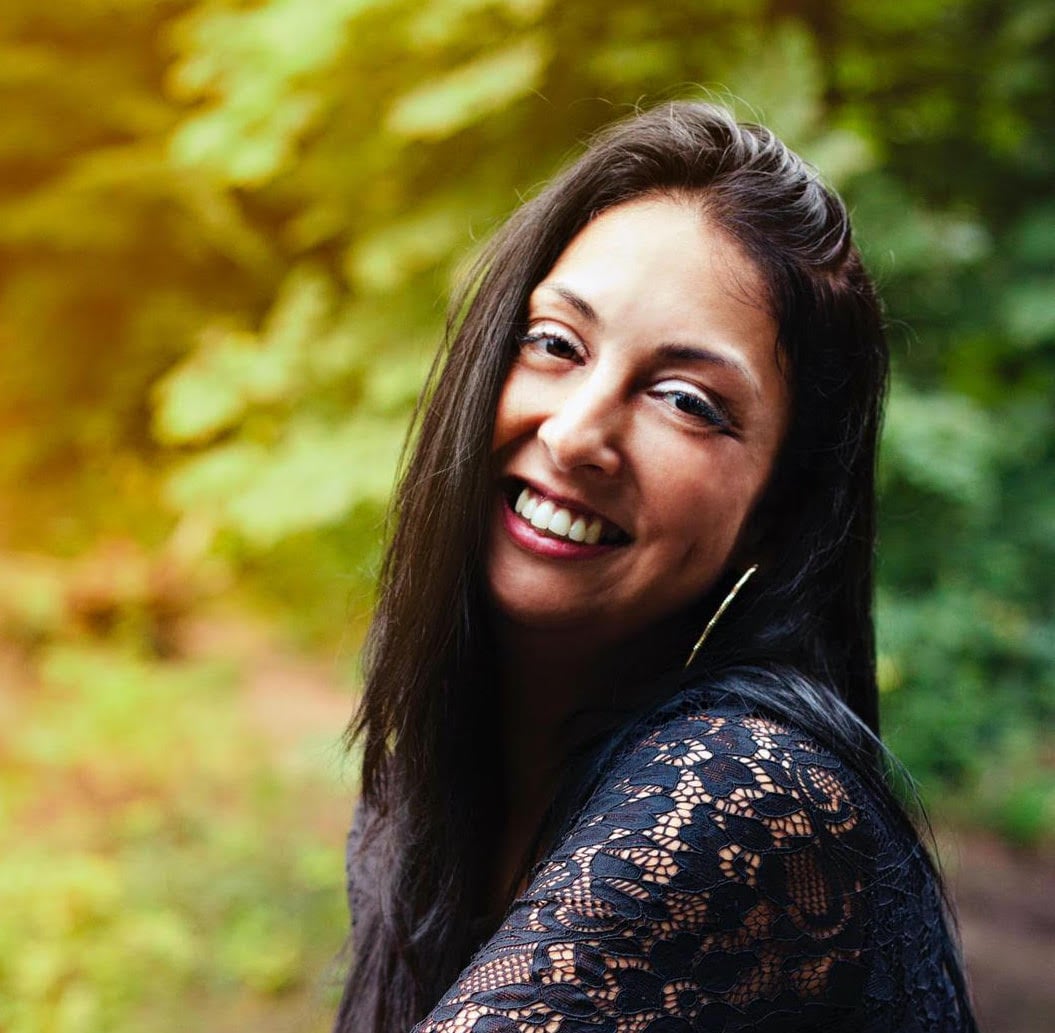 • Natasja Aaldering • Woont samen met haar kat Pip • Zit inmiddels al acht jaar in het tweelingzielenproces • Schrijft, doet readingen en kaartleggingen en praat hierover vanuit haar eigen bedrijf Twinflame Rollercoaster Life • Podcast op Spotify • Voor VolleMaanKalender.nl schrijft ze voornamelijk over tweelingzielen en het tweelingzielenproces •