Een plasticvrij leven begint bij jezelf. Sterker nog: het kan prima fijn én leuk zijn. En het mooie is dat je er zelf al heel simpel mee kunt beginnen, door plasticvrij te douchen. Hoe? Met Shampoo Bars, bijvoorbeeld!
Gratis healings en meditaties beluisteren? Abonneer je dan op het VolleMaanKalender YouTube-kanaal!
Plastic afval is een serieus probleem in onze huidige wereld. Enorme kluiten plastic drijven in de oceaan (de plastic soep) en hele eilanden liggen volgestapeld met dit niet-afbreekbare afval. Niet-afbreekbaar? Jep, want plastic verdwijnt uiteindelijk nooit. Een shampoofles die jij weggooit en die niet wordt gerecycled zal over 100 jaar nog steeds bestaan. Wellicht in microscopisch kleine deeltjes, maar verdwijnen doet 't nooit.
Des te belangrijker om zelf aan de slag te gaan en minder plastic te gebruiken. Minder plastic gebruiken hoeft niet moeilijk te zijn. Het kan zelfs erg leuk zijn! In dit artikel gaan we in op plasticvrij douchen, maar je kunt natuurlijk ook plasticvrij boodschappen doen of plasticvrij schoonmaken.
Plasticvrij douchen
In je badkamer gebruik je behoorlijk wat plastic verpakkingen. Denk maar eens aan al die beautyproducten en schoonmaakmiddelen. Dat kan anders, vonden ook de oprichters van Shampoo Bars. Shampoo zonder verpakking, conditioner zonder verpakking en zelfs douchegel zonder verpakking. De producten zijn samengeperst in een 'bar': een soort zeep, zónder verpakking eromheen.
Eén zo'n Shampoobar staat gelijk aan maar liefst drie (!) plastic flessen en gaat gemiddeld zo'n 80 wasbeurten mee. Dat scheelt nogal! Zo haal je dus minder plastic in de badkamer en het staat ook nog eens mooier, al die gekleurde bars.
Je haar wassen met Shampoo Bars: zo doe je dat
Het idee van je haar wassen met een bar is misschien even wennen, maar het valt in de praktijk reuze mee. Sterker nog: het ging hartstikke gemakkelijk!
Zorg dat je haar en je handen nat zijn.
Wrijf de Shampoo Bar tussen je handpalmen tot je wat schuim hebt.
Doe 't schuim op je haar (en vul naar wens aan door de Shampoo Bar direct op je haar te doen – ik deed dit zelf met de puntjes).
Masseer het schuim in je haar en geniet van de heerlijke geur.
Spoel de shampoo uit je haar.
Herhaal deze stappen eventueel met een Conditioner Bar.
Bewaar de Shampoo Bar en Conditioner Bar op een schone, droge plek. Tip: Shampoo Bars verkoopt hier leuke netjes voor die je in de badkamer kunt hangen.
Droog je haar op de manier die voor jou werkt. In mijn geval (krullen) is dat droogdeppen met een handdoek en aan de lucht laten drogen.
Shampoo en conditioner voor krullend haar, zónder schadelijke stoffen
Dit is shampoo zonder siliconen. De bars zijn daarnaast ook vrij van parabenen, plastic en SLS. Ook zijn beide bars vegan en cruelty free. Ze bevatten dus geen dierlijke producten en zijn ook niet getest op dieren. De Shampoo Bar Honing is óók nog eens vrij van palmolie. Heel fijn voor m'n droge en beschadigde haar, dus.
Voor Shampoo Bars testte ik de Shampoo Bar Honing en de Conditioner Bar Honing. Deze bars zijn speciaal voor krullend haar, maar ook als je droog, pluizig of beschadigd haar hebt kun je de Honing bars goed gebruiken.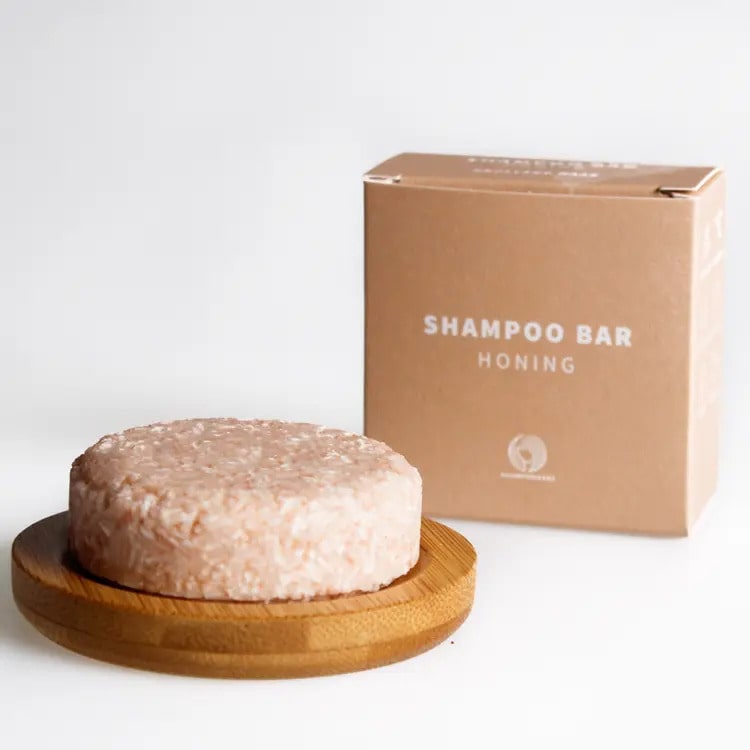 Shampoo Bar en Conditioner Bar in de test
En dan nu de test! De geur van de Shampoo Bar is sterker dan ik had verwacht. Op een positieve manier! De Bars schuimen lekker en werken erg prettig in de douche.
Na het wassen met de Shampoo Bar blijft mijn haar een beetje stroef nog, maar dat is écht hoe mijn haar nou eenmaal is. Na het wassen met de Conditioner Bar is het stroeve echter volledig weg uit m'n haar. Sterker nog: ik heb een volle, glanzende bos krullen en een collega die mij (digitaal) zag vroeg of ik naar de kapper was geweest. Een compliment aan de Shampoo Bar en Conditioner Bar.
Fijne bijkomstigheid: toen we op vakantie gingen nam het nauwelijks plaats in beslag in m'n bagage.
Probeer zelf wat werkt voor jou
Wil je eerst proberen of het wat voor jou is, dan kun je een proefpakket aanschaffen. Voor €12.95 heb je een mini Shampoo Bar Citroen, Meloen, Kokos, Lavendel en Jasmijn. Zo test je zelf welke prettig voor jou en je haar werkt! Er is ook een speciale anti-roos shampoo.
Dit artikel is tot stand gekomen in samenwerking met Shampoobars. De Shampoobars komen in een verpakking die 100% biologisch afbreekbaar en volledig plasticvrij is. Eén Shampoobar staat gelijk aan maar liefst drie (!) plastic flessen en gaat gemiddeld zo'n 80 wasbeurten mee. Shampoobars zijn milieuvriendelijker en (omgerekend) goedkoper dan de meeste reguliere shampoos.
• Nadi Zoetebier • The future belongs to those who believe in the beauty of their dreams 🙏 • Eigenaar van VolleMaanKalender.nl, liefhebber van astrologie en spiritualiteit • Moeder van zoontje Jae '21 • Energetisch Therapeut in opleiding •