Wij hebben allemaal zowel mannelijke als vrouwelijke energie in ons. Als het goed is, moeten deze twee energieën elkaar op de juiste momenten afwisselen. Wanneer je leert deze energieën te herkennen, kun je ze zelf bijsturen en in evenwichtig komen. Maar wanneer ze niet in balans zijn, of je zelfs een tekort aan energie van het andere geslacht hebt, kun je belemmeringen voelen.
Gratis healings en meditaties beluisteren? Abonneer je dan op het VolleMaanKalender YouTube-kanaal!
Disclaimer: mannelijke of vrouwelijke energie heeft niks te maken met geslacht.
Yin en yang is het perfecte voorbeeld voor de mannelijke en vrouwelijke energie. Het witte yang en het zwarte ying vormen samen een cirkel. ☯️ En elk bevat een deel (een stip) van het andere. Het is dus niet helemaal zwart of helemaal wit. Net als dat wij als persoon niet kunnen bestaan uit enkel vrouwelijke energie of enkel mannelijke energie.
Hoe die twee zich verhouden kan per persoon erg verschillen. Wel is het belangrijk dat beide energieën in balans zijn, zodat je ze weet op de juiste manier te gebruiken.
Mannelijke en vrouwelijke energie in een relatie
Liefdesrelaties zijn een voortdurende dans tussen vrouwelijke en mannelijke energie, dus tussen yin en yang. Zonder deze dans is er geen gezonde relatie mogelijk. Vrouwelijke en mannelijke energieën trekken elkaar aan. Hoe graag we ook dingen zelf willen doen, en het gevoel willen hebben geen man/vrouw nodig te hebben, is als vrouw zijnde mannelijke energie wel nodig en andersom ook. Uit onderzoek is gebleken dat mannen de tegenovergestelde energie hard nodig hebben, omdat dat hetgeen is dat zij zelf niet bezitten. Evenals geldt dit ook voor vrouwen. Tegenovergestelde polen trekken elkaar, zegt men.
Vrouwelijke energie is niet alleen voor vrouwen. Ook mannen hebben yin in zich. Maar tegenovergesteld bezitten ook vrouwen de mannelijke energie, yang. Iemand met veel vrouwelijke energie voelt zich vaak aangetrokken tot iemand met meer mannelijke energie. Een vrouw met te veel mannelijke energie (vaak ter zelfbescherming), kan intimiderend overkomen en daarmee mannen afschrikken. Een man met te weinig vrouwelijke energie kan zijn gevoelens niet goed uiten, in de slachtofferrol kruipen en geen commitment willen afleggen.
Wat is vrouwelijke energie?
Vrouwelijke energie is een zachte energie die meer naar binnen, op het gevoelsleven, gericht is. Het is de 'gewoon zijn' energie. Deze energie is de aarde, de baarmoeder, waaruit alles wordt geboren. In de vrouwelijke energie kan je goed ontvangen, in plaats van geven. Je bent niet bezig met wat je doet, maar geniet van het moment waar je je nu bevindt.
Als je goed in je vrouwelijke kracht zit, ga je intiem om met je innerlijke ervaring. Je kijkt vaak naar je fysieke, emotionele en energetische lichaam en stemt je keuzes af op je intuïtie. Je weet je aandacht te richten op hetgeen wat je zelf wilt en verlangt naar verbinding om je heen. Je vindt eindresultaat zien motiverend, maar geniet meer van het proces.
Wat is mannelijke energie?
Mannelijke energie is actie ondernemen, dingen doen en doelen behalen. Deze energie is verbonden met de hemel. Het is puur bewustzijn, focus en stabiliteit. De mannelijke energie nodigt je uit om op eigen benen te staan en grenzen te leggen.
Als je goed in je mannelijke energie zit, ben je naar buiten gericht. Je bent een waarnemer en hebt aandacht voor informatie, logica, plannen, sturen en voor de toekomst. Je kunt keuzes maken en knopen doorhakken. Je zit niet vol met emoties en praat het liefst over dingen die buiten jou heen gebeuren.
Overheersing van de mannelijke energie
Als je mannelijke energie overheerst leg je waarschijnlijk de nadruk op het bereiken van doelen, hoe je gezien wilt worden in de buitenwereld en koppel je succes op erkenning door anderen. Hierdoor zal je vrouwelijke energie onderdrukt worden, waardoor je het gevoelsleven en jezelf verliest.
Enkele voorbeelden van een overdosis aan mannelijke energie:
Gespannenheid en te weinig rekening houden met de buitenwereld
Onzekerheid
Moeite met verbinden op emotioneel vlak
Stress
Overdosis aan vrouwelijke energie
Als je een overdosis aan vrouwelijke energie hebt, heb je vaak last van prikkels. Je bent te veel bezig met anderen en vindt het lastig om grenzen te stellen. Nee zeggen vind je daarom moeilijk.
Enkele voorbeelden van een overdosis aan vrouwelijke energie:
Overprikkeling
'Please' gedrag
Naar binnen keren door angst
Breng je mannelijke en vrouwelijk energie in balans
Wanneer je leert om je mannelijke en vrouwelijke energie in balans te krijgen, zal je innerlijk helen. Je zult je makkelijker verbinden met anderen zonder je erin te verliezen en kunt gemakkelijk juiste keuzes maken.
Om te beginnen moet je ontdekken wat je onzekerheden (en angsten) zijn. Breng ze onder ogen en voel ze. Kijk waar het vandaan komt en ga op reis in je eigen gevoelswereld. Leer luisteren en vooral vertrouwen naar je gevoel. Stel jezelf ook wat vaker open voor je omgeving en doe wat goed voelt.
Er is dus geen goed of fout in het vinden van je eigen energie. Wel is het van belang om ze te leren balanceren. En dat kun je dus doen door goed te luisteren naar je gevoel en te kijken waar bepaalde gevoelens en acties vandaan komen.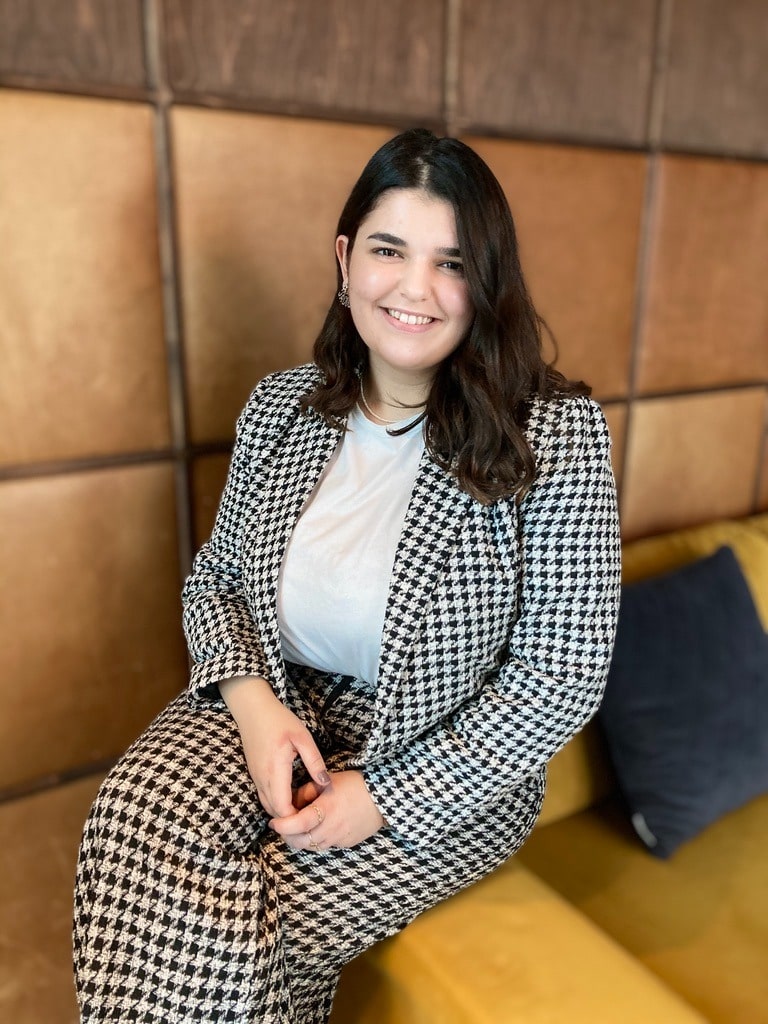 • Elçin Çoraklar • Brede interesse in astrologie en spiritualiteit • Als HSP'er heeft ze haar klachten leren omzetten in krachten • Leeft met de maan • Mediteert graag, heeft altijd wel een gepaste edelsteen bij zich en houdt zich graag bezig met zelfbewustzijn •